With Fifty/50 Initiative, ESPN Honors the 50th Anniversary of Title IX and Supports Girls' Access to Sports
It was 50 years ago when 37 words forever changed the future for girls and women in education and sports. The passage of Title IX was a landmark law that banned sex discrimination in all education programs and activities—including sports—that received federal funds.
ESPN and The Walt Disney Company are celebrating this important milestone through the Fifty/50 Initiative, highlighting the civil rights journey of women across the sports and cultural landscape. Throughout the month, groundbreaking content will be featured across Disney platforms.
While incredible change has been made in the last five decades, there is still a lot of work to do to ensure young girls, especially from underrepresented communities, have equal access to sports. ESPN has long supported the Women's Sports Foundation through the Sports 4 Life program and has enabled over 69,000 girls to play since 2013.
As part of Fifty/50, ESPN recently refurbished a softball field in the Southside of Chicago for girls who are part of Lost Boyz, a Sports 4 Life grantee. On hand at the opening to celebrate were players from the World Champion Chicago Sky and Chicago's First Lady Amy Eshleman, among many others from the local sports community. In addition to the new field, ESPN will provide life-skills programming for the girls throughout the year.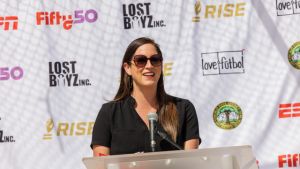 Employees and cast members also will be engaged throughout the summer to enable and empower girls through the power of sport. Volunteers are working with Sports 4 Life organizations to lead conversations and self-exploration exercises with girls throughout the country to help them better understand the implications of Title IX and its impact on equality for girls and women playing sports.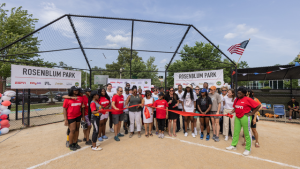 Also included in the initiative is a special by ABC's Race and Culture team, Our America: Fifty/50. This content series includes a collection of eight short documentary stories profiling young women engaged in the Sports 4 Life program, who are already working to level the playing field through athletics and engagement. The short stories culminated in an hour-long documentary special, hosted by Sofia Carson, which aired on ABC Owned Television Stations, connected Television apps, Localish Network on Hulu, and ESPN+.
The Title IX anniversary provided the opportunity to educate and inspire sports fans as well, and ESPN worked with the organization Athletes for Hope to engage professional, Olympic, and collegiate athletes, as well as talent, to share how the legislation has impacted their lives in a social campaign that was amplified by ESPN social accounts.
Check back monthly to see more examples of how we're inspiring a better world through the power of stories and visit our CSR website for a more comprehensive look at our social responsibility efforts.
by Disney Career Recruitment