Celebrating Pride 365 at The Walt Disney Company
At The Walt Disney Company, we strive to build an inclusive culture, honoring and actively supporting the contributions and stories of our LGBTQIA+ employees, talent, and beyond to foster change during Pride Month and all year long.
Our focus on Pride is more than a monthlong observance, it's a dedicated endeavor and we are working together with employees, our partners, and community organizations to raise awareness, encourage engagement, and combat stereotypes and bias.
"I am excited and proud to see the fantastic range of activations and celebrations across our company that our guests, fans, and employees can participate in," said Lisa Becket, Senior Vice President of Global Marketing at Disney Parks, Experiences & Products, and co-lead of the Pride 365 Collective.
With our transformative storytelling and focused approach, we are uniquely positioned to amplify and celebrate the voices of our LGBTQIA+ employees, talent, creators, and consumers to ensure they feel like they belong.
"I am looking forward to connecting with people from all around the world and to gather, join forces and build new bridges within the Company to make the impact our fans need. We need to ensure that everyone feels represented in our stories, and this June is our opportunity to be heard," said Andrés Vaulet, Jr. Manager of Disney Theatrical Group and National Geographic Live Experiences, as well as one of the leaders of Pride Month celebrations within Disney's Business Employee Resource Groups (BERGs).
There are numerous ways our audiences can celebrate Pride Month with Disney throughout June and beyond. Find your favorite content on Hulu's Pride Never Stops hub. Networks such as ESPN, ABC, Disney Channel, Freeform, and more will all spotlight LGBTQIA+ voices. Plus, check out Disney Music Group's Disney Pride playlist on your favorite music service.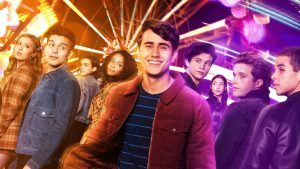 Additionally, The Walt Disney Company will donate all profits from the Disney Pride Collection sales now through June 30, 2022, to organizations that support LGBTQIA+ youth and families. The Disney Pride line is dreamed up and designed by LGBTQIA+ employees and allies, and this latest Collection reflects their incredible contributions and place at the heart of the company.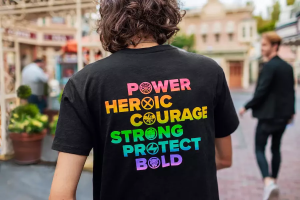 At Disney, inclusion is for everyone. Reimagine Tomorrow is our way of celebrating, highlighting, and amplifying underrepresented and untold stories as well as championing the importance of accurate representation in media and entertainment. We are all greater than a single story and we all deserve to feel seen, heard, and understood, not only during heritage months but year-round.
"We are focused on creating an inclusive culture where everyone feels welcomed, valued, seen, respected, and heard – this is what a reimagined tomorrow looks like for me at work and is a responsibility I take very seriously as a leader," said Lisa.
"I recognize that there will always be a need to push for progress because we as a society are always evolving, but my reimagined tomorrow is one where we move forward together," added another Pride BERG leader Sam Polczynski, Sr. Specialist, Strategic Security Communications at The Walt Disney Company.
As an avid and long-standing champion of LGBTQIA+ communities, families, and fans, Disney continues to deepen our support through emblematic content, community advocacy, and inclusion in the workplace and beyond.
In the last decade, Disney has championed LGBTQIA+ communities and families through charitable grants and program support to organizations serving the LGBTQIA+ community; advanced programs, policies and resources to build a culture of belonging for LGBTQIA+ employees; and infused content and experiences with more, rich LGBTQIA+ stories.
Keep an eye on your favorite Disney brands throughout the month for more surprises, and check out @ReimagineTomorrow on Facebook, Instagram, and Twitter to follow along in the celebration and share ways you plan to celebrate the month.
by Disney Career Recruitment