Celebrate Women's History Month with The Walt Disney Company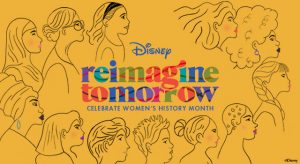 At The Walt Disney Company, we uplift stories of women around the world. Our transformative storytelling, creative talent, and global reach uniquely position Disney's businesses and iconic brands to ensure all women feel like they belong.
In March, we're celebrating Women's History Month across the Company. By prioritizing inclusion, building connections, and supporting women's growth and wellbeing, we are deepening our culture of belonging and strengthening the foundation of our global diversity, equity, and inclusion efforts.
"I am so excited for everyone to see what is planned for Women's History Month. This is a truly inclusive global activation with events reaching across time zones and all parts of the company," says Anna Derryberry, director at National Geographic Studios, and one of the leaders of Women's History Month celebrations within Disney's Business Employee Resource Groups (BERGs).
There are numerous ways our audiences can celebrate Women's History Month with Disney throughout March and beyond. In addition to their "Female Leads" collection, Disney+ will celebrate with the premiere of Turning Red and Embrace the Panda on March 11. Hulu's "Made By Her" celebrates women in front of and behind the camera. Plus, check out Disney Music Group's "Girl Power" playlist on your favorite music service.
"I love learning about women whose creativity, resilience, and intelligence help break through boundaries. I hope to be inspired by other women and what they do, and for us to create a community of support," says Marya Bangee, vice president of representation and inclusion strategies at The Walt Disney Studios.
At Disney, inclusion is for everyone. Reimagine Tomorrow is our way of celebrating, highlighting, and amplifying underrepresented and untold stories as well as championing the importance of accurate representation in media and entertainment. We are all greater than a single story and we all deserve to feel seen, heard, and understood, not only during heritage months but year-round.
"I imagine a future of work where everyone feels recognized for their capabilities and valued for their unique thoughts and ideas," says Jill Estorino, president and managing director of Disney Parks International.
"In my job, I get to watch sports every night, so a reimagined tomorrow means not having to push for equality on coverage across sports and being able to see a workplace that is consistently diverse and supportive of all employees," says Jennifer Gode, associate director of stats and information at ESPN, and another leader of Women's History Month within the BERGs. "I am fighting for the future with a hope that my struggles today can make tomorrow just a little bit better for someone else."
Keep an eye on your favorite Disney brands throughout the month for more surprises, and check out @ReimagineTomorrow on Facebook, Instagram, and Twitter to follow along in the celebration and share ways you plan to celebrate the month.
by Disney Career Recruitment