Disney Releases 2021 Corporate Social Responsibility Report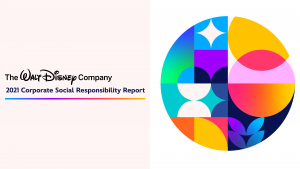 The Walt Disney Company has a longstanding commitment to Corporate Social Responsibility (CSR). In 2021, we refreshed our CSR strategy to connect it more deeply to Disney's corporate mission and commercial offerings and to embrace our unique opportunities for leadership.
Our aim is to inspire a better world through the power of stories. We recently released our 2021 Corporate Social Responsibility Report, where you can read about how Disney inspires a world of belonging by embracing diversity, equity, and inclusion in our workplace, our storytelling, our other offerings, and our communities; a world in balance by taking action to help protect our planet; and a world of hope by supporting our communities and especially children. We also detail how we further our CSR strategy by investing in our employees and cast members and by operating responsibly.
We are activating our new CSR strategy across our offerings—including our content, experiences, and products; our operations—including how we conduct ourselves behind the scenes; and our charitable giving to maximize the impact of our efforts.
Simultaneous with releasing the CSR Report, we are also excited to introduce our new social responsibility website at impact.disney.com. Here you will be able to read stories and get updates on our environmental, social, and governance work throughout the year.
To learn more about how the stories we tell and the experiences we create inspire audiences worldwide to join us in positively impacting people, communities, and the planet, click here to access the 2021 CSR Report.
by Disney Career Recruitment