How ESPN Inspires the Next Generation of Trailblazers with the Global Sports Mentoring Program
Meet Jomana Ismail and Kruthika N.S., two delegates from the Global Sports Mentoring Program (GSMP) who are using their voices to deconstruct gender and social norms.
The two women—representing Egypt and India, respectively—were among 15 international leaders in sport congregating in the United States for the GSMP class of 2022. The delegates were paired with a lead mentor and cultural mentor who helped with action plan ideation and shared insights they've acquired over their careers. Ismail and N.S. were mentored by leaders at ESPN.
Now in its 10th year, the program was developed by former Secretary of State Hillary Clinton along with Laura Gentile, Executive Vice President, Commercial Marketing, Disney Networks & ESPN, to empower women and girls in sports. The program's milestone anniversary also coincided with the 50th anniversary of Title IX, the landmark legislation that afforded women equal opportunities in education and sports across the U.S. These two anniversaries made it an even more exciting and opportune time for the delegates and mentors to be a part of this GSMP cohort.
Over the whirlwind five-week tour, Ismail and N.S. opened their experience by spending several days in Washington, D.C. with professors from the University of Tennessee's Center for Sport, Peace, and Society, and then spent two weeks at ESPN's headquarters in Bristol, Connecticut. They also visited New York City for a J.P. Morgan Be Well event and attended The espnW: Women + Sports Summit in Ojai, California, all before making their final presentations in Washington D.C.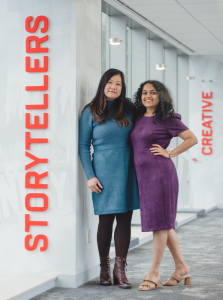 While some delegates arrive knowing the focus of their project, for N.S., a lawyer turned artist, she leaned on her lead mentor Chin Wang, ESPN's Vice President, Visual Storytelling, to aid in narrowing down her idea.
"She told me 'to tap into your own transformation story, because you've gone from lawyer to artist, and everyone in life goes through these transformations,'" N.S. shared.
After visiting the Museum of Modern Art with her cultural mentor, Cheryl DiCarlo, Director Grande and Leonard Creative at ESPN, N.S. saw a huge line outside of a Nike store and learned about sneaker culture in the U.S. "It took me back to my teenage years when I used to draw on my own shoes, and I also thought about how shoes are metaphors for change," says N.S. "I took what Chin told me and married it with the shoe idea. I'm curating stories by powerful women and queer people and presenting their before and after stories on each shoe. The left shoe will have their 'before' and the right shoe will highlight their 'after.' My first pair will feature Chin's transformation story."
Shared Wang, "Kruthika is truly an inspiration to me. She is a lawyer turned artist and advocate fighting for equality in India. As a creative myself, it has renewed my belief that art is a universal language that can drive change."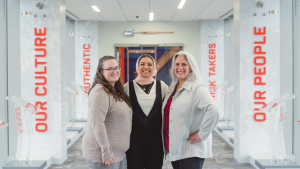 Born and raised in Cairo, Egypt, Ismail credits her involvement in sports for shaping her into the woman she is today. She's an accomplished gymnast and stand-up paddleboarder, and she even refereed the 2022 World Championship. She also recently co-founded Boards and Boats, a stand up paddling and kayaking academy in Cairo. But it was her 559-mile walk in 24 days down the Nile River in 2018 to raise awareness for population growth issues that truly sparked her desire to increase opportunities for women and girls in Egypt with her project "Be Active." She realized not all cities in Egypt were eager to afford girls the opportunity to participate in sports.
"During my walk along the Nile, I talked with many girls, and at the first city, I met a girl who told me she wishes to be a policewoman, but she can't because her movement is restricted—there are not places for a woman to [exercise or play sports]," says Ismail. "I met other girls who told me that they 'don't want to end up like our mothers and our mothers agree.' [With my project], I want to go back to the youth centers along the Nile and create activities for the girls. Despite women making up for half of the population, only 24% of girls participate at the centers."
Christie Dockman, Ismail's cultural mentor and ESPN VP of Management Operations, added, "[Jomana] wants all of those young women who are cast into very traditional gender roles to really understand the benefit of sports, to have a place that they can come and participate in those activities, and to hopefully educate their parents as to why it's important for their daughters to learn this stuff."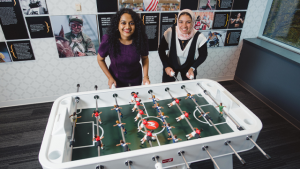 Dockman introduced Ismail to various leaders at ESPN, including Kaitee Daley, VP of Social Media, to learn how to amplify "Be Active" as well as shadow Paralympian and ESPN commenter Victoria Arlen during her international and Snapchat editions of SportsCenter.
"[ESPN] is a very friendly place; the warmth and connectivity surprised me because it's such a big company," said Ismail. "I was shocked when a man working in the recording room told me he read my book [24 Days Following the Nile on Foot] and asked me about my knees, because I mention in my book how tough it was. It's amazing how everyone really goes the extra mile to get to know everyone."
To learn more about the Global Sports Mentoring Program as well as Ismail and N.S.'s projects, click here.
by Disney Career Recruitment