Disney General Entertainment's Writing Program Names 2022 Participants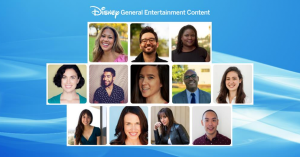 Disney General Entertainment (DGE) proudly announces the writers selected for its 2022 Writing Program and names the recipient of Disney Branded Television's Eunetta T. Boone Comedy Writer's Scholarship, established in 2020 by Disney Channel in honor of the late writer/producer for diverse and aspiring comedy writers.
Now in its 32nd year, Disney Creative Talent Development & Inclusion's one-year writing program is a highly selective initiative that helps participants secure their first TV staff writer assignments on a DGE series. The program also provides participants with mentorship, advanced professional development, and access to DGE's creative executives, producers, showrunners, and program alumni. Formerly known as the Disney ABC Writing Program and the Walt Disney Television Writing Program, it is widely recognized as one of the entertainment industry's most successful of its type, with a nearly 100% annual television staffing rate for more than a decade. It has served as a launching pad for the many successful storytellers creating content for the Company's broadcast, cable, and streaming platforms.
The 2022 DGE Writing Program participants include the following:
DRAMA
Amanda Mercedes, "13 Reasons Why" writers' assistant (Belmont, N.C.)
Ariana Quinonez, "Roswell, New Mexico" writers' assistant (Bakersfield, Calif.)
Carlton Gillespie, sports and live events producer (Oxnard, Calif.)
J.D. Shields, podcast and interactive games writer/narrative designer (Decatur, Ga.)
Jeff Qiu, "Locke & Key" writers' assistant (Glendora, Calif.)
COMEDY
Austin S. Harris, ABC Current Programming assistant (Willingboro, N.J.)
Kelly Eisenbrand, development intern/freelance journalist (Moorpark, Calif.)
Kris Crenwelge, "Spirit Rangers" animated series staff writer/standup and improv comedian (Katy, Texas)
Mattie Bayne, "Never Have I Ever" writers' assistant (Baltimore, Md.)**
Mithra Alavi, development coordinator/writer/filmmaker (Johnson City, Tenn.)
Randall Valdez-Castillo, "Mythic Quest" writers' assistant (San Antonio, Texas)
Steph Garcia, "The Catch" writers' PA/unscripted programming consulting producer (Elizabeth, N.J.)
**Disney Branded Television's Eunetta T. Boone Comedy Writer Scholar
"The Creative Talent Development & Inclusion team is proud to launch this extremely talented group of writers into the next phase of their career," said Tim McNeal, senior vice president, Creative Talent Development & Inclusion (CTDI). "The flagship Writing Program is one of the critical ways CTDI connects creative talent to opportunities across Disney and continues to fuel our company's staffing pipeline specifically for emerging, diverse TV writers. We look forward to seeing this cohort shape the next generation of producers and showrunners."
The program has kickstarted the careers of many established and award-winning writers, producers, and showrunners for hit shows including "Grey's Anatomy," "Little Fires Everywhere," "Godfather of Harlem," "Dave," "Power," "Snowfall" and more. It also was the starting point for show creators and co-creators such as Zahir McGhee ("Queens"), Saladin Patterson ("The Wonder Years" and "Dave"), Raamla Mohammed (the upcoming "Reasonable Doubt"), Peter Saji ("mixed-ish"), Veena Sud ("The Killing," "Seven Seconds"), Jordan Cahan ("Black Monday"), Reggie Bythewood ("Shots Fired") and Erica Montolfo-Bura ("Zoe Ever After"); and showrunners Dailyn Rodriguez ("Queen of the South"), Anthony Sparks ("Queen Sugar"), Ayanna Floyd Davis ("The Chi") and Aseem Batra ("I Feel Bad").
The participating writers of the 2021 program secured staffing assignments on ABC shows "The Good Doctor," "Queens," "Station 19," "Maggie," "The Conners" and "Home Economics"; Freeform shows "Single Drunk Female" and "grown-ish"; Disney Branded Television shows "Raven's Home," "Big Shot" and "BUNK'D"; Hulu's "How I Met Your Father"; and FOX/20th's "Our Kind of People."
The program was the first of its kind to provide salary and benefits to its participants. All program writers will be under contract with DGE and receive a weekly salary and benefits prior to staffing. All program writers who staff on a DGE scripted series will be compensated at WGA scale. The DGE Writing Program has been managed and run by Liz Kelly, senior manager of DGE Creative Talent Development & Inclusion, for the past three years.
Disney General Entertainment's 2022 Writing Program participants' bios:
Mattie Bayne (2022 Eunetta T. Boone Comedy Writer Scholar) is a filmmaker, playwright, and comedian from Baltimore, Maryland. She most recently was the writers' assistant on the Netflix comedy "Never Have I Ever." Prior to this, she was showrunner's assistant to Kourtney Kang on Disney+'s "Doogie Kamealoha, M.D.," and producer's assistant on Netflix's "Pretty Smart." Bayne also worked as an assistant in the Motion Picture Literary Department at United Talent Agency. A graduate of the University of Southern California School of Cinematic Arts, where she received a B.F.A. in film and television production, Bayne has held internships at "The Tonight Show Starring Jimmy Fallon," ShivHans Pictures, and Pacific Electric Picture Company. Her USC Senior Thesis Film, "Practice Film," debuted at the Los Angeles Short Film and Script Festival and was featured in the Beverly Hills Film Festival. An ovarian cancer survivor, Bayne is passionate about the representation of women and BIPOC in comedy, and she strives to tell stories that bring people together.
Randall Valdez-Castillo is an LA-based comedy writer from Texas. Most recently the writers' assistant on two seasons of Apple TV+'s "Mythic Quest," Valdez-Castillo has worked as a writers' assistant on FX's "It's Always Sunny in Philadelphia," and as a production assistant on "Mad Men," "The League" and "Grace & Frankie." He's also been a PA on several feature films including "The Lone Ranger," "The Amazing Spider-Man 2," "Jupiter Ascending" and "Transformers: Age of Extinction." Valdez-Castillo was a development coordinator at DMG Entertainment and began his career in entertainment in on-air promos at AMC Networks in New York. Valdez-Castillo has since written a freelance episode of "Mythic Quest," and is in pursuit of his next, great adventure (ideally, staffing on a DGE scripted series!).
Kris Crenwelge is an LA-based comedy writer. Raised in Houston by her dad and her maternal Choctaw grandmother, Crenwelge earned her master's degree in sports administration from Ohio University and worked for ABC Sports, NFL Europe, the Cleveland Cavaliers, and Houston Rockets. Crenwelge subsequently launched her own firm which produced award-winning branded content for clients in the NBA, NFL, NHL, MLB, and NCAA. Kris began her comedy career at The Groundlings and was a mainstage company member at Acme Comedy Theater, writing for the multicam late-night show, "Acme Saturday Night." She was a fellow in the 2020 Native American TV Writers Lab and is in the Women in Film Mentoring Program. Her original pilots have received recognition in more than 15 competitions, placing as Top 10 finalists in ScreenCraft and Creative Screenwriting. Her book, "Growing Up With Granny: A Survivor's Guide," won Roadmap's 2020 Write Start Manuscript Competition. Crenwelge was recently a staff writer on the Netflix animated series "Spirit Rangers."
Kelly Eisenbrand is an LGBTQ biracial Chinese comedy writer and native Angelino. She received a certificate in Fiction Novel Writing from Stanford University and an M.A. in English literature from Claremont University. Her scripts have received recognition from Roadmap for Writer's 2021 AAPI Diversity Initiative, the Chinese in Entertainment Pitch Contest, the Stage 32 TV Comedy Contest, and the Stage 32 New Voices in Animation Contest. Eisenbrand loves to write about protagonists who overcome their fears to realize their true selves — usually through connection with found family. The source of Eisenbrand's best comedy is authenticity, and she seeks to bring nuance and specificity to Asian American representation in the TV landscape. Her hobbies include attending and reviewing every Halloween haunt event within 100 miles, and hoarding books — a habit kept only in check by her two rabbits, Bruce Wayne and Blink, who eat books.
Steph Garcia is a Cuban American comedy writer with a Jersey girl attitude. Recently a consulting producer on an as-yet-unannounced talk show, Garcia's credits include writing a freelance episode and working as a writers' assistant on an animated half-hour comedy in development at Titmouse, freelance writing for Wildbrain Studios, writers' assistant for the Comedy Central pilot "Hood Adjacent With James Davis" and writers' PA on ABC's "The Catch" and "Selfie." She has an extensive background in sketch comedy and has written and performed at The Ruby LA, The Magnet, The PIT, and UCB, as well as at festivals such as NYC Sketch Fest and Women in Comedy Fest. She participated as a writer for the 2020 CBS Leadership Pipeline, the 2019 NHMC TV Writer's Program, and the 2019 CBS Showcase and was a finalist for the 2021 Universal Animation Writers Program. Garcia enjoys exploring identity through comedy, especially with a fantastical or sci-fi bend. She is a Sagittarius, just like her two daughters, and she worries about what's in store for their teen years.
Austin S. Harris is a comedy writer from Willingboro, New Jersey. He was recently an assistant in Current Programming at ABC, assisting in the day-to-day of several of the network's hit comedies and dramas including "The Rookie," "Black-ish" and "The Good Doctor," among other series. After graduating from New York University, Harris worked for the ABC News program "20/20" as assistant to two news anchors, traveling to various "scenes of the crime," and providing voiceover for the show. Harris' other credits include working as a director's assistant, development assistant, and most recently as the script coordinator on the Emmy®-nominated "Mahalia." Outside of writing, Harris is an avid roller coaster enthusiast. He's ridden over 200, and in his humble opinion, the best one is El Toro at Six Flags Great Adventure.
Carlton Gillespie is an African American drama writer born and raised in Oxnard, California. The son of a cop-turned-firefighter and naval administrator, he was a standout high school athlete, eventually becoming an All-American football player in college. He spent the majority of his professional career behind the scenes as a talent and sports producer at companies like ESPN, Complex, Yahoo, and Crooked Media. His background in 24/7 sports news television took him to numerous Super Bowls and NBA Finals and allowed him to cover legendary stories like Muhammad Ali's death and the NFL's blackballing of Colin Kaepernick. Gillespie was a semi-finalist in the 2020 Industry Next Screenwriting Contest, and a fellow in the 2021 Mentorship Matters Program where he developed a pilot with showrunner J. David Shanks. His dramatic writing seeks to explore characters of color with compelling pasts trying to achieve the American dream.
Amanda Mercedes is a drama writer from the foothills of the Appalachian Mountains of North Carolina. Raised in a fundamentalist Christian community, Mercedes attended Oral Roberts University and Regent University, where she earned an M.F.A. in screenwriting. She abandoned life as a missionary for a career in television. Now, Mercedes enjoys telling stories of women setting themselves free. Recently the writers' assistant on the upcoming Netflix drama series "Echoes," starring Michelle Monaghan, she was previously the showrunner's and writers' assistant on "13 Reasons Why." Mercedes has also held jobs in the story department at Warner Bros. and was an assistant to screenwriter Christina Hodson ("Bumblebee"; "Birds of Prey"). In 2016, Mercedes' pilot "Betty Bureau" landed her on episode 250 of John August and Craig Mazin's podcast, "Scriptnotes." In 2021, she won the Latina TV Writer's Group Script Anatomy Scholarship. When she's not writing or working, you can find Mercedes on the road in a camper van with her partner and pup.
Jeff Qiu is a first-generation, Taiwanese American writer who grew up in the suburbs of Los Angeles. He was recently the writers' assistant for Simon Kinberg's series "Invasion" (Apple TV+). Prior to this, he was a writers' assistant on season 3 of "Locke & Key" (Netflix) and a showrunner's assistant to Carlton Cuse ("Jack Ryan"; "Colony"). Qiu began his entertainment career at CAA, where he worked as a story clerk and as an assistant in the TV Lit Department. He has a degree in sociology and a minor in film & television from UCLA, where he was inspired to become a writer while studying media companies' massive impact on culture and society. Qiu has worked as a development intern for Condé Nast Entertainment and as a production intern for "The Young and the Restless" (CBS.) As a writer, Qiu seeks to expand the range of LGBTQIA+ and AAPI stories told in TV and Film, until every last misfit-oddball out there feels seen.
Ariana Quiñónez is a dramedy writer from the Central Valley in California. Recently the writers' assistant for the CW's "Roswell, New Mexico," Quiñónez has previously worked as an assistant on Disney's "Ultra Violet and Black Scorpion," Netflix's "One Day at a Time" and Starz's "Vida." After studying English literature and screenwriting at Loyola Marymount University, Quiñónez worked as an entertainment journalist and podcast host for the website Hypable, taught pre-kindergarten through her freshman year of college, and sold a rom-com feature to PixL. She has been performing in mariachi bands as a violinist and singer since the age of 8 and enjoys producing, writing, and directing the annual series of plays "Crosswords," a benefit that supports the Sam Wasson Scholarship fund at her alma mater, LMU.
J.D. Shields is an award-winning writer and director, originally from Atlanta, Georgia. She received her M.F.A. in screenwriting and directing from Columbia University and is an alum of New York University's Tisch Asia in Singapore. Shields has worked for DreamWorks TV Animation and is currently developing an original series with Marsai Martin's Genius Productions. Shields participated in the Women in Film INSIGHT Fellowship and the HBO Access Writing Program and was the Humanitas Prize Drama Fellowship winner. She is an alumna of Film Independent's Project Involve whereas a screenwriting fellow, she penned the award-winning short film "Wednesday," currently available on HBO. "Wednesday" debuted at the LA Film Festival and premiered at the American Black Film Festival. Additionally, Shields participated in the Moving Picture Institute Pilot Workshop and was a finalist for the Tribeca Sloan Filmmaker Fund, IFP No Borders, and the Nantucket Film Festival Screenwriting Competition.
Mithra Alavi is an Iranian American dramedy writer and graduate of the M.F.A. film program at Florida State University. Originally from Tennessee, Alavi spent her summers in Iran and credits her mixed Iranian and Southern cultural background as the source of inspiration for her writing and directing. Currently a development coordinator at Coverfly, Alavi worked as a trainee at APA and as a development coordinator at Myriad Pictures. Her original writing has received recognition from Screencraft and the Austin Film Festival. Alavi has also written and directed several short films that have received recognition from Women in Film, Hollyshorts, LA Short International Film Festival, Indie Spirit Film Festival, and the Hollywood Reel Independent Film Festival. Her student film, "Three's a Crowd," was a Student Emmy Award winner and convinced her to pursue writing and directing in Los Angeles. Alavi was a finalist for Ron Howard and Brian Grazer's Imagine Impact Fellowship.
by Disney Career Recruitment