Launching the Disney Wish Cruise Ship: Patricia Duerr, Product Management Director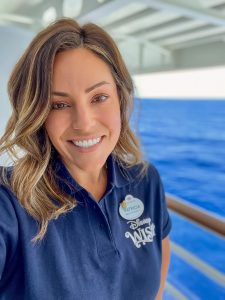 Patricia Duerr is a Product Management Director with the Disney Parks, Experiences and Products Technology & Digital organization. In her role, she supports Disney Cruise Line digital products such as the Navigator app and the Disney Cruise Line website. She recently was on the opening team for the Disney Wish, the newest ship to join the Disney Cruise Line family.
To learn more about Patricia's role and her experience contributing to a new ship, we asked her a few questions.
Tell us about your role! What's it like working in Technology & Digital for Disney Parks, Experiences and Products?
I am a Product Director for Disney Cruise Line Guest experiences, specifically the Navigator app experience as well as the Disney Cruise Line website. As part of my role, I'm really focused on the Guest experience digital strategy across these spaces. I think about the Guest's experience from the very beginning, when they first have interest in Disney Cruise Line, all the way through researching and booking their vacation, to the planning process, to going on the vacation. Our app is the conduit for our Guests' experience on the ship – it gives them all the information they need about the ship and to get the most out of their trip, so it's very important.
What's an important skill to have as a Product Director?
Definitely being able to build strong partner relationships and being a good collaborator. A lot of what we do is based on rapport. We work with so many partners because we're focused on the end-to-end experience. It can be anything from embarkation partners and thinking through improving the online check-in experience, to sales and marketing partners, whether we're supporting Guests or travel agents in booking a cruise online. And then operational partners onboard the ship, like food & beverage and hotel operations.
We generally always have a seat at the table, and we bring our various partners to our tables as well. Whenever we're conceptualizing any new experiences or thinking about how we can improve the digital experience, we want to make sure our partners are along for the journey to provide their knowledge and best practices. Collaboration is key.
Do you have a favorite part of your job?
I would say it's twofold – first, it's all the people I work with. They're so incredibly talented, they have so much passion and drive around the Disney Cruise Line brand. It really comes down to the people. And then two, it's the cruise industry. I love all the unique challenges we face working in this industry, and it's fun when you can overcome some of those challenges while working with great people.
What experiences do you get working in Technology & Digital for Disney Parks, Experiences and Products that you wouldn't get anywhere else?
So many things! This sounds cliche, but being part of the magic. Being able to say that I was on the Disney Wish crossing, bringing the ship all the way to Port Canaveral from Germany where she was built. I feel like I got to be part of the ship – I can point to things I worked on, some technology-related and some not. I can actually point to a table on the ship that I helped move in and assemble!
Working for Disney, it's like you are part of the storytelling Disney has so uniquely engrained in all of their brands. Working on the Disney Wish opening team, I felt like I was more than a technologist – I was actually part of the making of the ship. I don't know that I could ever get that working outside of this company.
What an awesome career experience to contribute to Disney's newest cruise ship. What are you most excited about onboard the Disney Wish, from a technology perspective?
Definitely the Worlds of Marvel restaurant – it's incredible! It's a technology restaurant and it's absolutely immersive from start to finish. The lighting, the sounds, the digital screens where you see vast Marvel IP and storytelling throughout your dining experience that you can actually interact with through your Quantum Core on your dining table. And of course, some fun surprises I won't spoil. It's just such a cool experience. Whether you're a huge fan of Marvel or you know very little about Marvel, you will find the restaurant incredible and appreciate the partnership of many teams including Technology & Digital, Walt Disney Imagineering, and Disney Cruise Line Entertainment who brought this story to life onboard!
Is there a project you supported on the Disney Wish you can share more about?
This project isn't specific to the Disney Wish, but I am super proud of how we've revolutionized the safety drill. Using the Navigator app, Guests can now complete the required safety drill on their own time rather than being required to report to a certain deck for an in-person safety demonstration at an assigned time.
Guests can walk onto the ship, open the app and get directions to their assembly station, then use the app to scan the station's sign. The app uses machine learning to recognize the sign and tells the Guest whether they're in the right spot or not that they would need to assemble in the event of an emergency. Then, the app checks you in and you can watch the safety video on your phone. And then the safety drill is done! Previously, Guests would need to go and stand on the boat deck at their assigned time to listen to all the safety information, and it probably took around 45 minutes. Completing the safety drill through the Navigator app is more convenient and gives Guests more time back in their day!
What emerging tech are you most excited about right now?
Thinking about how technology can impact Disney Cruise Line, I'm most excited about leveraging artificial intelligence. It's not necessarily emerging tech, but we have a unique situation where we can use AI to help with the onboarding experience. Recently, we launched the Guest Services chat through the Navigator app. It allows Guests to ask their questions from anywhere onboard the ship – on the pool deck, at a restaurant, or anywhere else they want to be – instead of standing in a long queue to chat with a Guest Services Cast Member in person.
I think we have the opportunity to take that a step further and use artificial intelligence and machine learning to automate responses to some of the simpler questions our Cast get asked most often, to minimize wait times for our Guests. This is harder for Disney Cruise Line because we're on a ship, so it's more difficult for us to use a lot of the cloud-based technologies. I think if we can figure that out, it'll be a game changer operationally for our ships!
If you enjoy collaborating with many different types of people, and want to contribute to new and exciting Disney products and experiences, a career in Technology & Digital at The Walt Disney Company could be a good fit for you! Visit www.disneytech.com to explore available opportunities.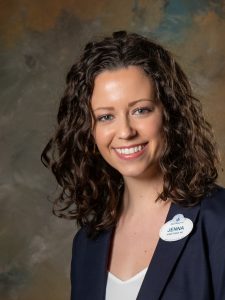 by Jenna T, Communications & Experience Manager, DPEP Technology & Digital