Celebrating Four Years of Disney Aspire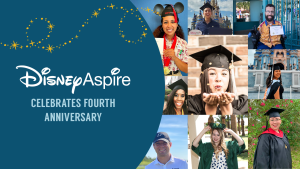 Happy birthday, Disney Aspire!
Can you believe it's been four years since we first introduced Disney Aspire, our education investment program for hourly employees? That means we've spent the past 1,460 days dedicated to making the career dreams of our hourly workforce come true.
In the last year alone, the Disney Aspire network has expanded to include North Carolina A&T, Johnson & Wales University, Fullerton College, and Cal State Fullerton. And that's just the beginning!
I had the chance to catch up with two of the leaders responsible for helping to bring this program to life each day: Chris Trout, vice president of learning and development and Tonya Cornileus, senior vice president of learning and talent solutions. Let's check in as they reflect on the past four years and everything that's coming in the future for this one-of-a-kind program.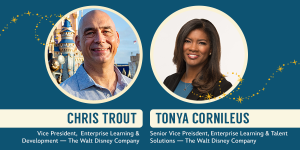 What has your team learned over the past four years bringing Disney Aspire to life?
Chris:

"Our team has learned a ton along the way, most importantly that our impact doesn't end with education. Instead, that's just the beginning. Education doesn't just unlock opportunities, but it also unleashes potential. And we've seen that firsthand time and time again."

Tonya:

"Ever since Disney Aspire was introduced in 2018, I've been inspired by the way the program is shaping the lives and futures of our employees. Although I'm new to my current role, I've loved watching Disney Aspire grow and flourish from the sidelines and am thrilled to now be on the team that helps bring it to life each day. Four years in, and the Disney Aspire graduate community is growing each day."
What impact has Disney Aspire had over the past four years?
Chris:

"We see Disney Aspire's impact in so many spaces, from attracting talent to our amazing company to increase tenure of our hourly employees. What I'm most proud of, though, is how our students and graduates contribute to the talent pipeline we have for salaried roles across the company. The news of each student/graduate promotion is more exciting than the last, knowing their hard work paid off."

Tonya

:

"I'm most energized by the amazing stories we hear. From first generation college students to parents exploring a lifelong passion they never thought they'd have the opportunity to pursue, each individual Disney Aspire journey is inspiring. And when those stories result in someone getting promoted into the job of their dreams, it all comes full circle."
What's the most memorable part of supporting Disney Aspire?
Chris:

"Without a doubt, hearing the stories of our students. My favorite part is learning about their whole journey, from what inspired them to enroll to the impact they're now making in their new job."
Tonya:

"Hearing how this program is changing the career trajectories of our students is the absolute most gratifying part. Disney Aspire is truly changing lives, and it's through these stories that more and more employees are encouraged to enroll."
Where do you envision Disney Aspire going in the next four years?
Chris:

"Since 2018, Disney Aspire has written a new playbook on what it means to develop your workforce and community. And I'm eager for us to start writing the next chapter."

Tonya:

"Something that will never change about the program is how we listen to and learn from our employees along the way and evolve the program as a result. We'll always be on the lookout for what's best for our employees."
Wondering where Disney Aspire will go over the next four years? You'll have to stay tuned to find out. In the meantime, check out the below infographic that illustrates some of the impact that Chris and Tonya shared above.

To learn more about Disney Aspire, visit aspire.disney.com.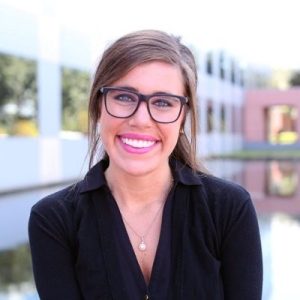 by Molly M., Senior Manager Employee Communications & Branding