Disney on the Yard Kicks Off HBCU Summer College Program
Disney on the Yard has a mission—to build a community for HBCU (Historically Black Colleges and Universities) alumni and provide meaningful opportunities for HBCU students that one day dream of working in the field of entertainment.
This summer, Disney on the Yard launched its inaugural Disney on the Yard Summer College Program with participants representing 35 HBCUs. This program is a part of Disney's beloved college program in which students gain on-the-job experience through uniquely Disney learning experiences and is also a testament to The Walt Disney Company's commitment to diversity, equity, and inclusion in action. Connected to this commitment, Disney also provides philanthropic support of HBCUs by funding scholarships and providing other direct grants.
Program participants were invited to a week of outreach and engagement at the Walt Disney World Resort to kick off their program journey. Black Talent Network, Campus Recruitment, Talent Acquisition Marketing, and Disney Programs & Experiences partnered with Outreach & Engagement to produce a full slate of Welcome Week activities to foster an environment of inclusion and belonging.
Activities included a welcome ceremony with a special appearance from Drum Major Mickey Mouse, Q&A sessions, networking with leaders and Cast Members from across the company, as well as many opportunities for participants to connect and build community.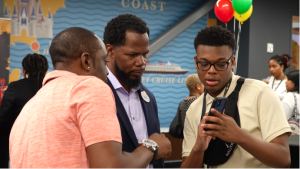 The participants in this cohort will go on to various different roles at Walt Disney World Resort, such as merchandise, attractions, and more. They will bring the knowledge and experience from their HBCU backgrounds to positively impact the lives of our guests and cast. Outreach & Engagement will continue to invest in these participants by providing them with mentorship and professional development opportunities.
Check back every month to see more examples of how we're inspiring a better world through the power of stories, and visit our CSR website for a more comprehensive look at our social responsibility efforts.
by Disney Career Recruitment