Disney Aspire Welcomes First In-Network HBCU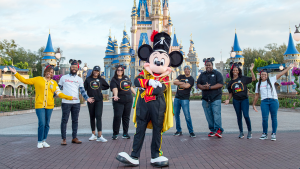 Disney Aspire, The Walt Disney Company's education investment and career development program, is excited to share that, today, we are welcoming North Carolina A&T State University, our first in-network Historically Black College/University (HBCU) to the Disney Aspire family. The addition of the largest HBCU in our nation will empower even more employees to put their educational and career #DreamsWithinReach through Disney Aspire.
"At The Walt Disney Company, we continue to make important strides as we deepen our relationship with HBCUs through the development of internships, mentoring programs, scholarships, and collaborative partnerships," said Latondra Newton, chief diversity officer for The Walt Disney Company. "It is an honor to add North Carolina A&T to our Disney Aspire program, which helps employees advance their careers. This is also a monumental Aggie pride milestone for many of our employees who are North Carolina A&T alumni."
The addition of North Carolina A&T brings a variety of new online Bachelor's and Master's programs into the Disney Aspire network, ranging from economics to information technology.
In partnership with Guild Education, Disney Aspire enables more than 80,000 hourly part-time and full-time employees and cast members across the United States to return to school as a working adult, with more than 12,000 employees currently enrolled. The program offers extensive post-graduate support to help employees' career aspirations come true, whether at Disney or beyond, and
Disney Aspire removes barriers to education and contributes to the Company's strong pipeline of talent by:
Covering 100% of tuition upfront, as well as reimbursements for required books and fees

Offering an enhanced program and degree catalog that aligns with predicted future of work trends

Providing individual student success coaching from start to finish through Guild Education

Also enabling graduates to prepare for career growth through the Disney Aspire Alumni Association and other extensive post-graduate support
For more information about Disney Aspire, visit Aspire.Disney.com.
by Disney Career Recruitment