Professional Intern Spotlight: Two friends, two coasts: Former classmates follow their dreams
Mikhaila Estwick and Maureen Zeufack met their freshman year of high school and became friends during biology class. Today, the high school friends are both pursuing their dreams with The Walt Disney Company – on opposite coasts.
Maureen was researching diverse programs for media students when she discovered the Disney UNCF Corporate Scholars Program. This program is a collaboration between The Walt Disney Company and the United Negro College Fund (UNCF) that awards a scholarship and paid summer internship at The Walt Disney Company to students from four-year institutions around the country, including many Historically Black College and Universities (HBCUs). Maureen decided to apply for the program in the future, saying, "It was really appealing and important to see that through this program, Disney as a company was demonstrating its commitment in bolstering and uplifting voices that are often underrepresented in entertainment and media."
Maureen applied for the program in fall 2021 for a role as a drama development intern. When applying, she saw that there were also roles for animal sciences, so she reached out to her friend Mikhaila, who is studying that field. Mikhaila almost didn't apply, saying, "When she got it to me, I only had 30 minutes before the deadline, and I thought there's no way I'm going to get it. I'm glad I changed my mind!"
As an educator at "The Seas with Nemo and Friends" in EPCOT, Mikhaila spends her days in the aquarium where she educates guests about the animals at The Seas as well as about conservation and the steps they can take to create a positive impact on the environment. Sharing those interesting facts with guests and encouraging their passion about the oceans is Mikhaila's favorite part of her role. "We're there to create happiness for them," says Mikhaila, "but sometimes you'll get a guest interaction that reminds you why you're so excited to come into work every day."
While guest interaction is the highlight of Mikhaila's experience, Maureen's role is more of a backstage one. As Maureen says, "Mikhaila and I are having vastly different experiences this summer. She's working at Walt Disney World® Resort in Florida in a more external way, and I am working on the TV side of things in a more internal way, directly with the content itself. I think this is highly representative of the vast variety of opportunities which are available and exist under the Disney umbrella and family – there's not a lot of companies you could say the same for!"
As a drama development intern with 20th Television, Maureen reads and evaluates a variety of mediums including scripts, books, pitch decks, podcasts and more, and shares feedback on their potential for Disney-owned networks and platforms. She also works with maintaining the grid of writers, directors and clips of daily footage from pilots. Working with 20th Television means that Maureen has the opportunity to work with content from around the company including ABC, Freeform and Hulu, which Maureen explains, "means we get to work with a wide variety of really exciting content, projects and unique storytelling."
Having previously worked in unscripted development, Maureen says that she has learned a great deal about the development process and industry of scripted development. "I've learned firsthand that there's a specific art and craft of delivering a pitch along with a delicate art and craft of giving notes to writers and producers on their work."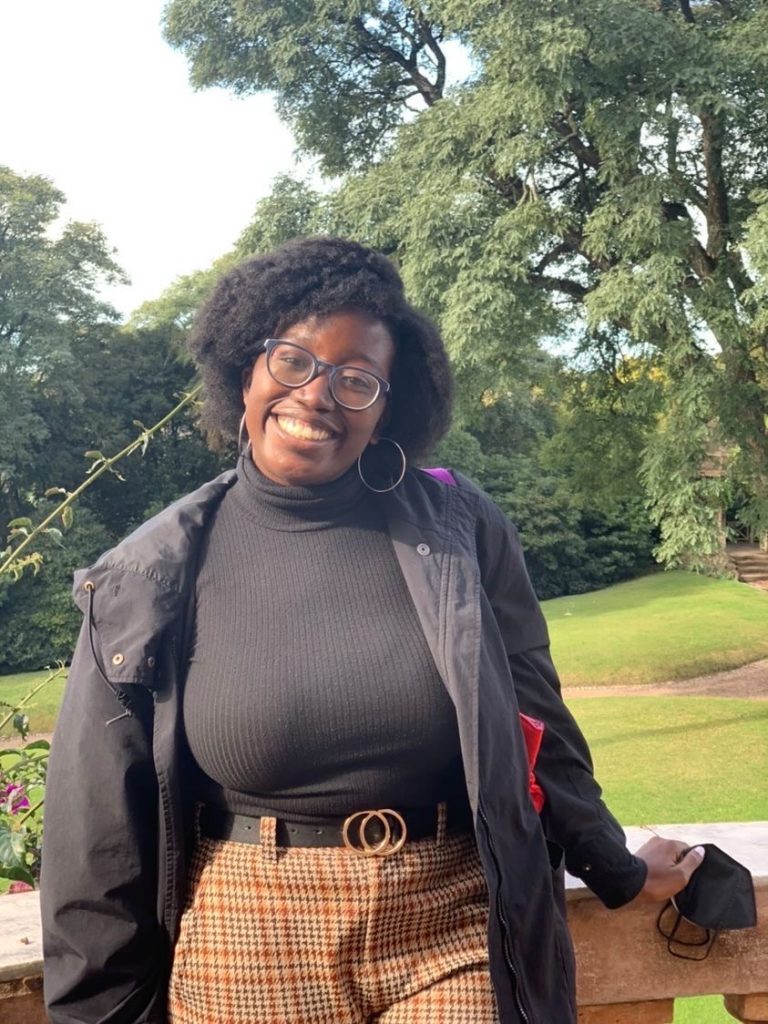 As Maryland natives, both Mikhaila and Maureen have enjoyed the opportunity to live and work in a different state. "I had actually been manifesting and working toward a California summer doing an entertainment internship," says Maureen, "so I'm really happy that it came to fruition and that I was able to make it a reality." Mikhaila also enjoys living in Florida saying, "being from Maryland, Florida isn't somewhere I get to visit often, but it's also a spot I love visiting – even with the afternoon monsoons!"
"It's nice knowing that we're both out there making it. I'm imagining the girls we were freshman year to the young women we are and I'm so amazed at how far we've come." -Mikhaila
When thinking about advice to share with current or future interns, both Mikhaila and Maureen emphasize the importance of making connections and trying new things. "This industry is all about relationships," states Maureen. "Don't be afraid to reach out to do informational chats, not only within your team but in any department across the Disney enterprise you have an interest in. In my experience, people at Disney have been so kind. They truly want to see you win and many are so generous with their time."
Mikhaila adds, "Put yourself out there! You never know what doors it could open for you – that includes doing things you never saw yourself doing or being interested in. You might like it more than you thought but knowing what you don't like is just as important as knowing what you do like."
After their internships, both Mikhaila and Maureen plan to return to school for their senior year. In the future, Maureen plans to continue working in the creative field, and wants "to spend my career being in the service of stories, whether that looks like a development executive or a show-runner."
Mikhaila hopes for more opportunities at Disney, saying, "there are so many teams that help create a magical experience for our guests, and I'd love to be able to experience them all. One thing I love about working at a company so big is that there are so many opportunities if you look and dare to ask."
Do you envision a future as a Disney Intern? If you do, head to DisneyInterns.com to learn more and explore current offerings.