8 tips on how to be a good roommate
Now that you're all settled into your new home and work location, it's a good time to reflect on how you can be the best roommate possible. Whether it's your first or fifth time living with roommates, it's important to remember some tips to create the best living situation for everyone in your apartment.
People come from all around the world to work at Disney Parks. Programs participants come from a variety of different backgrounds and experiences, so keep in mind that your roommates may do things differently than you.
Although you and your roommates have your differences, we have some tips from personal experience that can help you build a positive living situation throughout your program!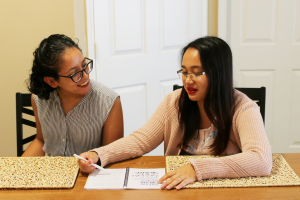 Tip #1: Get to know your roommates
The best way to build a relationship with someone you're living with is to get to know them. Gather with your roommates and watch TV, go out for some food, plan a visit to the parks or hang out by the pool. Setting aside time to bond and become more acquainted with one another is a great foundation to establish early on, and one you can continue to build upon!
Tip #2: Create a roommate agreement
A great way to build a happy living situation is by creating a roommate agreement. There are even some questions on pages 36-37 of your Program Guide to help with this conversation. If you fill out the "Guide to Roommate Relations" activity and return it to the Disney Service Center, you can receive an exclusive postcard! Pro tip: Giving each roommate different responsibilities helps to keep the apartment in good shape, and each roommate accountable.
Tip #3: Be flexible and willing to compromise
Chances are that you and your roommates will not agree on everything, and that is perfectly fine. Work with each other to meet in the middle so that you can be happy living together. If your roommate prefers the apartment to be cold, but you like when it's warm, maybe meet at a temperature that you both will feel comfortable with.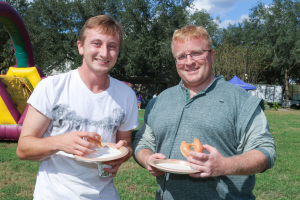 Tip #4: Communicate with each other
Communication is key. If something is bothering you, or if you want to have a friend over, talk to your roommates. If you're all on the same page, it will make living together a breeze. Your roommates don't know what you're thinking, so don't hesitate to tell or ask them anything you might want to discuss. As a quick side note – face-to-face communication is encouraged, as tone/intent can sometimes be lost in text messages.
Tip #5: Be courteous
Best friends or not, you should always be courteous to your roommates. If you're nice to someone else, they will most likely return the favor. It's a domino effect that can help you maintain a strong relationship with your roommates.
Tip #6: Respect your roommate's space
Now that you're sharing a common space with someone else, make sure to set up some boundaries. Living with other people may lead to you sharing items and spending a lot of time together, but don't forget to ask if you want to use something of theirs. Sometimes after a long day of work, your roommate may want some alone time or to hang out with other friends. Let your roommate have their space as they should give you yours.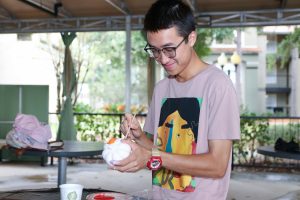 Tip #7: Keep the noise to a minimum
Blasting music to wake up for work or raising the volume on the TV might seem normal to you, but be thoughtful of your roommates. Although you might not be working, your roommate might have an early work shift the next day or want to relax. While you don't always have to remain quiet, be courteous about the noise levels in your apartment.
Tip #8: Always clean up after yourself
It's easy for a mess to occur when you don't pick up after yourself. If you're eating or doing laundry, make sure you clean up afterward. Although you might not mind the mess, your actions affect an entire unit. To prevent any conflict and maintain harmony, it's best practice to always clean up after yourself to avoid a mess or confusion.
By following these tips, you're creating a positive environment in your apartment, all while being a good roommate. May you all live happily ever after!