Disney College Program Participant Spotlight: Camille, Lifeguard
When swimming and Disney are two of the things that you're most passionate about in life, finding the perfect job to combine those things can be a challenge…or is it?
Meet Camille, a Disney College Program participant at the Disneyland Resort. She's a Biological Anthropology major at San Joaquin Delta College and a lifeguard at the hotels of the Disneyland Resort.
"After swimming throughout high school and college, I knew exactly what job I wanted on the program," she said. "I fell in love with the idea of being a Disney lifeguard and the opportunities this program would provide me. I knew that participating in this program would give me an experience that no other internship or company could give me. All of the details of this amazing program are more than I could've ever hoped for and my role is a swimmer's dream!"
Being a lifeguard is a very important job because you are responsible for the safety of hundreds of people each day, mainly children. When most people think about the responsibilities of a lifeguard, the first thing that comes to mind is probably sitting in a chair, scanning the water and getting a tan. Camille knows that there's a lot more to the role than that!
"Some of my responsibilities include enforcing the rules, scanning the pool and making sure life jackets are available to guests. Safety is always our number one priority," said Camille. "Knowing that I can help create a safer, more enjoyable experience makes me feel tremendously happy and rewarded."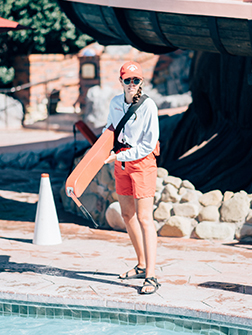 "In more serious situations, I also assist and rescue guests who are struggling (which happens a lot more than you may think). I'm also in charge of making sure the pool deck is show-ready, which includes pool duty, restocking towels, emptying dirty bins and contributing in any way possible to ensure guests are having a positive experience."
Our cast members at the Disneyland Resort are always trying to help guests have an unforgettable vacation experience, and just like any other role offered on the Disney College Program, the lifeguard position plays a huge part in creating that Disney magic.
"I love making guests honorary Disneyland lifeguards," said Camille. "When I see a kid dedicated to breaking the record of riding the Yellow Monorail slide over 30 times, I enjoy making their day by presenting them with a signed certificate and button. I even get to hand out signed photographs of some of the most popular Disney characters when we see something special happen. Seeing the awe when I tell a little girl that Ariel complimented her on her superb slide technique makes my heart skip a beat!"
Camille is almost at the halfway point of her program, which means that in a few months, her Disney journey will come to an end and she'll be headed back to school. She's learned so much on the program and has some excellent words of wisdom to share with everyone who's interested in taking part in this adventure.
"Make sure to venture out in every way you can. Take advantage of the opportunities and information given to you at events and in your classes. Seek out fellow participants who share the same interests as you, and always look to make new connections. Definitely take the time to explore all the events happening inside the Disneyland Resort and in your local area. Everyone is so excited and welcoming here and it's amazing to be surrounded by people who are just as happy to be here as you!"
No matter which role you have or location you're placed in, the Disney College Program is truly a once-in-a-lifetime opportunity and the skills and knowledge that you'll gain here are more than you could ever imagine.
"This program has brought out the best professional in me," said Camille. "Learning the importance of marketing effectively, marketing myself and my skills, everything I've learned has helped me branch out and connect with leaders, with confidence. Overall, this program is the ultimate confidence booster. I feel more in touch with my strengths, while building to improve myself through my weaknesses. I'm now more excited about my future than I've ever been before!"