Parents and family sessions are back! Join us virtually or in-person to learn more about the Disney College Program!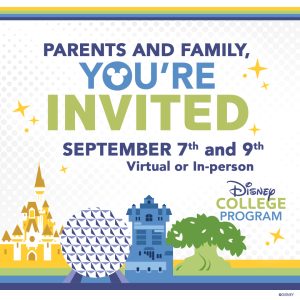 Are you a parent or family member of a current college student or recent graduate who is looking for internship opportunities? Do you have questions and want to hear from cast members who support the Disney College Program? We're hosting an Open Mouse at Flamingo Crossings Village and a Get to Know the Disney College Program – Parents and Family Edition virtual session just for you!
Similar to a college campus visit or information session, these events will be your opportunity to hear details about the three main components of the Disney College Program: living, learning and earning.
Our in-person Open Mouse will be held September 9 at Flamingo Crossings Village near Orlando, Florida. Flamingo Crossings Village, owned and operated by American Campus Communities, is home to all our Disney Programs participants, and during the visit you'll be able to tour this beautiful property and its amenities. Additionally, you'll meet with Disney College Program recruiters and the Programs Experience team who will give you an overview of the program and what your student's experience could be like.
You'll also be able to ask any questions you may have and walk away with a greater understanding of the benefits and value of this internship opportunity. The student or recent graduate in your life is also welcome to join you and learn more about the program.
Please note, these sessions are designed for parents and family members of college students and recent graduates that have not yet accepted an offer to participate in the Disney College Program. If your student has accepted an offer for the program, there will be an information session available for you to attend on or before their arrival day.
To register for our Open Mouse event at Flamingo Crossings Village, click here! Details about arrival and parking will be shared at a later date once attendees have registered.
For those unable to attend in Florida, don't worry! We're offering a similar overview through the Get to Know the Disney College Program – Parents and Family Edition virtual session on September 7. Attend our online session and virtually walk through Flamingo Crossings Village, hear from our recruiters, and break out into smaller rooms for question-and-answer sessions.
Click here to sign up for our virtual Get to Know the Disney College Program – Parents and Family Edition.
Whichever way you choose to attend, we can't wait to see you there!