Happy International Flamingo Day!
Did you know that April 26 is International Flamingo Day? 🦩 This is a very important day of celebration for us here at Flamingo Crossings Village and Disney Programs since, well, it's in our name!
To celebrate, we talked to Ntando, a Cultural Representative from South Africa working at Disney's Animal Kingdom Lodge and an expert on all things flamingos. Ntando's role as a savanna guide is to share her expertise on wildlife and her culture with guests. She is very passionate about conservation and raising awareness about wildlife, especially flamingos!
Savanna guides at Disney's Animal Kingdom Lodge all have a string of memories that they wear on the front of their costumes. Each string has nine beads representing the different activities that guests can enjoy at the resort such as learning about flamingo behavior, animal enrichment, environmental tips, and the music of the savanna.
Recently, Ntando returned to participate in her second program as a Cultural Representative. "I'm glad to be back because I get to share so much more with the guests. This platform here actually allows me to talk more about my continent, Africa, and exchange my culture, and I get to talk with the guests as well to learn about theirs." Her favorite part of her role is talking about Africa and her culture, and sharing facts and interesting behaviors about wildlife, including her favorite: flamingos.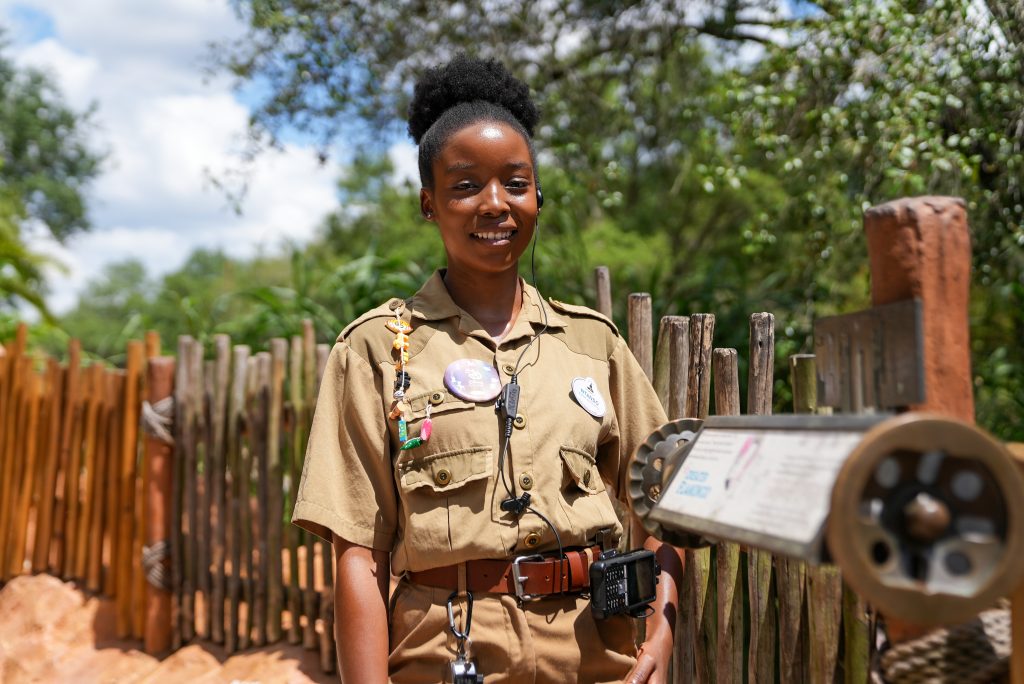 Some of Ntando's favorite fun facts about flamingos include:
Flamingos are pink because of the food they eat! They mainly eat shrimp and algae.
Flamingos sleep on one leg.
Flamingos' knees bend backward when they walk.
Have you seen the flamingos and other animals at Disney's Animal Kingdom Lodge? Whether it's Earth Month, International Flamingo Day or any other time of year, head over to the resort to celebrate International Flamingo Day and learn more about conservation and wildlife with Ntando and her fellow savanna guides!