Disney College Program applications now open!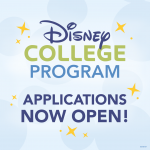 We are excited to announce that Disney College Program applications open today – apply now!
This summer, alongside 2020 participants who were given the opportunity to apply early, we are thrilled to welcome new participants to a Disney College Program at Walt Disney World® Resort in Florida.
Over the past year, the Disney Programs experience was reimagined, and participants can create, experience and study the magic like never before. They will be one step closer to the magic with an accelerated application process, be among the first to stay in our brand-new Flamingo Crossings Village housing community, study the magic in innovative educational facilities, enjoy uniquely Disney experiences just for program participants, and so much more.
Students currently enrolled in a college or university in the U.S., or those who have graduated in the past 24 months, are eligible to apply. Priority will be given to those able to arrive in June or July, although applicants may indicate they are available for arrival in August or September.
For more information about the program and to apply, click here!
For more on updates to the Disney College Program and our new housing community, check out our previous blogs:
The Disney College Program is coming back!
Everything you need to know about the return of the Disney College Program
Welcome home: Introducing Flamingo Crossings Village!