Professional intern spotlight: Sahar, Show Programming Animation at Walt Disney Imagineering
Ever wonder how your favorite Disney characters come to life in beloved Disney Parks attractions across the globe? Professional intern Sahar helped the Walt Disney Imagineering team create animatronic magic during her Show Programming Animation internship, then turned that experience into a full-time role as an Associate Technical Animator!
Sahar began her journey at Walt Disney Imagineering as a professional intern with the Play Disney Parks team during the app's launch, working on interactive set pieces at attractions like Space Mountain and Peter Pan's Flight. On this team, Sahar was able to apply the art and engineering skills she learned in school and discover how the two communicate with each other in the experience design space.
"I was excited about the opportunity to work on hands-on, real-world projects and to see our guests fully immerse themselves when they visit the parks," she remembers.
Sahar knew immediately that Walt Disney Imagineering was a great fit and began supporting Show Programming Animation in a co-op position while earning her master's degree in computer graphics for emerging technologies.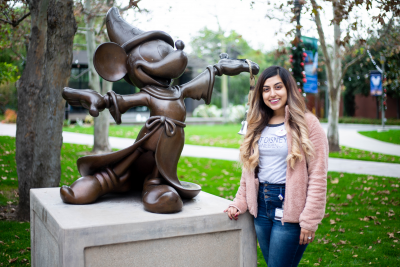 Later, she extended her time with the team as a fall 2019 professional intern. Her day-to-day internship responsibilities included rigging, animation, tool creation and overnight installation to bring Disney's world-renowned animatronics to life.
In order to remain true to each to character and their story, Sahar worked closely with animators and producers at Walt Disney Animation Studios. "We talk to production, we learn about their vision and storytelling aspects," Sahar explains. "There's so much collaboration with all these different teams."
She and her show programming teammates partnered with everyone from Mechanical Engineers to Figure Costumers to create each animatronic.
Sahar's favorite project during her internship was working on the upcoming "Beauty and the Beast" attraction at Tokyo Disney Resort. She loved having the opportunity to collaborate with cast members overseas and work with seasoned animators, including a few artists from the 1991 "Beauty and the Beast" film.
"It was the first project where I was actually able to move the animatronics around and test out the rigs," Sahar recalls. "So, that was mind-blowing." Overall, Sahar found the experience "so inspiring and humbling."
During her internship, Sahar learned a lot about designing with the consumer in mind and designing specifically for theme parks. Further, it provided practical applications for her two greatest passions: art and tech.
"If you're someone who's passionate about art and engineering, this is a great company to do those things," she affirms. "It's an amazing learning experience."
Finally, Sahar credits her internship with helping her develop soft skills that have helped guide her transition into a full-time role. "It helped me with building my own confidence," she explains.
Now, Sahar continues to support the animation team at Walt Disney Imagineering on a variety of exciting projects. She is thrilled to be applying her animation and digital production skills in this new capacity.
Sahar also recently had the opportunity to represent The Walt Disney Company as the Academy of Interactive Arts and Sciences Foundation Scholar. She will be representing Walt Disney Imagineering at the 2020 D.I.C.E. Summit and the Game Developers Conference to "help promote a more inclusive environment for women in the industry and inform others about bridging the gap between the technology, film, gaming and themed entertainment industries," both endeavors that she is very passionate about.
To other interns hoping to embark on long-term careers with the company, Sahar offers the following advice: "Keep learning, growing and making valuable connections both in and outside of your current role and team. Believe in yourself. Keep dreaming and making magic!"