Professional Intern spotlight: Ashley, guest engagement and digital content development
For former Disney Professional Intern Ashley, every day of her program with Disney's Animals, Science and Environment Team was a menagerie of fun!
Ashley had always been passionate about animals and conservation. After working in entertainment on the Disney College Program, she was determined to pursue a career with the company. Before doing so, she earned both her bachelor's and master's degrees in communications and equipped herself with the necessary skills to succeed in the field.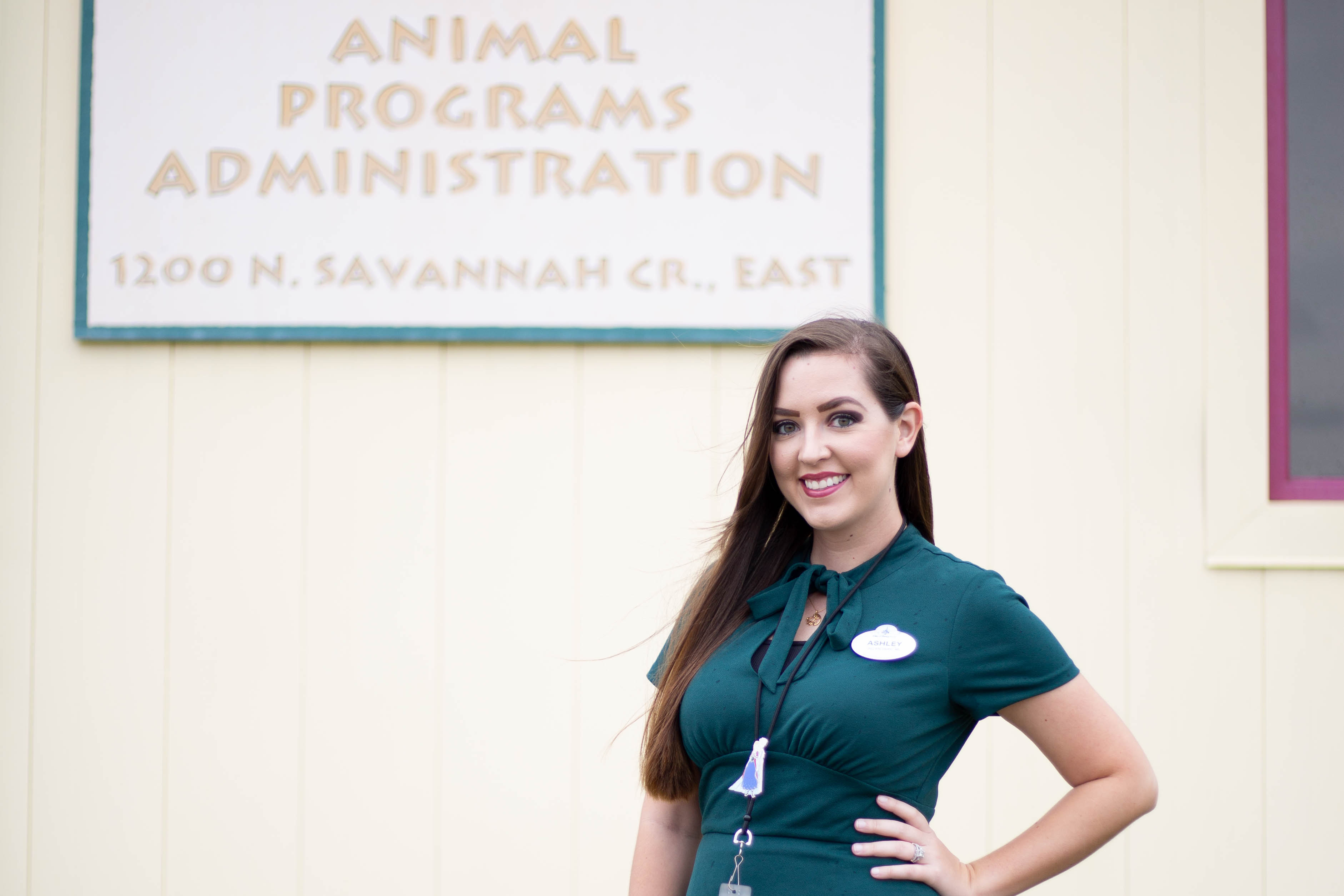 When Ashley's husband, who also worked for Disney, suggested she explore professional internship opportunities, the guest engagement and digital content development internship for Disney's Animals, Science and Environment team immediately caught her eye. "I made it all the way through the interviews, all the way through the decision process," she remembers. "I didn't get it, and I was heartbroken."
Ashley didn't let this setback discourage her, however. She accepted a different internship with the DisneylandⓇ Resort Public Affairs Media Relations team, where she managed social media pages and worked on the "Every Role a Starring Role" video series. She credits her first professional internship with providing valuable experience that helped her secure her dream role the second time around!
Ashley says that her internship with Animals, Science and Environment perfectly married all of her loves: "I've always loved animals. I've always loved conservation and the message that it stands for. And I love Disney!"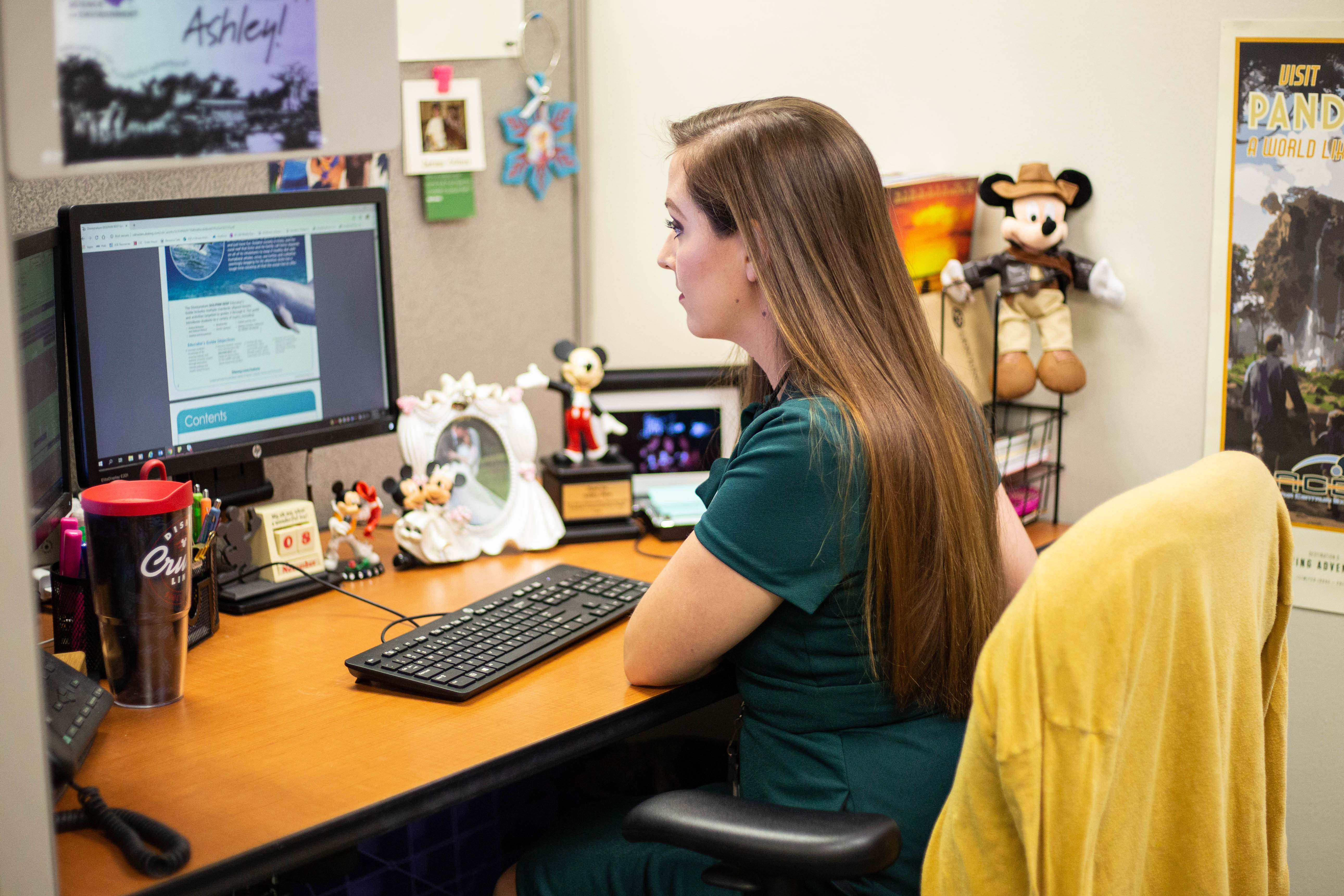 For the duration of her program, every day of work varied; Ashley refers to her internship as "a hodgepodge of so many things." Her projects included everything from ideations of in-park activations to partnering with the Walt Disney Studios to develop educational packets that incorporate messaging and IP from upcoming film releases. Sometimes, she would be asked to write a blurb to accompany a photo, create signage for the parks, or write a fact sheet for a specific animal, a task that requires thorough research and encyclopedia reading. She even wrote scripts and scouted locations for Disney Animals, a series of short videos featured on the Disney Channel.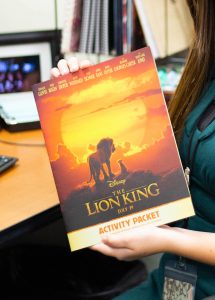 The educational activity packets were Ashley's favorite project to work on. "I was nervous about this project at first, because it's completely outside my comfort zone," she recalls. "Being able to step outside my comfort zone and just own it, I found something that I absolutely love to do."
Working on the packets, Ashley had the unique opportunity to work alongside the Walt Disney Studios and be involved in every stage of development, from ideation to creation. She was extremely proud of the result, particularly the activity packet based on the 2019 version of "The Lion King." Ashley loves that these packets provide "engaging activities that not only connect to the film, but inspire families to connect with nature."
Working on such a vast array of projects, Ashley acquired such a diverse set of skills that she now feels prepared for "any job out there." Fortunately, she has recently transitioned into a full-time role on the Animals, Science and Environment team, where she continues to make an impact as a conservation education specialist.
Ashley's work communicates important conservation messages to families and encourages them to get involved in efforts both within our parks and outside of them. "This team is so important, not only just to Disney, but to the world," Ashley explains. "Not only do we help the animals at our parks and resorts, we also help conserve animals across the globe."
To prospective professional interns hoping to launch their careers at the company, Ashley recommends displaying a willingness to learn and step outside of your comfort zone. "Be passionate about what you're doing," she adds, "and most importantly, be yourself!"