Professional Intern spotlight: Nick, conservation education presenter
"A wilderness explorer is a friend to all, be it plants or fish or tiny mole."
Nick, a conservation education presenter professional intern at Walt Disney WorldⓇ Resort, takes the wilderness explorer pledge from Pixar's 'Up' to heart. Every day, he teaches guests of all ages about the animals and ecosystems at Disney's Animal Kingdom Theme Park and what we can do to protect them.
The Wilderness Explorers interactive experience takes place throughout the park and consists of over 25 nature-themed activities for which guests can earn badges. Conservation education presenters like Nick serve as wilderness explorer troop leaders and facilitate each of these challenges. The guest's objective is to earn all available badges and become an honorary member of the wilderness explorers.
Nick is currently earning his degree in sustainability studies and public relations at the University of Florida, where he is pursuing his passion for the environment. His double major in public relations has helped him consider the way one should craft and deliver messages about conservation so that they will be best received. In his current role, Nick practices tailoring his messages to guests of different ages and with varied knowledge of the topics at hand.
Nick began his Disney career on the Disney College Program, where he was a skipper on the world-famous Jungle Cruise at Magic Kingdom Park. "That was really fun," he says, recalling how excited he was when he found out which attraction he would be working at. Nick didn't take his time in attractions for granite; he went on to work at Kilimanjaro Safaris, leading guests on tours of the savanna. It was there that Nick first learned about Animal Kingdom's conservation efforts and became familiar with Wilderness Explorers. He was immediately interested in the troop leader role and remembers thinking, "I could be one of the people who gives out the badges and talks about all the cool things I studied at school."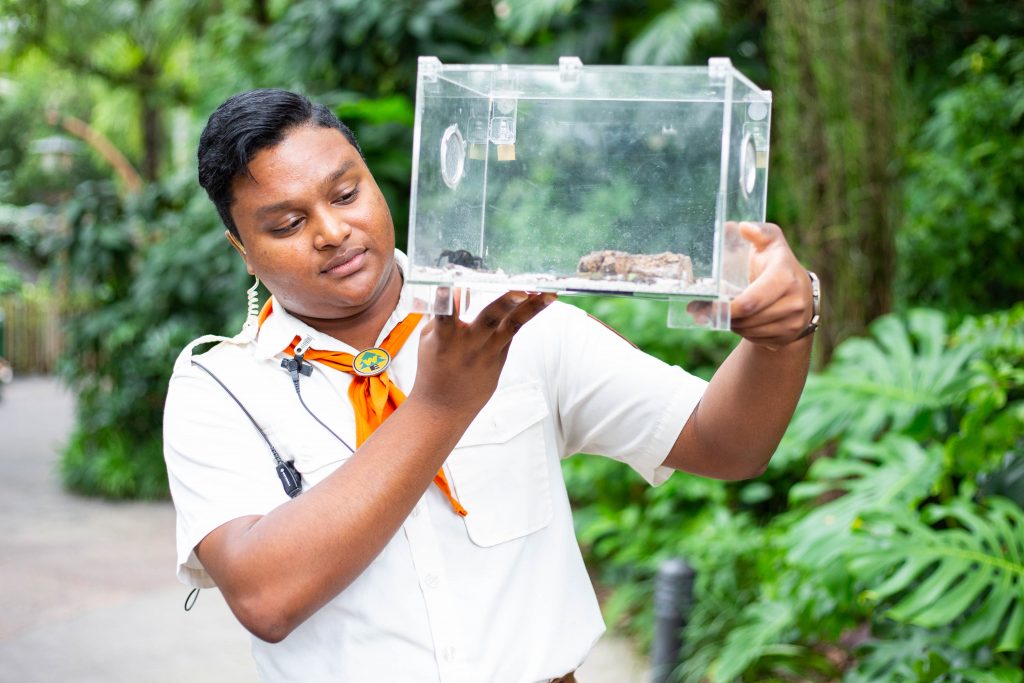 Now, Nick is one of 32 conservation education presenter interns stationed throughout Animal Kingdom each day. In the mornings, the whole team gathers for their pre-shift meeting, during which interns are given the opportunity to present on a topic of their choosing. Nick is currently working on a presentation about insects that he is excited to share soon. After pre-shift, the troop leaders begin their rotation. They can work at a variety of different locations during each shift. "In one day, you can be talking about flamingos in the morning, then plants in the afternoon and dinosaurs by the end of the day," Nick explains. They take small critters like tarantulas and Madagascar hissing cockroaches with them to some of the stations. Other stations have props or plants.
Training for the role took about two weeks and included studying the comprehensive presenter manual, attending informational seminars, meeting with animal keepers, and visiting each badge location. On one of Nick's first training days, he and his fellow interns were challenged to collect all the badges themselves, a feat which Nick calls "very tough."
The Wilderness Explorers challenge is always evolving, and Nick constantly finds opportunities to learn more. "We're learning from each other, and from the people we're talking to," he says. "There are kids who teach me dinosaur names to this day." Recently, Nick was teaching guests about apes when he met a guest with a decade's worth of experience working with gibbons at the zoo. Their conversation provided Nick with a host of new information to add to his store of ape knowledge, and it's only one of several such examples. Nick and his teammates also partner with cultural representatives, who operate several of the wilderness explorer stations and speak on topics from their native countries.
Before starting this internship, Nick had a few ideas about what a career in sustainability might look like. But it wasn't until joining his current team that he discovered the many different kinds of work available in his field. Working as an education conservation presenter has been both a great learning experience and a fitting start to Nick's career. Put simply, Nick calls it "the best internship ever."
Adventure is out there! Explore current Disney Professional Internship opportunities here: https://jobs.disneycareers.com/search-jobs?k=professional%20internship