Learning from the legacy: Madeleine's computer graphics internship at Industrial Light and Magic
The unification of art and technology is in the DNA of Industrial Light And Magic (ILM), a division of Lucasfilm. So, when Madeleine started her internship at ILM, she immediately felt like part of the family.
As a freshman at Stanford University, Madeleine took her first computer science class and—to her surprise—enjoyed it, yet she felt something was missing.
"For around eight years I had been doing a lot of drawing and painting, so part of me also wanted to stay connected to that artistic side of myself," Madeleine said.
That's when she discovered computer graphics.
"After my first computer graphics class, I started to realize the possibility of combining tech and art in a technical capacity," she said, "That's when I really started exploring the world of computer graphics."
The inveterate mark ILM has made on the visual effects and computer graphics industry is undeniable. From box office marvels to cases full of academy awards, ILM has been redefining what is possible in film for almost 45 years, and it's not slowing down.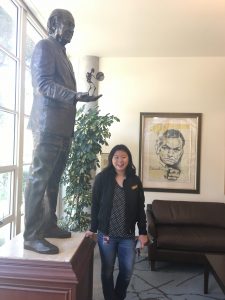 That's why it's no surprise Madeleine, now a rising senior at Stanford University, saw what a unique opportunity it was to become an intern at ILM.
Madeleine learned about internship opportunities at ILM during SIGGRAPH, one of the world's largest computer graphics conferences. She spoke to a few Disney recruiters at the event and was directed to a variety of opportunities across the The Walt Disney Company.
"There was an opportunity at Lucasfilm for a Rendering Engineer Intern, and it sounded like exactly what I wanted to do. I was over the moon when I ended up getting the role," she said.
As a Rendering Engineer intern at ILM, Madeleine is on the Advanced Development Group team, which works on real-time graphics for all Lucasfilm and ILM internal projects. Her current project is called MaterialX, an OpenSource project used for look development.
"I'm working on developing new shading models, and also adding a texture baking feature. It's really cool to contribute so concretely to a project like this," Madeleine says.
Madeleine said having the ability to gain hands-on experience with her projects and to make such a large impact is part of what sets her ILM internship apart from her past internship experiences.
"At big tech companies, it's hard to feel like you're making an impact that is tangible and has a real effect. But with something that's visual at Lucasfilm, it's really great to be surrounded by all these people who think very similar to you in terms of appreciating the art that goes with the tech and how those two really go together," she says.
Working alongside some of the most accomplished computer graphics experts in the industry has also helped Madeleine challenge herself. During her internship, Madeleine was assigned both a mentor and a manager, who have been instrumental in helping develop her skills during her time at ILM.
"My mentor, Jonathan, is managing the entire MaterialX Open Source code base. Whenever I had questions, Jonathan was super available and he'd always make sure to check in with me," Madeleine says.
Her manager Eoghan has also played a huge role in giving Madeleine such a unique experience during her time at ILM.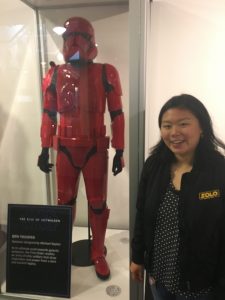 "He always explains the projects other teams are working on and how my project connects to other people's projects. It was really cool to feel like I was connected and part of the team," she explains.
In addition to her manager and mentor, Madeleine was also able to connect with fellow interns, employees, and high-level executives at Pixar, ILMxLab, and Skywalker Soundin San Francisco.
"The internship coordinator put together a lot of 'lunch and learns,' which was a unique opportunity to talk with executives across Lucasfilm who work in different disciplines, and I was able to grab coffee with some of the leaders, as well," she says.
As part of the internship program, Madeleine and her fellow interns were required to put together a 5-minute final presentation to give an overview of the projects they worked on, the things they learned, and the impact they made during their time at ILM.
"It was a good way to reflect on some of the larger lessons that I learned here, and I definitely appreciate how formative my experience has been," Madeleine says.
As for her next steps, Madeleine plans on completing her degree and Master's program at Stanford University. Overall, she's excited to see where the future of technology at ILM goes, specifically in virtual production and real time rendering.
When reflecting on her experiences, Madeleine said, "You really get a chance to challenge yourself and grow alongside people who are very experienced and really amazing at what they do. It's not every day that you feel super excited and proud about the products your company produces that will touch a lot of people around the world."
At Disney, there are many opportunities to find the perfect internship to fit your interests, passions, and skills in technology. Learn more about tech internship opportunities here: https://jobs.disneycareers.com/our-students
Interested in an internship at ILM? Learn more: https://jobs.jobvite.com/lucascompanies/p/join-the-jedi