Truly undefeated: Sports journalist Bill Rhoden and his work to inspire the next generation
For Bill Rhoden, accomplished sports journalist and author, it all started when he was just eight years old.
"I can't remember where my interest in sports begins and ends. My earliest memory is just racing against my father, who was a track star in college and played football, always wondering at what point I would beat him. My goal was to always make him really run. Those are my first memories of playing sports," Rhoden said.
Another childhood interest was writing. "The first day I could remember writing was one Christmas when I was younger. My mother and father had given me a collection of encyclopedias, and I remember taking one of the books and copying a Christmas story that was in it. Dad said, 'What are you doing?' and I said, 'I'm writing a book!' Dad responded, 'That's not how you write a book!'" Skip ahead a few years to 2006, and Rhoden had just published his first book. When he next saw his father he said, "Dad, it took me a long time, but I finally finished my book."
From there, his interest in both writing and sports took off and involved basketball at the Chicago YMCA, high school football, writing for his high school paper, and eventually a football scholarship at Morgan State University where he majored in English. This time in college was where he discovered he did not have a passion to pursue sports professionally, and he began looking into a career as a writer. "I didn't have a burning desire to play pro, and that's how I got into sports journalism," Rhoden said.
With his writing and sports background, it was ultimately his journalism professor and owner of Baltimore's Afro-American Times, Francis Murphy, who guided him into his career as a sports journalist. Murphy liked the way Rhoden wrote and saw promise in him as a future contributor. She told him if he wasn't drafted by the National Football League and decided not to go to graduate school, he should "march my butt to the African American newspaper in Baltimore! Well, I went to the newspaper, and I've been working ever since."
At Afro-American Times, Rhoden would only write two stories before moving over to Ebony, where he became a columnist for the magazine. "At Ebony, I wrote about a lot of things – entertainment, education, etc. – but that's probably when I started writing about sports," Rhoden said.
After Ebony, Rhoden's career took him to The Baltimore Sunwhere he worked as a jazz critic. Then, he began working for the weekly review section of the New York Times where after a year he went to their sports department and stayed for the next 34 years, cementing himself as a key name in the sports journalism world. "Joining the New York Times was a milestone. I always wanted to come to the Times, so it was a big deal. Then being named columnist was an even bigger deal!"
Since then, Rhoden's career has taken him many places, not least of which was being inducted into the Black Journalists Hall of Fame. In addition, he considers his work with ESPN and The Undefeated, a digital newspaper described as "the premier platform for exploring the intersections of race, sports and culture", to be possibly the most important of his career legacy because he sees the work as assisting in creating the next generation of black journalists. "We work with young people to mentor them, give them inspiration and help advance their career. To have Disney and ESPN be so enthusiastic and support the Rhoden fellows is just great. We're on our third class now, and it's been amazing."
Within The Undefeated, each year six students from Historically Black Colleges and Universities (HBCUs) are selected for the Rhoden Fellowship. They provide content for The Undefeated directly from their own university campuses by writing stories, covering news, blogging, creating content for social media, and much more. In the summer, they are given the opportunity to join Rhoden and his colleagues in New York City and Washington, D.C., to further develop their journalist ability and gain work experience. "Since I'm still writing, I'm more hands on. The fellowship introduces them to the work of sports and professional journalism, plus they are getting paid so they are truly young professionals!"
Rhoden also thinks the program is great because students are able to learn the world of journalism outside of the classroom. "You'll learn what it takes to be a professional. My role is to teach them while they are in the field. My office is still the arena, and I'm glad I get to share that with them."
Rhoden said one of the biggest advantages of participating in the fellowship is that it can expand a student's perspective on the business. "For them to see this universe and how it's all related – it changes their perspective. I always preach power and control. I know you want to be in front of the microphone, but who green lights these programs? Who are the producers? Who is running things? It challenges their perspective and widens and broadens their view of the industry."
After they complete their year at The Undefeated, Rhoden says the possibilities for a career are endless. "They are getting a graduate-level experience, even though they are bachelor students. They could go to graduate school, they can immediately begin their careers as writers – the sky is really the limit!
Ultimately, Rhoden encourages the entrepreneurial spirit in the students who receive the fellowship. "Create your own door. If there's not a door there, create your own."
With that, we are excited to introduce the 2019-2020 class of Rhoden fellowship recipients!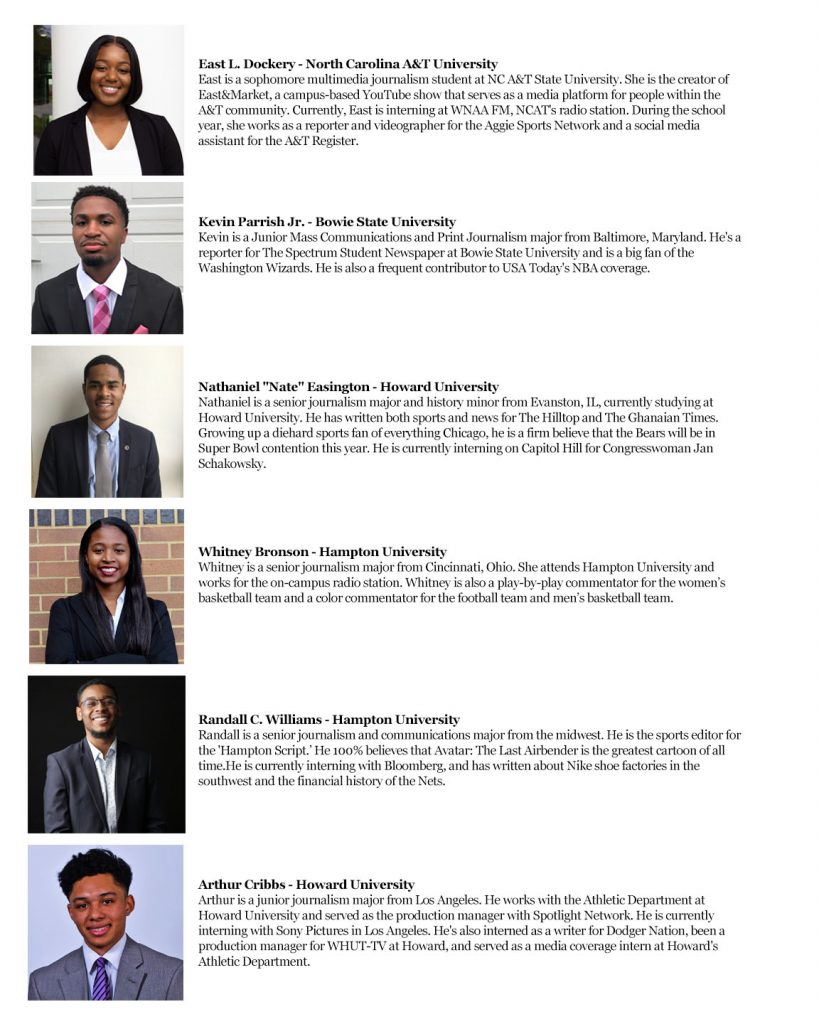 Visit TheUndefeated.com to view their work and follow their journalistic journeys!
Interested in becoming a Rhoden fellow? The next class will start in summer 2020, and the application will be live in late fall 2019. Keep an eye on DisneyInterns.com and sign up for email notifications to make sure you don't miss this opportunity!