Professional Intern spotlight: Kloi Terzian, sports events and volunteer services
How did you know you wanted to go into a career in sports?
In college, I studied hospitality management with a concentration in meeting and event management. Hospitality is traditionally known as the service arm of the tourism industry, including lodging, food and beverage, events, theme parks, transportation and cruises. I like to call it the "experience" industry and include entertainment in the mix, as well.
From my very first business class in the School of Management at the University of San Francisco (USF), I knew I wanted to break into the sports industry. I grew up attending baseball, football, basketball and hockey games and loving the fan experience and unifying aspect of professional sports. Regardless of a person's background or their lives outside of the game, fans come together and celebrate incredible competition and elite athleticism which is unique to the Sports industry.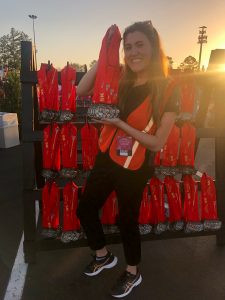 What brought you to your internship at ESPN Wide World of Sports?
In 2015, I had the opportunity to join the Super Bowl 50 Host Committee as an associate (intern). This was my first taste of what sports would be like, and although I was very green (only 19), I was able to observe and learn a ton over the course of five months in functional areas ranging from event operations to marketing and communications to community relations. That internship was the first step that launched me into the event world; I was able to gain experience in meeting planning, wedding planning, collegiate athletics, tourism and concert production. In college, I was very involved with student leadership and engagement as a member of the Campus Activities Board, Hospitality Management Association, and Delta Zeta Sorority, where I served as president and new member educator. Everything that I learned from my classes, extracurricular activities, semester studying abroad, and work experiences led me to graduation in May 2018. After graduating, I moved to New York City for an internship at Major League Baseball Office of the Commissioner in community relations/social responsibility. I was there for six months and made the move to sunny Florida in January 2019.
What does a day-in-the-life look like for you?
No two days are the same in my position. On any given day, I could be at a site visit for an event, on a walkthrough with our volunteer team leads, in a runDisney planning meeting, at the ESPN Wide World of Sports complex, setting up the volunteer area in the Start/Staging area for a race, or out on the race course in the middle of the night. In fact, my first day started at 2 a.m. on the day of the Walt Disney World Marathon, which was pretty incredible. The fast pace, diverse day-to-day, and electric energy on event days are the passion points of my position and the reason I love what I do!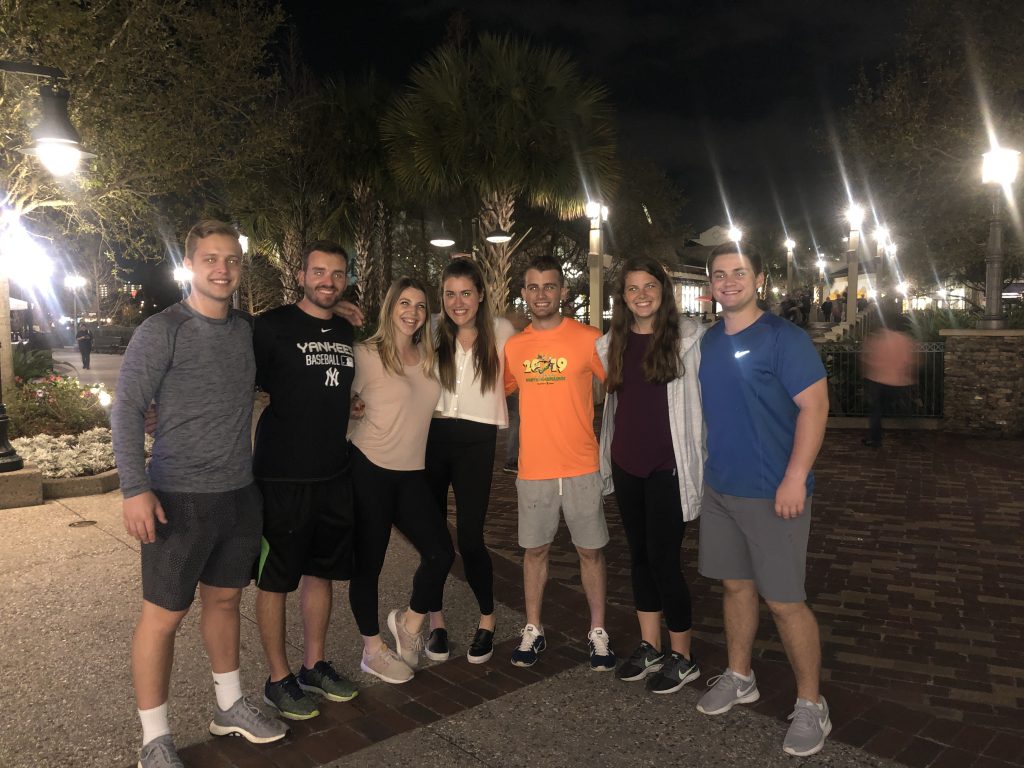 What types of projects do you get to work on as an intern?
In the two months I've been in my role, I've been exposed to everything from event logistics to volunteer communication to sponsorship activation. The volunteer services team is primarily responsible for staffing events in support of our charitable organizations at ESPN Wide World of Sports Complex and runDisney events. This includes managing our volunteers' registration process, training sessions, and overall day-of volunteer experience. This includes my presence and event support at all elements of runDisney race weekends, including Race Prep, the Expo, 5K, 10K, and the Half Marathon.
Some of my most exciting projects have involved assisting the ancillary event team for chEAR Squad at the Walt Disney World Princess Half Marathon, creating a highly visible deck to be presented to partners at the Star Wars Rival Run All-Impact meeting, and serving as the volunteer manager for the upcoming Star Wars Rival Run 5K.
In addition to those responsibilities, I have been trusted with the task of planning our annual Team Leader Appreciation event for our volunteers who have served in a leadership capacity throughout race season. The incredible support I have from my leader and team empowers me to do great work and in turn learn skills that I can take with me throughout my career.
Finally, a very exciting project that I'm working on in partnership with the Disney College Program is a networking event for Professional Interns and College Program Cast Members, hosted by the Disney Sports interns. We are managing the scope of the event from conception to execution and holding it at the beautiful Champion Stadium at the ESPN Wide World of Sports Complex. This is a great example of the freedom Disney offers for owning projects, even as interns.
The Atlanta Braves are having their Spring Training at ESPN Wide World of Sports. Tell me what it's like to see your worlds collide with MLB and Wide World of Sports?
SO EXCITING! There is nothing like the energy of a baseball game and it's beyond amazing to experience Major League talent during Spring Training in the beautiful Champion Stadium. Most of the Braves baseball operation is self-supported, but our ESPN Wide World of Sports Complex cast members are there on game days, providing magical experiences and exceeding expectations. I have attended several games as a guest, and I am looking forward to shadowing the broadcasting team for the final Braves game televised from Walt Disney World® Resort property on March 23.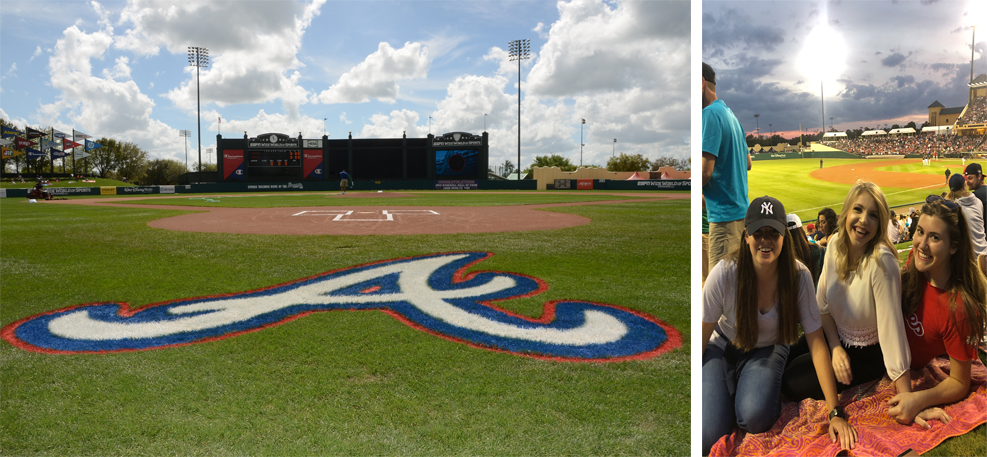 What's your favorite part of your current role?
My favorite part of my current role is the intersection of event production and the ability to think of new initiatives and creative solutions for our current processes. It is so special to provide the fan experience in a sports industry capacity while incorporating the magic and guest service that is unique to the Disney brand. The passion our guests have for the Disney experience makes every day exciting and the dedication our Cast Members have to serving our guests is truly inspiring. Above all, I am very grateful for the incredible people I have met, including my leaders, my fellow interns, and in a broader sense, every cast member at the entire Walt Disney Company. These people are my home away from home, my mentors and role models, and my closest friends.
What makes working in your role at Disney different from any other company?
The Walt Disney Company has always led the industry in innovation, and the Professional Internship program is no exception. At Disney, the leadership excellence, company culture and opportunity for growth in a variety of areas are the factors that set it apart from anyone else. I felt the inclusivity of the Walt Disney Company family from my very first moments at Traditions, and in my work at Disney Sports, I feel like a trusted and valued member of the team. Disney values work/life harmony and each office has an employee engagement/Disney Wellness component.
In our office, we have had a Luau Party, a Super Bowl Potluck, and "Film Friday" where we watched 'Mary Poppins' during the lunch hour. Additionally, the ten interns across Disney Sports all meet regularly for check-in meetings and are invited to attend a monthly behind-the-scenes adventure at the various Parks (the next one is backstage at Haunted Mansion!). At the end of our program, we even have the opportunity to individually present to Disney Sport's Executive Leadership team on our experience.
My role at Disney is truly unique because I am just as excited on the drive into work every day as I am on the drive home after work. I'm so thankful for this experience and couldn't imagine my post-graduate life without it.
How is your internship preparing you for success in the future?
This experience has been immensely helpful in continuing to develop my professional development skills in a business environment. Additionally, I have had the opportunity to expand my network of connections and meet really inspiring people across property. Learning more about all of the different roles at The Walt Disney World Company has allowed me to reflect on my future and decide what opportunities I'd like to pursue.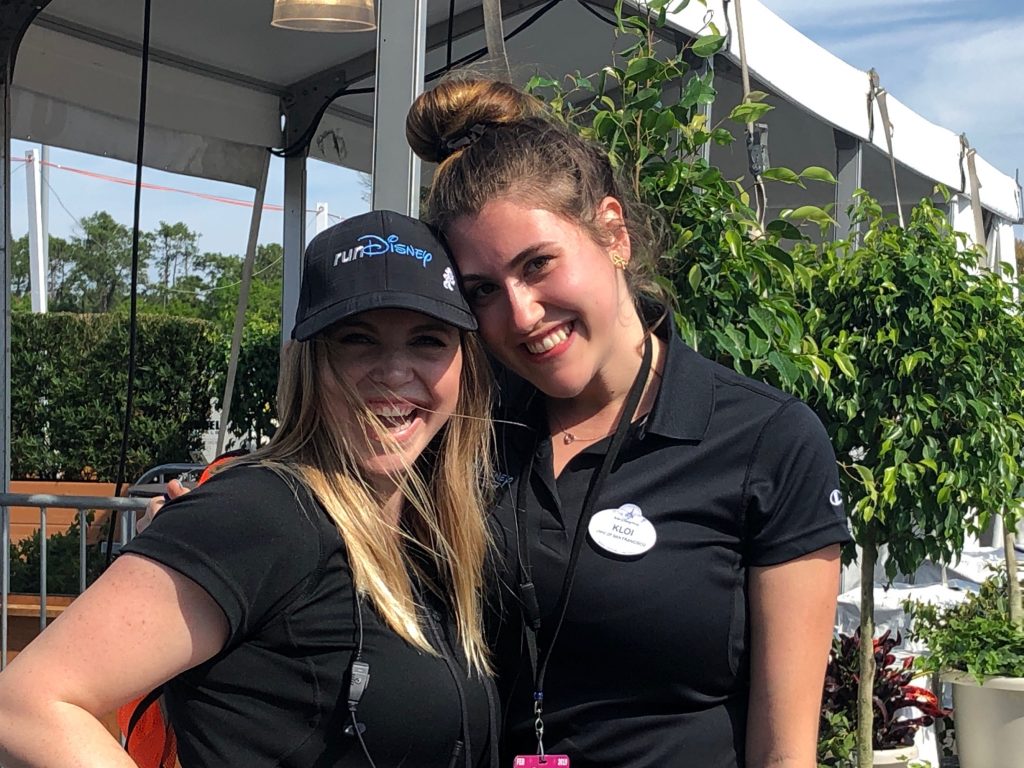 Do you have any advice for applicants interested in similar roles?
My best advice is to research and learn what functional areas you are most interested in and then figure out the experience the people in those positions have. Once you know what you need, figure out what skills you already have and how to get the ones you need to get where you want to be. If you aren't sure exactly what you want to do, that's okay! Your career is an evolution and every work experience you have is a learning and growth opportunity that will prepare you for the future.
Also—network, network, network! Reach out to people whose careers inspire you, and respectfully request an informational interview (meet and greets at Disney). This is the best way to learn about what these employees do on a daily basis and what jobs led them to the role they are in now. That will help you to see if it's a role you could see yourself doing and what you need to work on in order to enter into that space. Professional Internships are highly sought after roles so identifying your passion and diversifying your skills can definitely add value to your background and make you a great candidate!
Good luck!