9 magical moments from Grace Hopper Celebration of Women in Technology 2018
Building the memorable characters, iconic stories, and immersive worlds that The Walt Disney Company is known for wouldn't be possible without technology and the passionate people behind each innovation. Last month, technologists and recruiters from across The Walt Disney Company attended the Grace Hopper Celebration (GHC)—the world's largest gathering of women in computing—to showcase the technology behind the Disney magic. Check out some highlights from our time in Houston!
The Na'vi Shaman animatronic head from Pandora–The World of Avatar traveled with the Disney team to the conference.
In the Disney tech demo area, the Na'vi animatronic head was on display and joined by technologists who created her. The figure, which is the most complex of its kind, showed how collaboration between Walt Disney Imagineers and Disney Research can push the boundaries on what's possible in the robotics space. See the Na'vi head for yourself here!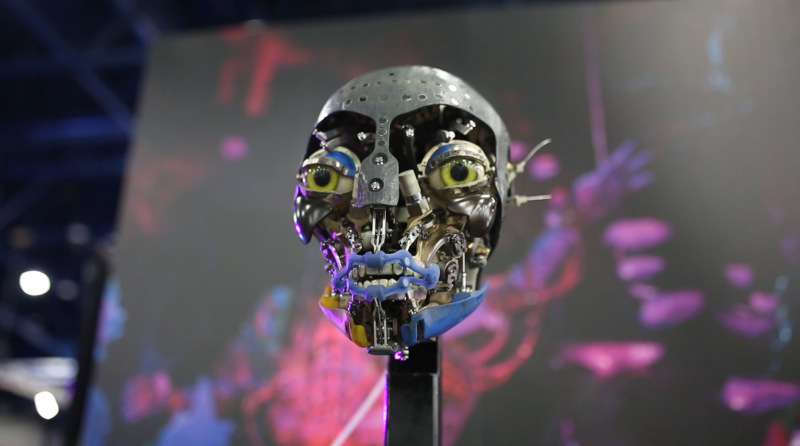 Everyone had the opportunity to test their skills in Disney's Coding Challenge.
Prior to the conference, Disney released a coding challenge via HackerRank. Quoc, Manager, Engineering, explains, "For this challenge, we used an existing question from the ESPN engineering team, and we ported it to the HackerRank platform using languages Java, JavaScript, Swift, and Python." Top performers received an R2-D2 Sphero Droid or Minnie Mouse t-shirt as a prize!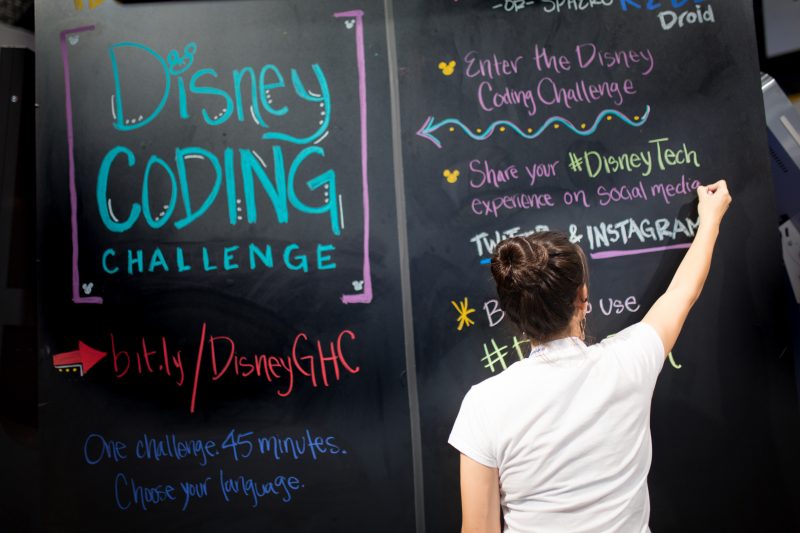 Students had the opportunity to network with technologists and recruiters from across the enterprise.
Within the Disney booths, students could network and ask questions to recruiters and technologists representing all business areas, from Direct-to-Consumer and International, to Disney Parks, Experiences, and Consumer Products. Brandon, Event Representative for Campus Programs, says his favorite part of the conference was, "getting to hear stories of how Disney has influenced so many people, and their career goals!"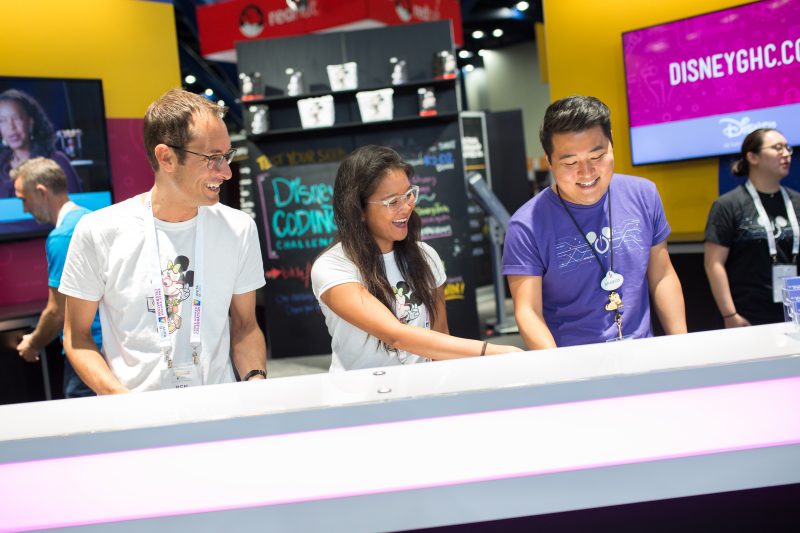 Attendees stepped into virtual worlds with our Coco and Marvel VR demos.
Another opportunity for exploring Disney's latest technology was in the tech demo area, where there were two virtual reality immersive experiences. Alexa, Manager, Production Technology, describes the Coco VR experience, "There's nothing that can really explain how you feel when you get into the Ofrenda and you actually feel the scope and the scale, and you really understand what it's like to be part of that world."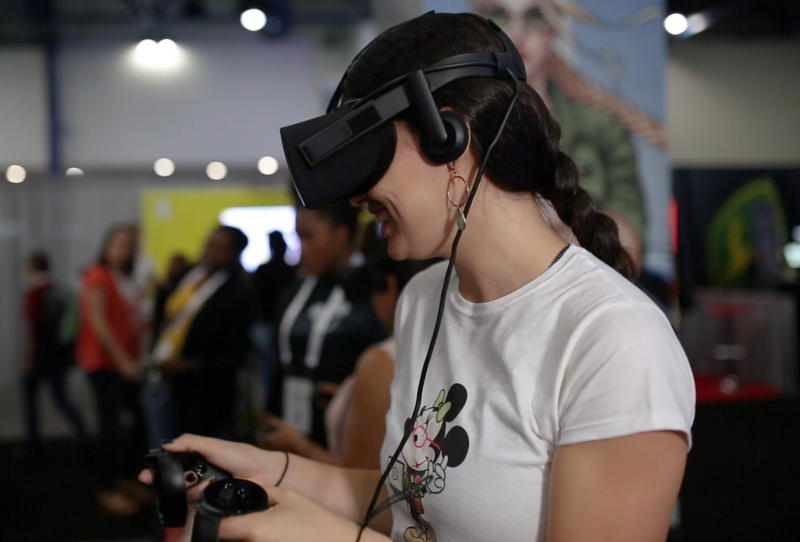 Students who attended our Intern Meetup had a private screening of Disney's short film Bao, and surprise introduction!
We had a little extra magic in store for those who attended our intern meetup! Students watched a private screening of Bao with an exclusive surprise introduction from director Domee Shi, who began her career as a Disney intern. They also had the opportunity to meet and take photos with Minnie Mouse. Afterwards, they attended a technologist panel and hung out with Disney Campus recruiters to ask them questions and get advice.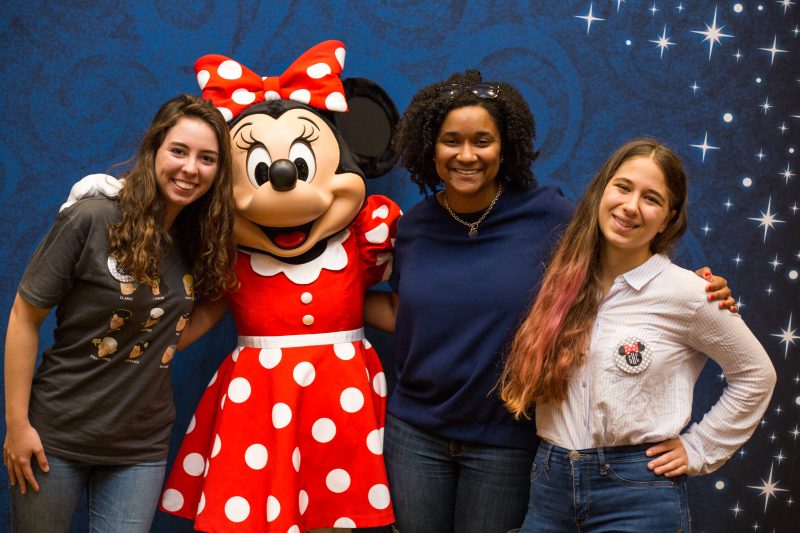 Exclusive Minnie Mouse swag was given out, with a chance to win even more!
Disney partnered with artist Jarrod Maruyama to create uniquely Disney giveaways featuring the one and only Minnie Mouse for Grace Hopper! Everyone who visited the Disney booth was given a Minnie Mouse tote and Minnie Mouse stickers. They also had the opportunity to share what they received on social media using #DisneyTech to win a Minnie Mouse t-shirt! Winners of the Disney Coding challenge also had the opportunity to win.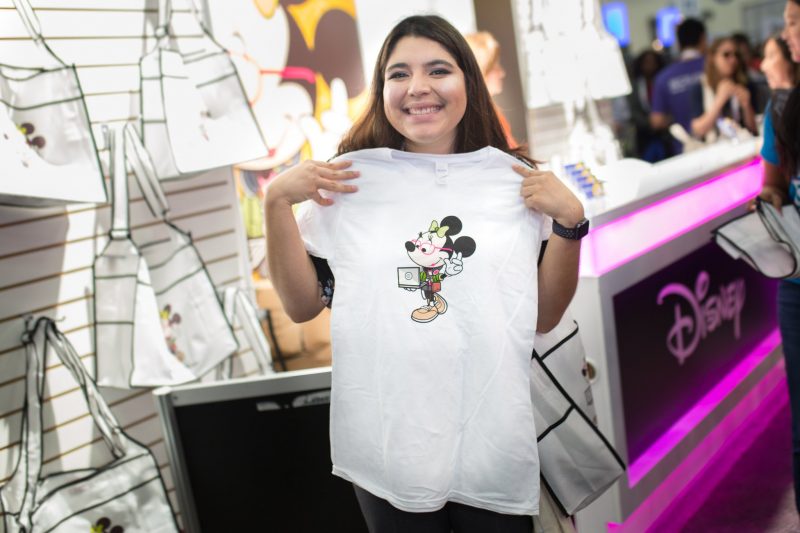 Mindy, Walt Disney Imagineer, spoke about Invisible Technology.
On Thursday, Mindy, Show DesignandProduction Operations Executive for Walt Disney Imagineering, spoke about the invisible Technology behind the magic. "We want our guests to go home with magical memories," she said. "We do that at our office locations across the world, and today we're doing it here in Houston at the Grace Hopper Celebration." Mindy discussed how Walt Disney Imagineers use technology as a tool to create immersive environments that bring iconic stories and beloved characters to life.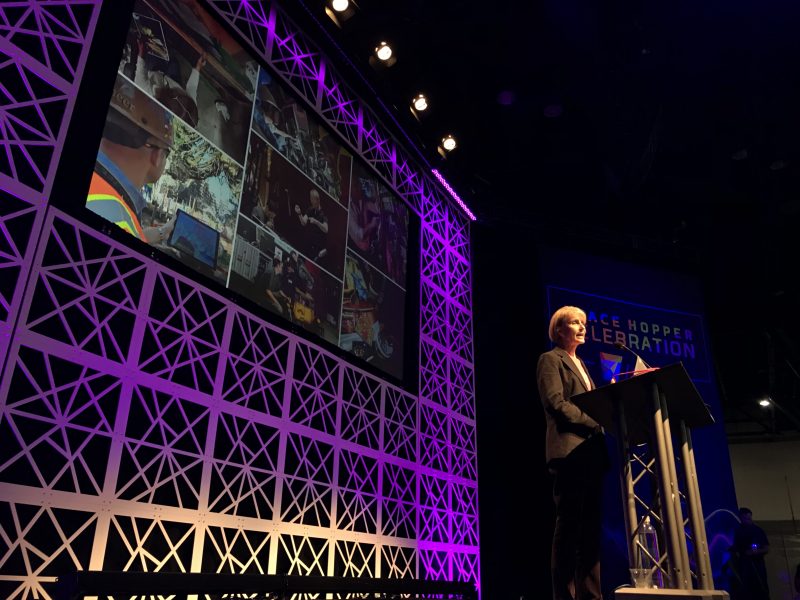 Students could share how they Dream Big on our AR Signature wall.
Inspired by the famous 'purple wall' at Magic Kingdom Park, Disney technologists created a purple wall where attendees could virtually share how they dream big by writing on an iPad through Disney's custom augmented reality app. While it looked like a blank wall to the naked eye, the wall was covered top to bottom with inspirational messages when viewed through an iPad. Learn more about this unique AR experience!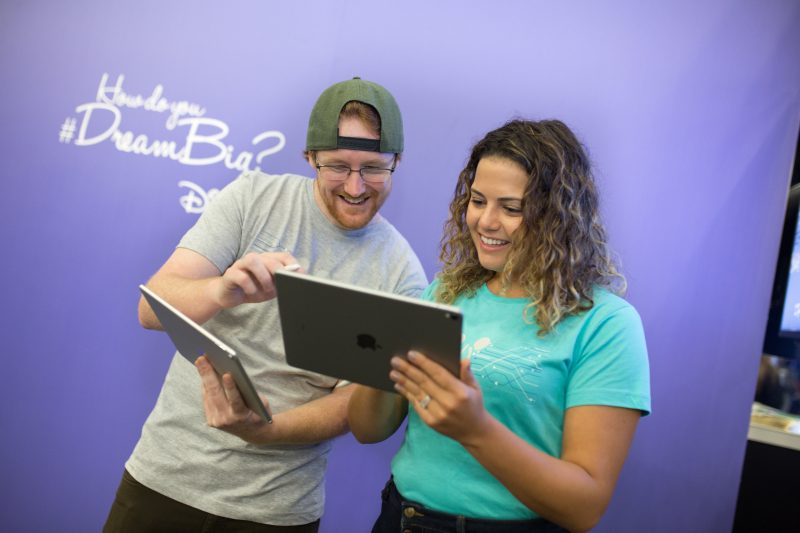 We celebrated women in technology!
Attending this conference is just one of the many ways Disney supports women in technology. "In the entertainment industry, diversity and inclusion are often thought of as 'in front of the camera' initiatives. However, they are important for every aspect of the business; not just what we do, but also how we do it. Attending events like shows that Disney is an advocate for diversity and inclusion in all areas of entertainment, and specifically lifting up women in technology," Brandon says.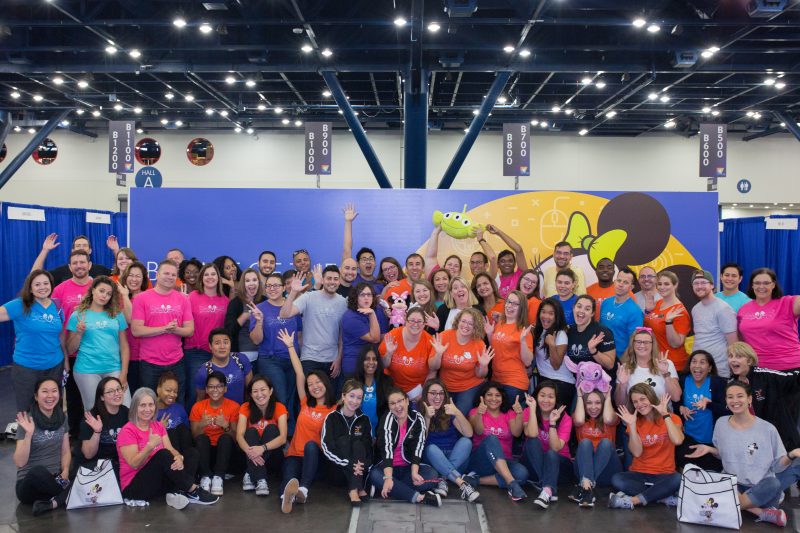 We are already looking forward to next year's celebration hosted in Orlando, Florida! Does this sound like a team you're interested in joining? We have internship opportunities that focus on innovative technology—from machine learning to software engineering, and much more. Explore available technology internship opportunities at our offices across the country at DisneyTech.com.