Cracking the Code, Part Two: Inspirational women in technology Disney Professional Internships
Technology and diversity are two major forces that drive the culture at Disney, and empowering women to be involved in the tech industry is key to inspiring the future of technology. There are endless opportunities for women in tech at The Walt Disney Company – and they are constantly growing! Think you might be interested in a tech internship at Disney? Take a closer look at Courtney's journey, the second of our 3-part series featuring tech interns who help make the magic!
Did you miss the first story in our series? Check out Emma's Professional Internship experience!
Courtney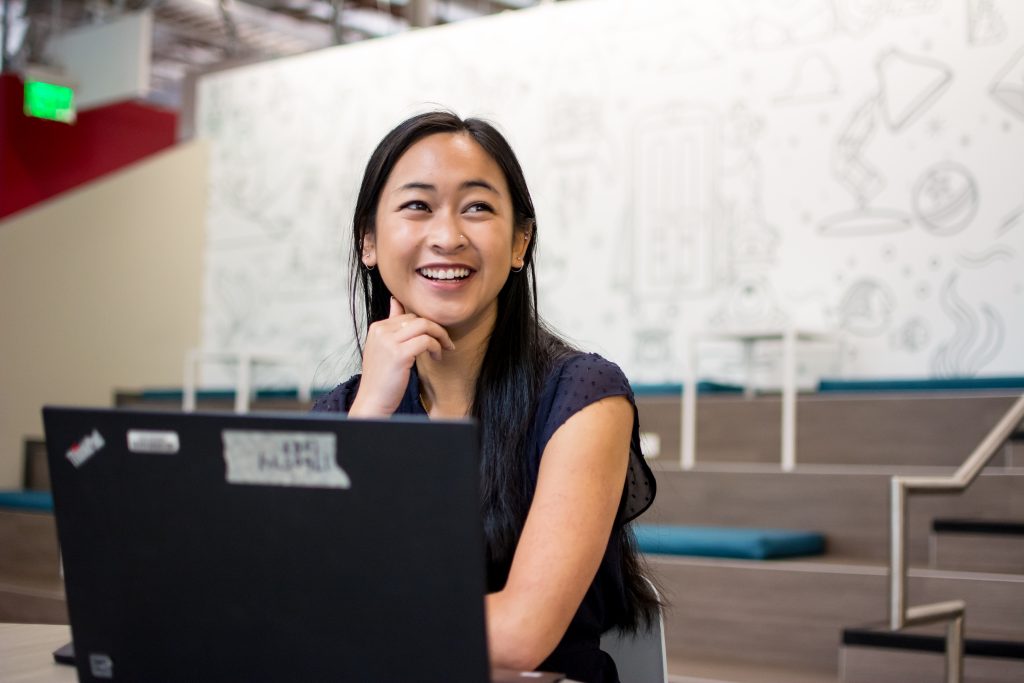 Internship title
Enterprise Business Systems Intern
University name and degree title
University of Southern California (Fight On!)
BS Computer ScienceandBusiness Administration
Describe a day-in-the-life in your role.
Every day is a bit different! A large portion of my time goes behind Portfolio Management: keeping track of in-flight projects, as well as looking at upcoming projects within EBS (Enterprise Business Systems). I assist with storytelling for EBS by creating project dashboards and highlights for our leadership team, as well as working on smaller assignments like headcount and service reporting for my team. I also recently joined a new project, where I am working on gathering requirements and documentation. Some days are meeting-heavy, while others are more open for working sessions. It's always nice to mix it up.

What previous experiences and projects do you feel prepared you for this role?
There were quite a few projects I worked on in school where I got to understand and develop individual projects, from documentation to delivery. Although the projects here are on a much larger scale, I do think the experience makes it a little easier to understand all the working mechanisms for the portfolio. I also used to work as a tour guide, which helped me with my communication skills and is fairly useful when meeting different project leads.
What skills have you learned as part of your professional internship?
I feel like I am learning new skills every day! But main
ly I've learned how to really analyze a whole portfolio and see how projects might interact with one another, or how they affect the organization as a whole. I've also learned more about forecasting, as well as how to visually represent important facts and figures from the portfolio with different tool sets.
What is your favorite part about your current role?
I love having insight into all of the projects going on in our organization and seeing how they translate to other segments at Disney! I also enjoy the opportunity to work with all the project leads, as it allows me to meet different people from teams across the company. I really appreciate feeling like I'm learning something new on the daily.
What would you have liked to know prior to starting your internship?
When I first started at Disney, I was pretty intimidated. However, I wish I knew that there was nothing to worry about. It's important to not be afraid to reach out to others, whether you're curious about their career path, or if you need some assistance with a project. There are a lot of amazing people to meet here, and I wish I took advantage of that earlier on in my experience!
Do you have any advice for applicants interested in Technology?
My main piece of advice for those interested in Tech would be to work on projects. Having hands on experience with developing something from start to finish is so helpful when analyzing other projects. I think it's also important to find out what segment of tech you want to work in. Although I do work in a tech org, my role definitely leans more on the management side, which was something that interested me after having a more technical education.
How is your Professional Internship preparing you for success in the future?
Studying computer science and business was great, but it also left me a little unsure of which path I wanted to follow. This Professional Internship has given me the opportunity to explore the business management aspect in a technical space, which has been an extremely useful experience. In addition to the skills I've learned in this role, it's also taught me which type of work I'm looking for, which will help me with my future endeavors.
Fun Facts
Favorite Disney movie: Depends on my mood! But I'm always in the mood for Moana or Mulan.
Favorite attraction:Guardians of the Galaxy – Mission Breakout! I love feeling like I'm falling.
Favorite Disney character(s): Mulan