New Zealander shares her experiences as a Cultural Exchange Program participant
"Busy, magical and fun!" That's how Lauren of Christchurch, New Zealand, describes our Disney AustraliaandNew Zealand Cultural Exchange Program which she recently completed.
Prior to working as a Merchandise Hostess at the Walt Disney World Resort in Orlando, she studied at Victoria University of Wellington and the University of Canterbury, completing a Bachelor of Arts in Anthropology. "I wanted to complete my degree before applying for an International Program as I thought it would be very hard to go back to study after taking a year off," she said.
Lauren heard about the Cultural Exchange Program when she was in high school through two of her sister's friends who completed the program. "They really enjoyed it, and I wanted the opportunity to travel and work overseas," Lauren said. "And I have had a lifelong love of Disney!"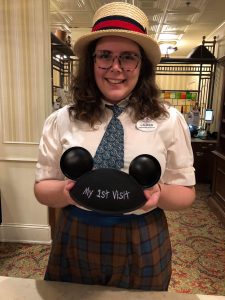 How did you adjust to life in America and working for Disney?
The hardest adjustment was the weather! When I arrived in August, it was extremely hot and humid, which is very different to Christchurch, New Zealand, especially as I left in the winter. I also found that the food available in the supermarkets was quite different. My Disney work schedule was different to what I was used to, but I was able to adjust quickly. And I like to be kept busy.
Tell us about your work locations.
I worked in Merchandise for my whole program. I started at Disney Springs at the Marketplace Co-op, TrenD and Pin Traders. These three stores are all very different and gave me a varied experience and a newfound love of pin trading! Then I extended my program for an extra three months and worked on Main Street, U.S.A. in Magic Kingdom Park. I worked in the Main Street Confectionery, the Chapeau, Box Office Gifts, Curtain Call Collectibles and at two outdoor carts. 
What was your favorite part of your role?
I loved being able to make magic for guests. Sometimes it was as simple as a sticker or some pixie dust. I also loved talking to guests – especially children – about their vacations and finding out their favorite things. I also liked the variety that working in Merchandise provided as I traded shifts to work across 20 different locations in all four Walt Disney World theme parks and Disney Springs.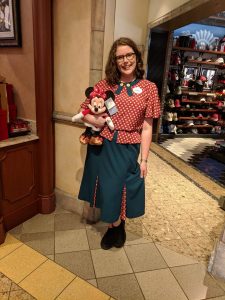 What was your favorite memory from your program?
A very special memory was when I was watching Happily Ever After fireworks with all five of my roommates and some friends from work before a lot of them left to go home (because some didn't extend their programs like I did). It was a very emotional but memorable time.
What was your favorite 'magical moment' with our guests?
A magical moment that happened when I was taking a hat embroidery order from a couple and they asked to put 'Baby (Surname), December 2018.' I asked if it was for them and the woman said 'Yes, you're the only person who knows!' I squealed with excitement as it was very magical for me to know that these strangers were having a baby before their families even knew.
What would you have liked to have known prior to starting the program?
I would have loved to know that American food is very different to New Zealand food and that my sleep schedule would get flipped totally upside down!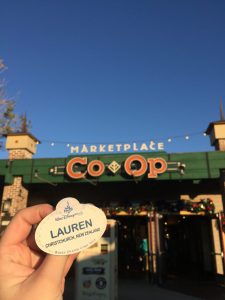 What advice would you give to future program participants on adjusting to life in America/Disney?
The biggest thing I can say is make the most of the opportunity, meet people from all over the world – but don't be afraid to go to the parks alone. It's also important to have some down time, as a busy work schedule and fun plans on your days off can be exhausting. I also think it's important to be realistic and know that not every day will be totally magical. You will go through some rough times on your program (like missing home or having a bad day at work), but build your support network here at Disney and you will get through it.
Did you get to see anything outside of Orlando?
I had the opportunity to visit Disneyland Resort in Anaheim, Calif. It was amazing to experience as a Cast Member. The Pixar Fest had just started, so I got to see the Paint the Night Parade, which was definitely a highlight.
Fun facts about Lauren
Favorite Park: I love them all for different reasons! But Magic Kingdom Park is my favorite.

Favorite Attractions: Star Tours – The Adventure Continues, Seven Dwarfs Mine Train and Soarin' Around the World
Favorite Disney Characters: Minnie Mouse and Moana

Favorite Disney Snack: Dole Whip

Favorite Disney Entertainment: Happily Ever After and the Main Street Trolley Show

Favorite Disney Movies: "Monsters, Inc." and "Moana"
Learn more about The Disney International Programs (including the Disney AustraliaandNew Zealand Program): TheDisneyIP.com.