Top 10 moments in Disney College Program history
The Disney College Program gives students the chance to live, learn and earn at Walt Disney World® Resort or Disneyland® Resort. It is a paid internship for a world-renowned company that will not only stand out on their résumé but allow them the unique opportunity to network and learn from Disney leaders. The possibility to earn college credit while gaining real-world experience and transferable skills coupled with creating lasting friendships with college students from around the world make this internship an unparalleled experience.
But the Disney College Program has changed a lot over the years! Take a step back in time with us and visit the legacy of those who came before as we list the top 10 moments in Disney College Program history.
It all started with a mouse and 250 students in 1981.
The program we know today as the Disney College Program launched as the Magic Kingdom College Program in 1981. Participants on the program lived at Snow White Village Campground in Kissimmee. The program quickly started attracting more participants, and in the spring of 1982, numbers had already increased to 485 offers and 345 arrivals. By the summer of 1989, recruitment was traveling nationwide with a hiring goal of 1,000. Today, 37 years after the first program participants started making magical moments for guests, tens of thousands of people from all around the world have something very special in common: they are Disney College Program Alumni and part of a unique group of people who now span an entire generation.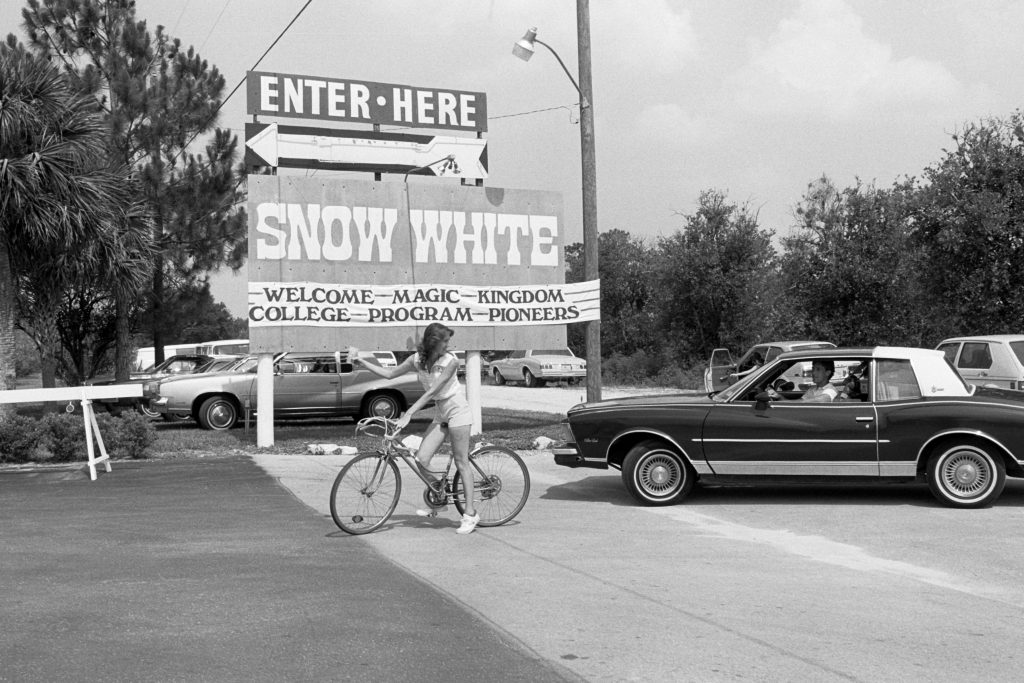 Later in 1981, the first Disney education classes were introduced.
The Disney College Program includes an educational component which began with 11 noncredited classroom sessions referred to as Leisure Time Business Management Studies. In 1994, the College Program enhanced these offerings by adding four core classes and three specialized courses, and in 1996, seven core business seminars addressing management issues. By 2000, the College Program had developed seven academic-level courses recommended for credit by the American Council on Education. This was followed in spring 2004 with the introduction of the Professional Development Series, with sessions focusing on Finance, Security and Engineering.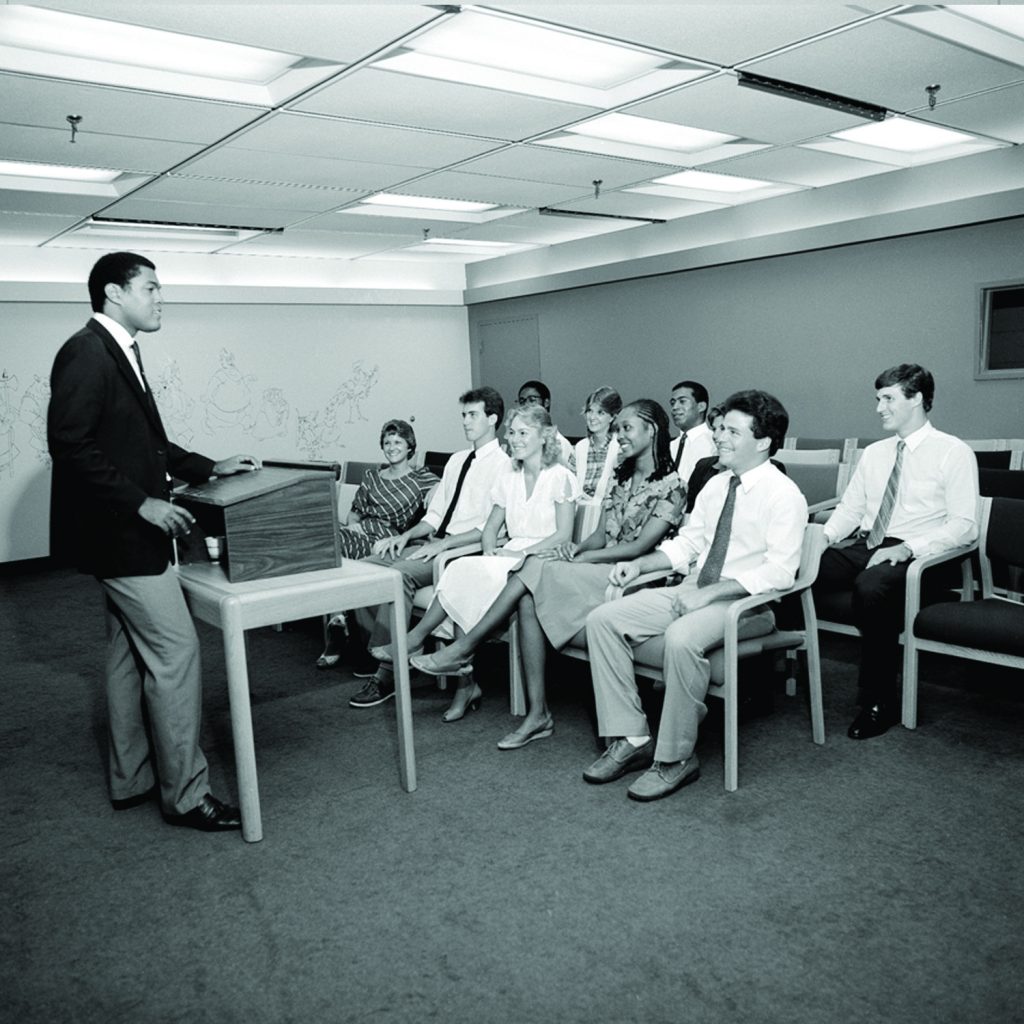 The International Program began in 1982.
This program started in conjunction with the opening of eight World Showcase pavilions at Epcot with 90 Fellowship students. Later, this led to the first International recruiting trip in fall 1982 when six recruiters traveled to Europe and visited four countries. The Cultural Representative Program began when 200 cultural representatives arrived on the one-year J-1 visa in May 1983. By the summer of 2005, the Walt Disney World Resort was hosting approximately 900 International College Program Cast Members.
In the spring of 1984, the Magic Kingdom College Program officially changes its name to the Walt Disney World College Program.
For the first time, participants are placed at Epcot in addition to Magic Kingdom Park. The Walt Disney World College Program officially changed its name in January 2005 to the Disney Theme ParksandResorts College Program as part of a synergy effort to enhance recruiting strategies for programs at Walt Disney World Resort, Disneyland® Resort and Walt Disney Imagineering. At this time, Casting also introduced a new website, disneycollegeprogram.com.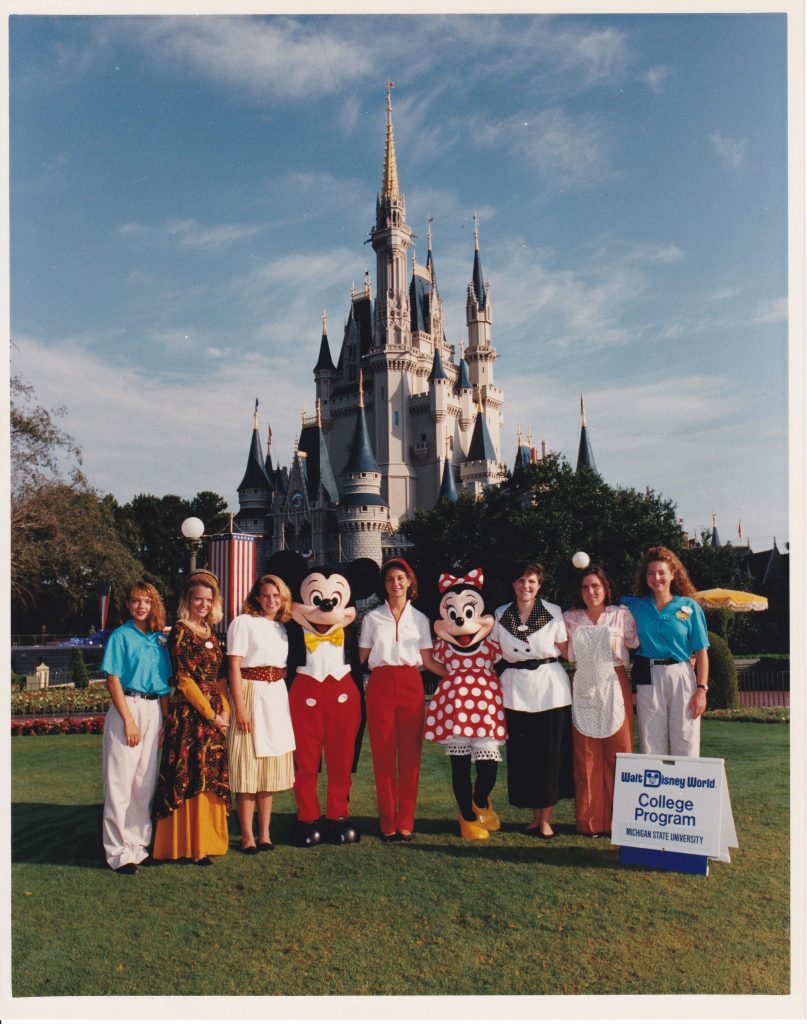 In April 1988, Vista Way Apartments open and become the home to all College Program and International Program Cast Members.
In January 1998, The Commons apartment complex opens. In June 2000, Chatham Square apartment complex opens. And in 2008, Patterson Court complex opens to accommodate the increasing number of participants.
The Disney Professional Internship Program began during the summer and fall of 1992 with Advanced Internships.
In June 2005, Casting announced the consolidation of all Advanced, Professional and Management Internships. At that point, all internships at Walt Disney World Resort, Disneyland Resort and Walt Disney Imagineering began to fall under Disney Theme ParksandResorts Professional Internships. At that time, Casting also introduced DisneyInterns.com, which provides information about Professional Internships and directs candidates to apply online at DisneyCareers.com.
In the spring of 1989, International Recruitment begins the International Culinary Program by hiring authentic chefs for the Norway Pavilion.
In 2001, a Chef was hired to begin recruiting students enrolled in a culinary program to work in either Culinary Arts or BakingandPastry at Walt Disney World Resort. The Culinary program continues today with approximately 500-600 participants yearly who work at many restaurants including fast and casual to fine dining. This also includes the Food and Wine festival and Flower and Garden festival. Recruitment continues to travel to Culinary schools across the country year round. disneyculinaryprogram.com.
On September 1, 1999, wdwcollegeprogram.com goes online.
This introduced the ability for recruiters to make real-time presentation schedule updates, applicants could submit online applications, and invited participants had the ability to submit an online acceptance form. During the spring of 2005, college recruiting introduced an online version of its College Program presentation on disneycollegeprogram.com. Then in spring 2013, College Program recruitment is transitioned to an all social media and virtual platform.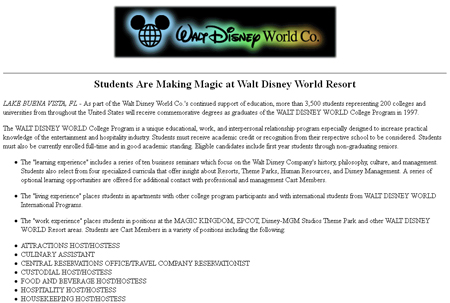 The first Disneyland Resort College Program began in spring 2006.
Educational offerings were included with this program and encompassed classes such as Organizational Leadership and Marketing You, along with sessions such as the Professional Development Series and Leadership Speaker Series. The program continued to grow, and in the spring of 2008, Disneyland College Program Housing becomes available with 263 beds at Carnegie Plaza.
In August 2014, the Campus Recruitment team launches the official Disney Alumni Association.
This not only allowed for networking and reminiscing of program experiences but opportunities to attend reunions held at Walt Disney World Before this, in fall 1997, alumni themselves coordinated the first College Program Reunion on Walt Disney World property to celebrate 15 years of the program. During November 2004, the first alumni reception for alumni who work for The Walt Disney Company was held at Disney's Coronado Springs Resort. Guest speakers included Lee Cockerell, Executive Vice President of Walt Disney World Operations, and College Program Alumna and Walt Disney World Ambassador Sara Bishop.