Spotlight on ESPN's Charlotte office
We are thrilled to welcome ESPN interns throughout the year in Bristol, New York City, Los Angeles, Austin and Charlotte, and we wanted to take this opportunity to shine a spotlight on Charlotte, North Carolina, location!
The Charlotte office is ESPN's college sports hub and is home to ESPNU and the SEC Network. With its own studios and control rooms, the Charlotte office produces studio shows including the Paul Finebaum Show, a man known by many as the voice of the SEC, and is responsible for thousands of hours of sports programming.
Each ESPN location has its own personality, and some of the trademarks of the Charlotte office are the College Football helmet hall, customized location sign and photo hallway!
We have Charlotte interns in the fall and spring each year. Interns in the Charlotte location come from schools all over the country, not just the SEC. For some positions, like production operations, we focus more on the candidates' technical skills like operating studio cameras and control room experience. But for some other positions, we do look for a strong knowledge of the SEC (even if you're not from an SEC school) and an understanding of the personalities of the schools and key rivalries. And we do like to see a strong passion for college sports, no matter your role or what university you come from!
While most of the work happens within the office, previous Charlotte interns have also had the opportunity to gain experience with remote production. Pictured here is when our interns hit the road with SEC Nation for a visit to the University of South Carolina.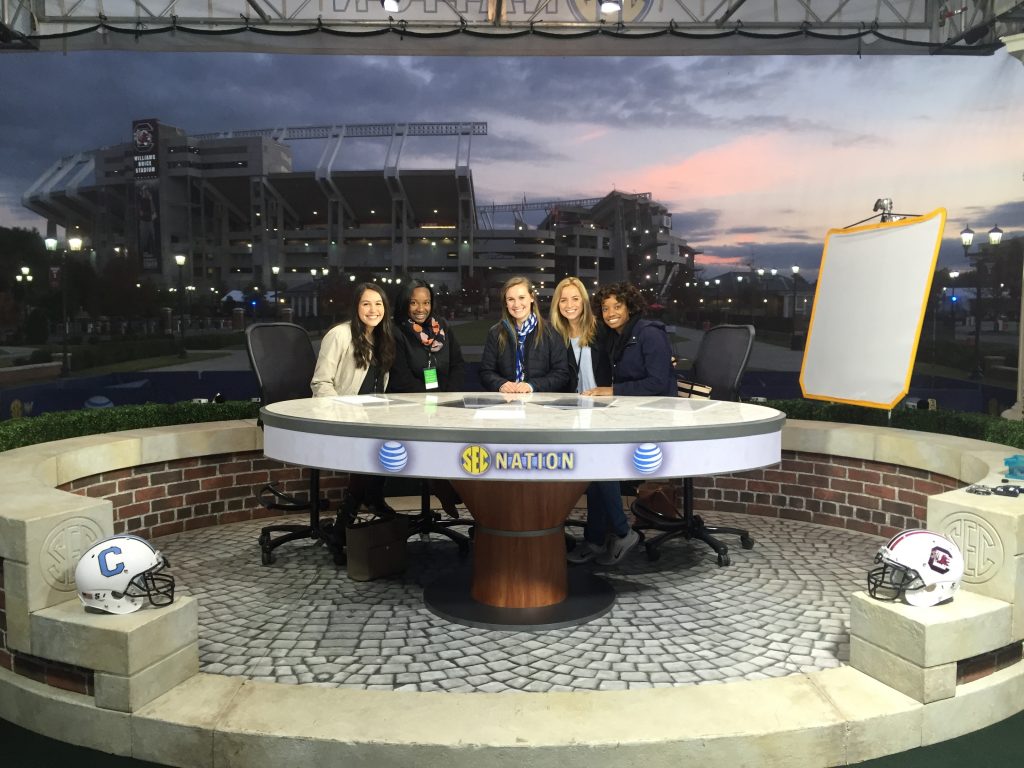 We typically offer internships in production, production operations, marketing and digital media for the Charlotte office, and interns have an opportunity to dig in and gain tangible, valuable experience.
Some interns were hired into full-time positions there in the Charlotte office, and some were hired into Bristol, Connecticut (ESPN's headquarters), following their internship. Any way you look at it, ESPN's Charlotte internships are a great way to kick-start your career!
Just take it from Jelani Scott, a Charlotte digital media intern from Hampton University who said,'The thing I like the most is how quickly I got involved in publishing content. I saw within the first two weeks how our websites are managed and how the content is edited from TV to the internet. This experience and exposure has been more valuable than I realized going into the opportunity. I like being a part of a team and actually seeing the end result of my work on a daily basis. There's no mundane work being done. Sure, some of it may seem busy because you have to do housekeeping (updating content plans, creating templates, etc.), but that just comes with the territory. Not everything is flashy TV work, but it's just as important to the overall success of the company. This digital media internship exposed me to another side of content creating I initially didn't know as much about. Don't get caught up on just the reporters and analysts you see on TV; you can make just as much of an impact behind the scenes.'
Would you like to join our Charlotte ESPN team? Look for opportunities in spring 2020 at DisneyInterns.com!