Magical moment: Former Disney Professional Intern receives CEIA Student Achievement Award
Each year, the Cooperative Education and Internship Association (CEIA) recognizes students from across the country who have demonstrated excellence in a variety of categories. This year, at their annual conference held in South Carolina on April 18, a former Walt Disney Imagineering Professional Intern, Nicholas Peterson, was awarded with the Internship Student Achievement award for his five years of internship experience and contributions to and leadership of large projects that have enabled companies, including Disney, to advance their goals.
We caught up with Nicholas to wish him to congratulations and learn about his journey as a Disney Professional Intern!
First off, congratulations! How did you learn you were selected as this year's recipient of the Academic Internship Student Achievement Award from CEIA?
I was busy working at my current internship with Apple, so I missed the phone call, but I listened to a voice message after work telling me that I won! It was extremely surprising and exciting because once I sent out all the application information I was thinking I had about a 2% chance of winning. My subconscious basically forgot I even applied! So, once I realized what it was, I was super humbled and excited!
How do you feel being the only Disney Professional Intern to receive this award?
It's pretty awesome! I wasn't really sure what the magnitude of this award was, but my school recommended I apply, and they endorsed me for it along with a recommendation letter from my past manager at Imagineering. I guess those recommendations along with my past accomplishments was good enough for what they were looking for!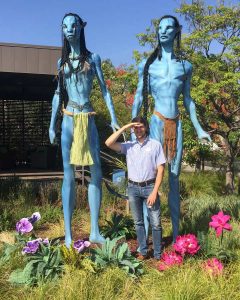 Tell us a bit about yourself and how you became interested in engineering as a career.
I was born and raised in Huntsville, Alabama, and also ended up going to college in Huntsville. I'm sure growing up in 'The Rocket City' and living half a mile from the U.S. Space and Rocket center played a role in my fascination of space and engineering. Like most small kids, I was always breaking things and taking them apart but for different reasons. I always found myself seeing a typical item or structure and contemplating how it was made, its flaws, and ways it could be better. Around middle school, I started getting heavily involved in robotics and ended up pioneering and mentoring a local middle school robotics team all the way until my sophomore year of college. This solidified my love for engineering and learning.
Why did you choose to intern with The Walt Disney Company?
Initially, I didn't even realize that Disney had or needed engineers and just figured they contracted all the work out like most large companies, especially since I thought they were just a brand and mostly focused on media entertainment. But during my time at SpaceX (the same time I applied for the internship), my roommate was telling me about how cool Imagineering would be and how prestigious it was. This triggered me to start investigating. I quickly realized how amazing and huge of an opportunity this would be, so I applied that same night.
What was your role with the company while you were a Professional Intern?
I interned with the Imagineering group in Glendale, California. I worked as a Mechanical Ride Engineer initially, but about halfway through found myself working mostly with the R and D group on the autonomous droid, J4k3, for the new Star Wars Land, and he also roams around Tomorrowland in Disneyland for now. My role was to support the Ride team with computer aided design modeling and drawing support as well as investigating possible blue-sky designs for new attractions. With R and D, I was the mechanical support to the autonomous bot. This meant I designed and created all the brackets and support for the electrical components as well as increased safety of the droid.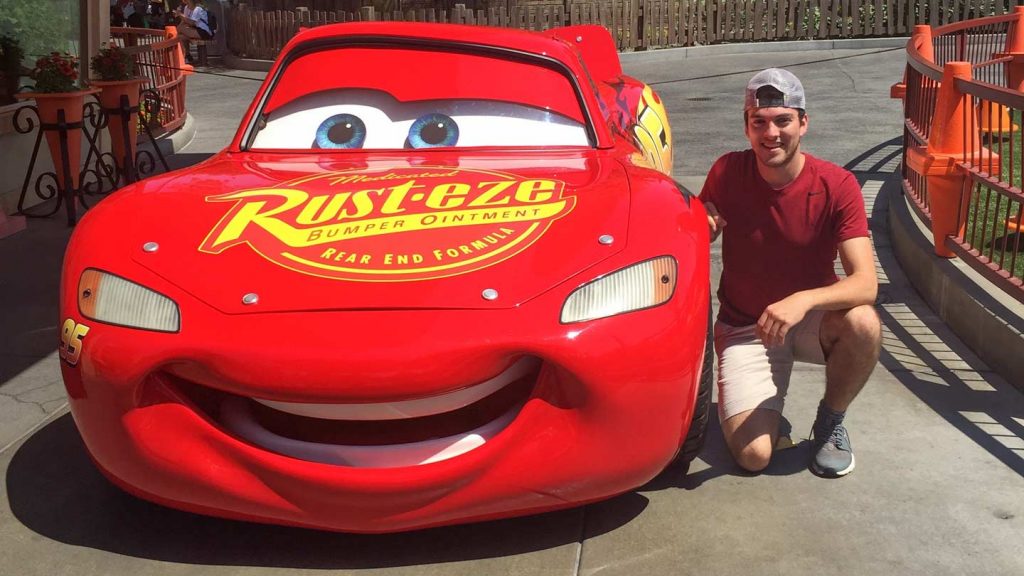 What was your experience like as a Disney Professional Intern?
Way more fun than a job should be! I was literally blown away at least once a week at something I would stumble across during the work day or be lucky enough to see happen in person. For example I got to meet one of the main 'Mythbusters', Grant, who was actually working in the same building as me at the time. Overall, I was overwhelmed and fascinated with the level of engineering that Disney has, especially within R and D and it inspired me to work harder and think outside of the box even more.
What is different about working for Disney than elsewhere?
FREE PARK ADMISSION! I had never been to any Disney park before I started my internship, so I took full advantage of this! But in all seriousness, there were so many things that set Disney apart. First of all, I could go home before 6 p.m. most days and not feel bad about it. I find that the employees in most of these large prestigious companies don't hesitate to work 60 hours a week or more, but I felt like most people at Disney acknowledge a great work life balance and knew when it's time to go home.
Also, I enjoyed seeing what was going on around me with all the work everyone else was doing and the nonstop innovation occurring. This made working enjoyable and most of the time it was pretty much the stuff I would be doing on my own time anyways, so it doesn't feel much like work except this time the stuff I was making was actually being used for the parks!
One of my favorite things was the overall encouragement to never stop thinking about new ideas. Unlike most companies, where that is sort of frowned upon or discouraged because everyone has their separate roles, I really liked how Disney constantly accepted blue-sky ideas and concept from any employee that was able to draw it up.
How do you feel your time with the company has impacted your studies and/or career?
As always, the internship in general helped me grow my engineering skills and real-world application which helps back at school since you start to realize when those extremely long and pointless-seeming equations would be used. But what was different about Disney was the way it made me think. Unlike the normal engineering position where efficiency and optimization are the top priorities, sometimes at Disney those are on the back burner. Characteristics such as aesthetics and functionality as well as overall integration are usually the main focus along with thinking outside the box and breaking the norms to solve problems in a more creative way.
What advice do you have for those looking to get an internship like you've had?
I would say the biggest thing is to never think something is out of your reach or too hard for you to do. Always set your goals super high, so even if you land short you're still in a pretty good spot. Getting good grades in school is very important, but what matters even more is experience and real hands-on work. So no matter what your exact major or situation with your university is, you should always pursue some experience even if that means doing a complete hobby project on your own to help you apply your skills better and have more content to talk about when asked about your background.
Favorite Disney Park: I've only been to Disneyland and Disney's California Adventure, so I would say California Adventure. However, I am going to all four of the parks in Florida in a few weeks, so that may change to Disney's Animal Kingdom Theme Park.
Favorite Disney attraction: Radiator Springs Racers
Favorite Disney character: Spider-Man. I don't know if that actually counts, if not then I'd say Guido from "Cars".
Favorite Disney snack: Dole Whip
Favorite Disney movie: "Spider-Man: Homecoming" or "Toy Story"