Meeting Mia: From the Sunshine Coast to the Sunshine State
What started out as a trip to celebrate her high school graduation ended up becoming the inspiration that began Mia's Disney journey! While staying at Disney's Port Orleans Resort – French Quarter, she met a participant from Brisbane, Australia, and was in the Disney Australia/New Zealand Cultural Exchange Program. After learning more about the program on different social media sites and knowing some friends who were alumni of the program, Mia decided to apply for an opportunity.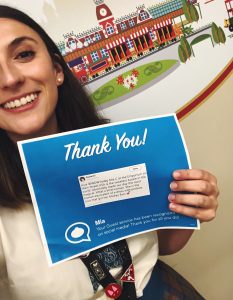 Mia is an alumnus from the University of the Sunshine Coast and recently arrived in January 2018. She is a merchandise hostess at the Emporium in Magic Kingdom Park. Having only worked for about two months, Mia has made an impression on guests and fellow cast members already. She received several forms of recognition including two by some guests who truly felt appreciated by Mia's hard work, passion, and her memorable personality! Our team followed up with her to see how her program has been thus far.
So you have been here for about a month (in January). How is life adjusting to Florida?
Climate-wise, it is similar to Australia. It's surreal. You're living on the other side of the world and you're with people from all over the world. You get to have experiences that you wouldn't do at home, like going to the most popular theme park in the world for a few hours just because you can!
The Australia/New Zealand Cultural Exchange Program requires all participants to submit a cultural activity they participated in within the past month. What have you experienced so far? Do you have any future plans?
I watched a football game. It was the Pro-Bowl. It rained, it poured – but it was great! I'm a huge Seattle Seahawks fan! I watch them all the time from home! I have also been going to the beach. My friends and I are planning on going to Knoxville, Tennessee. Now that I have been here for about a month, I feel like I'm settling in and going out more.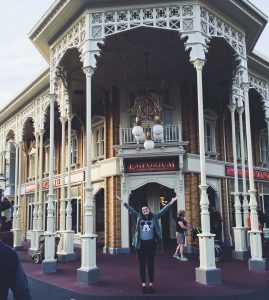 What has been your favorite parts of the program so far?
Making friends from all over the world! And of course, being able to go the theme parks whenever I want. I'm going to work and being happy every day! I definitely want to extend and stay in the Emporium. The Emporium leadership is fantastic!
Do you have any advice for any future participants?
Make a bucket list. You don't want to get home and say you didn't do something and regret it. Take every opportunity when you can. VoluntEAR when you can!
Thank you so much for your time, Mia! We are all impressed by the wonderful impression you give to all the guests and fellow Cast Members! We look forward to seeing where your Disney journey leads next!