Professional Intern spotlight: Camille, Media and Art Pipeline Developer
Riding your favorite Disney attraction is like experiencing magic. Every element fits together to fully envelope you in the sights, sounds and smells of each respective scene. But behind all Disney attractions are the incredible teams that bring them to life! Camille, a Media and Art Pipeline Developer Intern with Walt Disney Imagineering, jumpstarted her Disney journey during the Disney: Tech Behind the Magic Experience at Walt Disney World® Resort. The Disney Tech: Behind the Magic Experience gave 20 students the exciting opportunity to network with Disney technologists and interact with our innovative technology. Camille now uses her love passion for technology and art to impact the future of Audio-Animatronics® at Walt Disney Parks and Resorts!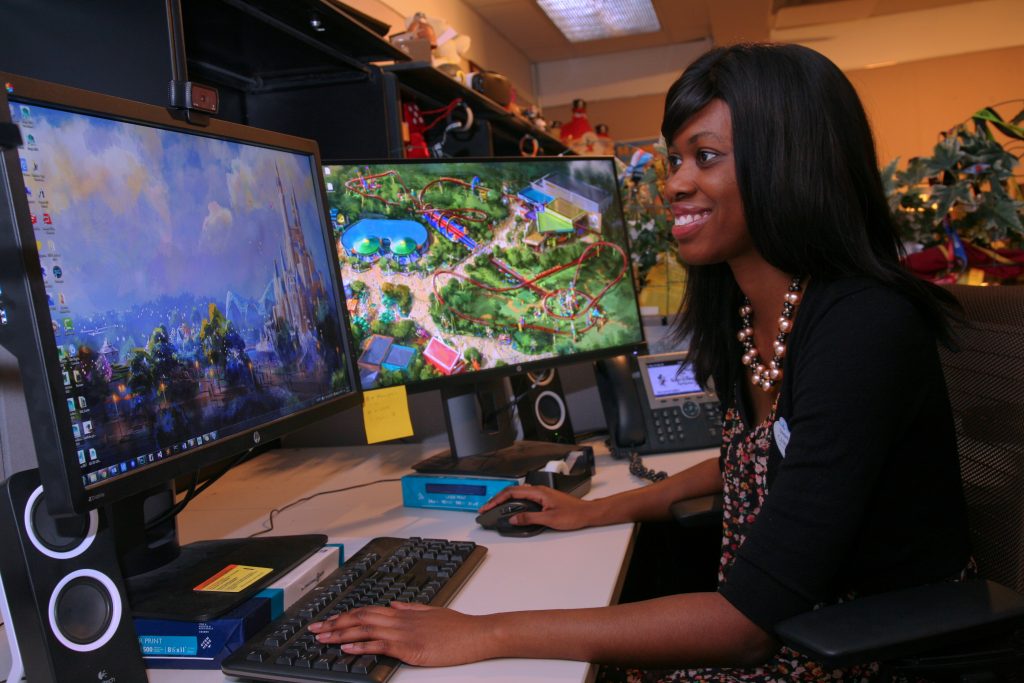 From Rocket Raccoon to the Na'vi Shaman of Songs, Audio-Animatronics® figures at Walt Disney Parks and Resorts are an essential aspect of immersive experiences. "Currently, I am working on programming tools to help design movements for our advanced robotics in different environments," shares Camille. In her role, she utilizes programming languages, like C++ and Python, on 3D objects within Autodesk Maya.
"I always had a love for technology since I was a little girl, to the point that everyone in my family would come to me when there was a computer issue," says Camille. She was first exposed to the world of technical artistry in high school during a Visual Communications course. After discovering the "Paths to Pixar" video series on the Pixar Animation Studios website, Camille realized both of her passions could thrive together! "I remember watching videos about being a technical artist, which essentially combined both computer science and art together. Watching these Pixar videos by Hayley Iben, Susan Fong, Danielle Feinberg and Tony DeRose on how they incorporated math and computer science together was life changing for me," continues Camille.
During her time at the Disney: Tech Behind the Magic Experience, Camille was able to get an up-close look at the world of technology at The Walt Disney Company. There were plenty of distinctly Disney surprises and magical moments (like a special dessert party and viewing of "IllumiNations: Reflections of Earth" at EPCOT), but the group of tech-savvy students also had the opportunity to meet with Disney technologists and Imagineers. "I learned so much on that day. I learned that no matter what platform, the story element never goes away. I learned that a lot of people got their start at Disney as an intern to get to where they are today. But the biggest thing that I learned that was exciting was when we went to Imagineering," says Camille. While visiting Walt Disney Imagineering at Walt Disney World Resort, Camille met a full-time Media and Art Pipeline Developer and realized the breadth of opportunities the role provides. "I loved that one person had the potential of working on different parts of a pipeline for an attraction," says Camille, "which encouraged me even further that I definitely wanted to intern as a Media and Art Pipeline Developer in Imagineering."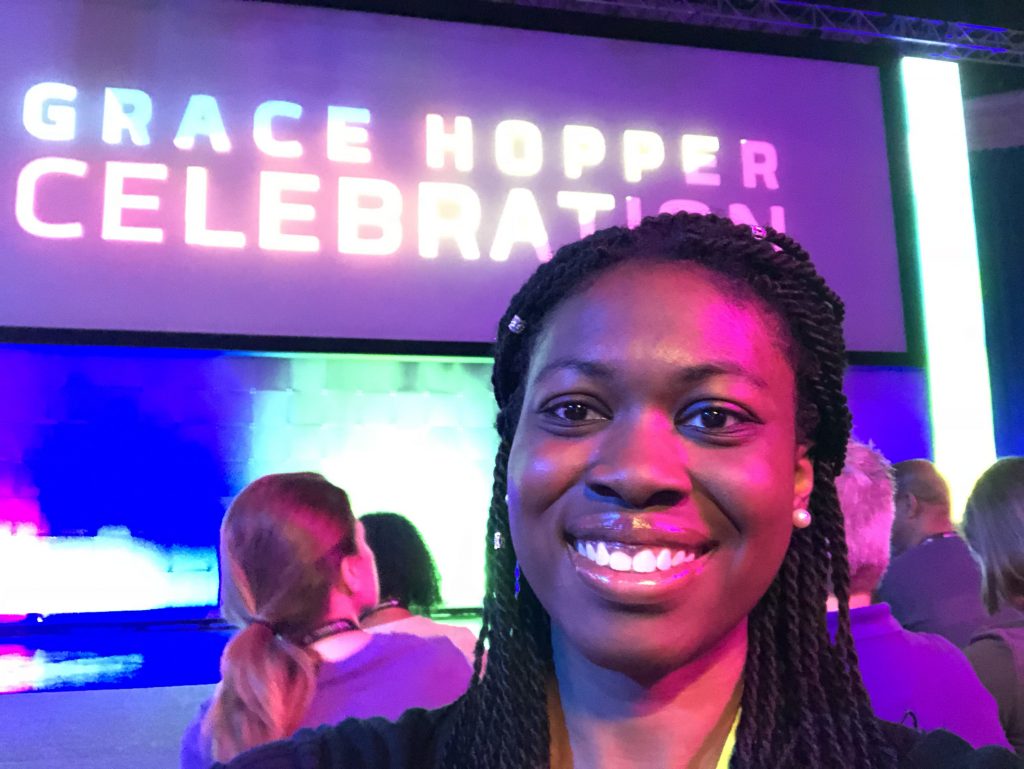 The Disney: Tech Behind the Magic Experience scholars were also given the opportunity to attend the 2017 Grace Hopper Celebration of Women in Computing! This conference connects female technologists from around the globe for three days of seminars, demonstrations, and networking. "I'm usually the only female and/or minority when it comes to technology and computer science in a lot of the spaces that I participate in – especially when it comes to combining computer science with animation or games. But through this conference, I was able to meet more students like me. I was able to meet women at Disney Animation, Pixar, ILM, etc. who all are incredible women that were in roles that I wanted to be a part of in the future," says Camille.
Similar to her favorite character, Moana, Camille is determined to find her path. "My favorite Disney character is Moana because she is a strong female minority from the islands that is trying to find her way and who she is in life. I'm half Jamaican and relate to a lot of the island culture and going through this journey of figuring out who you are," shares Camille. She also notes that Moana's determination and ambition inspire her daily work.
"I believe a lot of people think that there is just one way to get to their dreams. I have gone through different paths. Some that are not the 'traditional' way. But through my story and actions I hope to inspire other women and minorities to get into this field," says Camille. She advises technology enthusiasts to take advantage of free resources to jumpstart their journeys.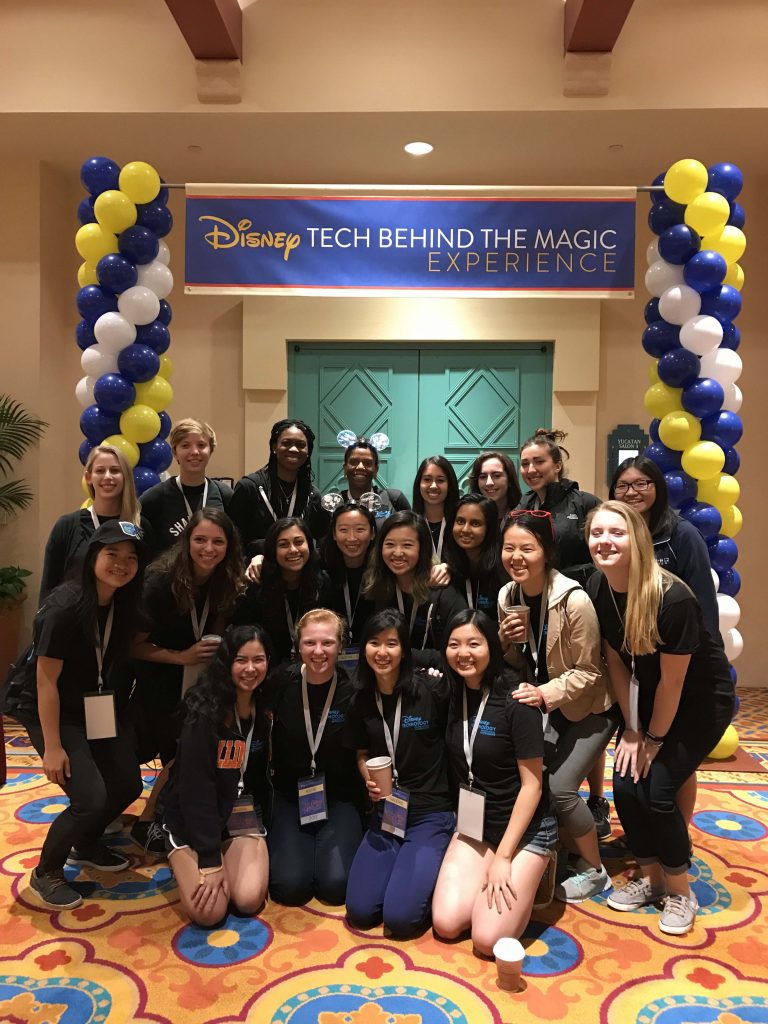 Camille encourages internship hopefuls to not limit themselves when looking for internships with The Walt Disney Company. Explore all segments to find opportunities that fit the framework of your experience – you may never know what you'll find! "When you hit an obstacle, look for another way to get around it. Keep working on your craft so when your preparation meets a great opportunity (the Disney internship that you're passionate about) you're ready!" shares Camille.
From Disney: Tech Behind the Magic Experience scholar to Disney Professional Intern, Camille's unique story is sure to inspire. Every Disney journey is different, but they're all fueled by determination and ambition. In the words of Camille, "There isn't one way to achieve your dreams."
Find your path at The Walt Disney Company! Apply for a Technology internship.