A whole new world (of Disney): A Disney Internships & Programs love story
What better way to get ready for Valentine's Day than with a love story? How about a Disney Programs love story? Libby and Stephen are Disney College Program alumni whose Disney College Program experience went beyond living, learning and earning—they found true love!
In fall 2010, Libby drove across the country from California to Florida with her mom in preparation for her to start on the Disney College Program. After arriving the night before she was scheduled to check in, they decided to go by Disney Springs (then Downtown Disney), which is where our story begins.
Libby shares, "Our first stop was World of Disney and it just so happened that Stephen was the first cast member to greet us when we walked in the door. We got to talking and the rest is history! My mom, being a mom, was so happy that I made a friend quickly down in Orlando, she insisted on getting a photo of all of us together, right then and there. At the time, I was incredibly embarrassed, but now I am so incredibly grateful for that photo. How many people can say they have a photo from the very first day they met their sweetheart?"
Once Libby checked in for her program, she discovered that her work location would also be the World of Disney. She and Stephen became friends, and the rest was history.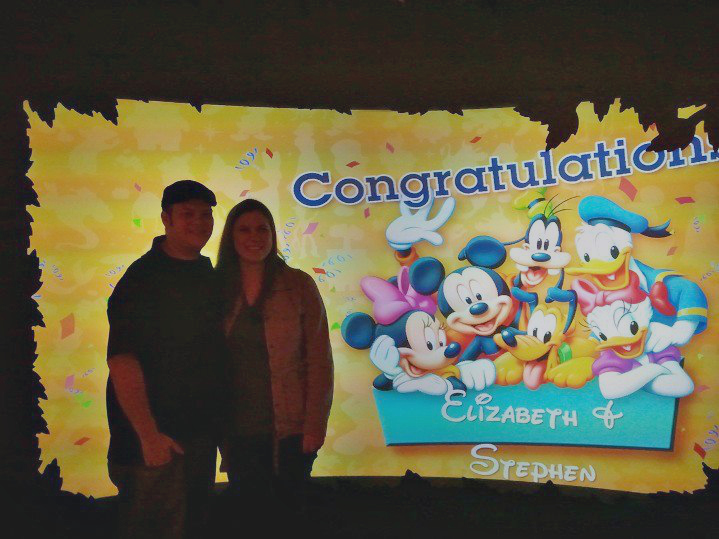 You think their first meeting was magical? She shared the story of their proposal, which was even dreamier: "Stephen and I got engaged at the Disney Store in San Francisco's Union Square. You may be saying to yourself, 'They got engaged in a store? That's not exactly magical.' But I promise you, it was!"
"Stephen was living in St. Louis at the time, and I had no idea he was visiting me in San Francisco to propose. We hadn't see each other in a few months, and over the past couple of years we had been flying between San Francisco and St. Louis every so often to visit, so it seemed like a regular visit. Little did I know that for this particular trip he had made special arrangements with the Disney Store cast members for a very special engagement!"
When we arrived at the Disney Store that fateful day, Stephen brought me up to the second level of the store and the magic began. It took a while to get me there however; I will never forget saying to him, 'Why are you rushing me to go upstairs? I want to look at the things down here first!' But when we finally made it upstairs, I was in awe – it was truly unlike anything I'd ever seen before! Fireworks and romantic clips from Disney movies started projecting all over the walls, and I couldn't believe what I was seeing!"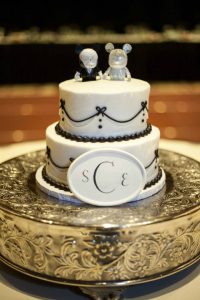 'I turned around and there Stephen was, kneeling on one knee with the most beautiful ring I'd ever seen! All of the Cast Members in the store were so excited. That was six years ago, and to this day we still have Cast Members who recognize us when we walk into the store. They printed photos of our engagement and have them hanging up in their break room!"
They were married in 2014 and moved back down to Florida a week later to continue their journey with Disney while simultaneously beginning their journey of marriage! Today, they're living out their happily ever after here at Walt Disney World® Resort, where Libby works as a communications specialist with Disney Internships And Programs and Stephen is a front desk service advisor at Disney's YachtandBeach Club Resorts.
Their Disney College Program didn't just start the first chapter of their Disney story, it started the first chapter of their love story, as well! During this month of love, we wish Libby and Stephen lots of happiness and much love to you and those you love, as well.