Engineering the magic: Alex's journey from intern to full-time Industrial Engineer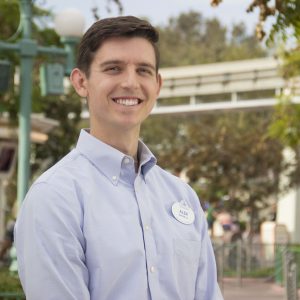 "Everything that we do is telling a story," says Alex, an Associate Industrial Engineer at Disneyland® Park. Differing from many storytellers, Alex uses numbers to further Walt's vision and establish the foundation for a seamless guest experience. The chapters of Alex's journey with The Walt Disney Company all have one thing in common: creating magic through efficiency.
During his freshman year of college, Alex learned that industrial engineering combines human interaction with STEM principles. He found an environment within Walt Disney ParksandResorts where he can flex his problem-solving skills and his love of working with people. Alex applied for his first internship with The Walt Disney Company following his sophomore year and landed the role! "It was really one of the greatest experiences I had in college," shares Alex. As an Industrial Engineering intern with Walt Disney ParksandResorts, Alex was able to assist in the opening of the Market House Starbucks Coffee on Main Street at Disneyland Park.
Alex describes his experience with the project as "incredible." At only 20 years old, he was an influential member of the team. His feedback and work were applied to real world situations and directly benefited the success of initiatives at Disneyland® Resort!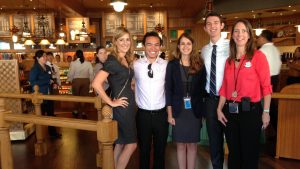 Alex returned to Disneyland® Resort for a second Industrial Engineering internship – this time supporting parking and project development work. "You're working directly with the Imagineers on their creative concepts," says Alex. He recalls one of his favorite projects, experience merchandise, that led guests on a scavenger hunt throughout the resort. Alex's internship experience within the Industrial Engineering department gave him the opportunity for one-on-one dialogue with Imagineers, focusing on sustainability and positive guest experiences.
His third internship, an Undergraduate Associate role with Disney Consumer Products and Interactive Media, let Alex apply his skills in support of the Disney Store. Taking his knowledge from previous internships with Walt Disney Parks and Resorts, Alex worked on maintaining efficiency within a store environment.
The newest chapter of Alex's Disney journey started a year and a half ago at Disneyland Park. He now works in a full-time position as an Associate Industrial Engineer with the Industrial Engineering department. "I think the greatest part about working here full time is that I have had such an incredible experience to have my voice really be heard," says Alex.
From intern to full-time cast member, Alex has always been an important and integral member of the Industrial Engineering family. He recalls, "I was in a meeting earlier and the vice president of Disneyland Park looked me in the eyes and said, 'Alex, I think this is where you can come in and help us out.'"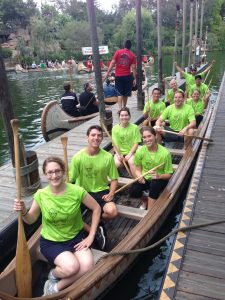 "One of my favorite things about working in the Industrial Engineering department is that we really focus on the collaborative as opposed to the competitive work environment," says Alex. When it comes to the Industrial Engineering work environment, Alex loves the highly collaborative nature of his team. Their focus is all about the guest experience; making ride and queue designs as efficient as possible for park goers.
It's within that efficiency that magic comes alive for guests. "Every day, we get the chance to put smiles on people's faces, and it really is fun to work on this because of that. I want to make an impact and create a happier world, and that is why I do what I do," says Alex.
What is Alex's advice for industrial engineering internship hopefuls? Take the chance! "I think the greatest advice that I would give to an industrial engineering hopeful is to take the first step and apply. It can seem daunting at first, but I encourage you to believe in yourself and take a chance. And if you don't get it right away, continue to invest in yourself, find another internship, and apply again. Walt said it best, 'It's kind of fun to do the impossible,'" shares Alex.
Do the impossible at Disney! Apply today for an Engineering internship: http://di.sn/6006D3am4