Alumni spotlight: From program participant to published author
A passion is ignited
Christopher Tremblay has his parents to thank for his love of Disney. Growing up he was surrounded with Walt Disney books, toys, games, and was lucky enough to make his first pilgrimage to Walt Disney World® Resort on Christmas day in 1977 when he was only five years old. Little did Christopher know he would be leading Disney-inspired pilgrimages in his future. As Christopher grew up, his love for Disney impacted his class assignments and essay topics. When he was a junior in high school, working his first job, he met Paula Resley who had completed the Disney College Program. After having a conversation with her, Christopher knew that was what he wanted to do and he set off to work for the mouse.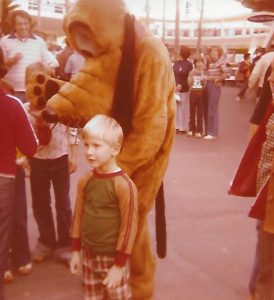 "If you dream it, you can do it" –Walt Disney
Bound and determined, Christopher interviewed for the program three times before he received his nametag and mouse ears. He worked the 4 p.m.-1 a.m. shift at Disney's Caribbean Beach Resort in Food and Beverage. Christopher called himself lucky to work this shift, because it gave him all add day to play in the parks. Christopher was so impressed with everything he was learning from Disney while working there, "it is such a learning lab to be in the center of it all", that his passion continued to grow. While on his program, Christopher was able to participant in the memory book team, work on his senior honors thesis, and most memorable of all, win the Rachel Emilio Scholarship Competition. As part of the competition, Christopher pitched a project to Disney to consider making a new theme park that was a downtown city scape with shops and attractions he called "Downtown Disney". While Christopher's Disney College Program came to an end, his Disney adventure was just beginning.
"The way to get started is to quit talking and begin doing." – Walt Disney
Now, Dr. Christopher W. Tremblay currently serves as a research and marketing consultant in Gifted and Talented Education (GATE) at Michigan State University. In December 2013, there was a fundraising campaign for the restoration of Walt Disney's birthplace. In that same month, Christopher visited Chicago's Museum of Science and Industry Treasures of the Walt Disney Archives exhibit. From this, Christopher's bucket list idea was created. Christopher was going to road-trip with his friends from Walt's birthplace, to Marceline, Missouri, to see where Walt grew up. This idea evolved from a conversation with his colleague, Jules, to a proposal for an academic course, and is now an honors course available for students that Christopher developed, plans and leads. He put together an eight-day travel trip through Walt Disney's life to see where Walt worked, played and lived. During this course, Christopher takes the students to visit 40 impactful places from Walt's life across the United States, from Chicago to California. 2018 will be the fourth year he takes students on this pilgrimage. Usually, the students have the opportunity to meet Ron Miller, Walt Disney's son-in-law, and hear first-hand stories about growing up with Walt. It was a goal of Christopher's to have his students meet someone from the family, to add authenticity and validity to the experience.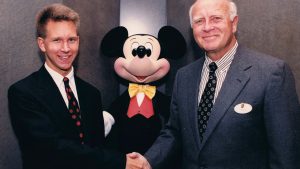 Out of a course, a book was born
Witnessing his students see and experience where Walt lived, worked and played was a privilege for Christopher. Christopher knew more Disney fans, alumni, program participants, and people who are inspired by Walt would appreciate this pilgrimage. Looking at Walt's life from a geographic perspective was something that had not been done before and, "it allows us to learn about Walt as an individual," Christopher explains. After year three of doing this course in March, he sat down to write 'Walt's Pilgrimage'.
'Walt's Pilgrimage' – The book
'Walt's Pilgrimage' is a book about Walt as a person. Even though there can be references to what he did in the company, "it focuses on him as the individual who changed the course of American history." It allows people to take the pilgrimage themselves while reading through Walt's life and experiences. Christopher even created a children's pictorial version, 'Walt's Pilgrimage Jr.' Christopher also has plans for a trivia version, a card game, and a passport version for people to use on their pilgrimage.
Why Walt Disney?
Christopher always admired Walt for his "creativity, passion and how he approached things with such synergy. He was someone to look up, and I admired his persistence, contributions, this is my way to thank him." Christopher was inspired by learning about Walt's many failures. Even though Walt stumbled, "how you recover will say more , and being reminded that had hopes and dreams and some came true and some didn't, very telling that Walt always had his hands in a lot of different things". At the end of Walt's life, he had four distinct projects in motion. Walt reminds us that, "we need to continue to make progress. I like to say that Walt's life was Tomorrowland. He was always thinking about what was beyond and what could be." Walt Disney is a man whose legacy lives on and continues to inspire.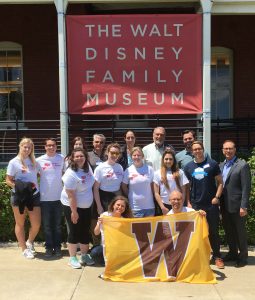 Travel guide, biographyandhistory
This book allows readers to learn more about Walt Disney and the places that were integral to his life. "A lot of people don't realize he only had a one-year high school education , and look at what he accomplished. there are 80 cities that are highlighted, and you can do the pilgrimage in bits and pieces," Christopher says. What makes this book unique is that it weaves together history, biography and travel. Christopher says, "It brings attention to places in his life that we need to be reminded of."
Advice from an alumnus
Take advantage of every opportunity, educational seminars, pick up extra shifts and special projects, volunteer, and soak up all of the experience.
Do everything that you can to learn as much as you can because Disney is such a dynamic and respected organization.
Stay connected. I am so glad it took me three times to finally be accepted, because I can honestly say I was meant to be declined twice and the third time was the charm because, the people on my program are still my friends today.