Exploring the wilderness: Spotlight on a Conservation Education Presenter intern
Melissa Werle spends her days teaching guests of all ages about conservation and wildlife while doing things like holding a tarantula, or interacting with guests to give them an experience they wouldn't expect at a Disney theme park.
As a Conservation Education Presenter, Wilderness Explorer Melissa teaches guests about the importance of how and why we protect our animals. She also shares animal facts and makes recommendations for fun experiences guests wouldn't want to miss The Wilderness Explorers team hosts activities at stations throughout the park that encourages guests to learn, participate and receive sticker badges for their Wilderness Explorer handbook! After earning 31 badges, guests become Senior Wilderness Explorers.
Melissa's journey with Disney started before exploring the wilderness. Melissa was a Disney College Program participant in 2012 as a hostess at the Grand Floridian Café at Disney's Grand Floridian ResortandSpa. She was drawn to Disney because she thought the company would be a great place for a young adult to start a career. Being a college student who wasn't entirely sure what she wanted to do yet, Melissa wanted to be at a place where "there are so many potential paths and learning opportunities." After graduating from Union College in Schenectady, New York with a degree in environmental science, Melissa came back to participate in another College Program at the Tusker House restaurant within Disney's Animal Kingdom Theme Park. Melissa says, "I love the idea of being a part of a company whose goal is to create happiness."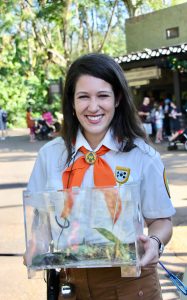 One of the benefits of the Disney College Program is working with people from many different backgrounds and exploring personal passions. While on her second program, Melissa was able to take a class on environmentality and sustainability. This course was a great way for Melissa to find out what Professional Internships Disney had to offer in her field and learn about and experience the Wilderness Explorers program at Disney's Animal Kingdom Theme Park. Melissa's teacher encouraged her to set up meet and greets with cast members working in environmental fields, which allowed her to further explore her passions.
Melissa continues to make magic every day in her role as a Wilderness Explorer. With the opportunity to interact with guests one on one, she is able to point out animals to guests they might otherwise miss. One special way Melissa creates magic is when she is staffing the siamang habitat. Here she teaches guests about these unique apes from Southeast Asia. Siamangs have a special throat pouch which allows them to produce a call that can be heard for up to two miles. Guests can often hear the siamangs calling before they see them, so Melissa enjoys telling guests about this sound they are hearing and seeing the guests' surprised reaction.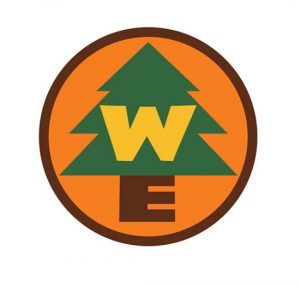 As a Wilderness Explorer, Melissa has the opportunity to have meaningful conversations with guests of all ages and gauge their perspectives on wildlife. Melissa says, "With young children, actions as simple as getting outside or learning more about their favorite animal can be really impactful because it encourages them to connect with nature. For teens and adults, we talk about what we can do at home to protect wildlife—things like recycling, joining clubs, spending time exploring nature, or teaching others. "I love telling people about conservation apps and websites that they can visit to learn more, because guests get excited when they know their actions make a difference."
According to Melissa, being a Conservation Education Presenter is unlike any other role at the Walt Disney World® Resort. "We have a lot of variety in our days and get to move around as we travel to different stations. We work with Guests who are excited to see us and learn interesting new facts about the environment. We work on a team of passionate and environmentally-minded people who know we are making a difference through education." Melissa says "I think it is important to be a champion for nature and I always try to share my enthusiasm with others. I love working for a company that is dedicated to making a difference for people, wildlife and the planet."
From a Disney College Program alumna, Melissa's must-dos at Disney's Animal Kingdom Theme Park are…
Visit Gorilla Falls and Maharajah Jungle Trek to see some amazing animals up close!
Ride Avatar: Flight of Passage in Pandora – The World of Avatar.
See The Festival of the Lion King.
Grab a Dole Whip to cool off!
Become a Wilderness Explorer (of course!).
For aspiring Professional Interns, Melissa's advice is to…
Have a strong resume and cover letter.
Schedule meet and greets with fellow cast members to familiarize yourself with your peers and the business.
Seek advice from professionals in the field.
Show your enthusiasm for Disney in whatever role you wish to pursue.