An experience of galactic proportions: Spotlight on Will, Walt Disney Imagineering project management intern
In a galaxy not so far away, one Disney professional intern is living out his dreams. Meet Will, a Walt Disney Imagineering project management intern who is currently working on Star Wars: Galaxy's Edge at Walt Disney World® Resort.
Originally from Chantilly, Virginia, Will attended James Madison University (JMU) where he obtained his bachelor's degree in management with a concentration in technology, innovation and entrepreneurship. Disney has always been a special part of Will's life. Not only did he spend many family vacations at Walt Disney World, but both of his parents were cast members. He has already had quite the Disney journey, and it shows that no matter where you start, you can always reach your goals.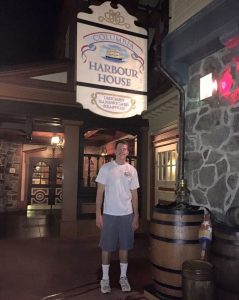 Tell me a little bit about your Disney journey.
I decided to apply for the Disney College Program my junior year at JMU because I wanted to try a new job, live in a different state and avoid a cold Virginia winter. I accepted my first college program role as a front of house cast member at Columbia Harbour House where I could often be found ringing the bell outside the establishment saying "Ahoy!" to all of our guests.
After my first college program, I knew I wanted to come back to Disney, so I quickly developed a plan to make it a reality. I reapplied to the program (this time the Summer Alumni Program) where I landed a role in quick service food and beverage at ESPN Wide World of Sports (ESPNWWS).
During my time at ESPNWWS, I knew working in food and beverage was not my end goal, so I frequently looked at other job postings that Disney had to offer. I was particularly drawn to the project management internship for Walt Disney Imagineering (WDI). From there, I knew that was my goal and I spoke to anyone I could in order to get closer to that goal.
I was fortunate to meet a project manager that worked in WDI who was willing to speak with me and help mentor me to where I am today.
What is your professional internship? Without revealing too much, as I know you have Storm Troopers watching your every move, what exactly does your role entail?
As a project management intern for WDI, my main goals and responsibilities include ensuring the scope (quality), schedule and budget of our Disney projects are the best we can provide for our guests. This is achieved by leaning heavily on our team experts. Whether they are experts in construction, ride engineering, show, creative, design, etc., these are the people that really make our projects thrive. As project managers, it's our job to make sure the team is happy and all working together toward the same goals.
My day-to-day includes reading architectural drawings, visiting the construction site, attending or leading meetings, problem solving, creating presentations and most importantly, helping the team any way possible. One of the things I love most about project management is that each day is completely different from the one before. Each day presents new tasks or issues to take on.
Why did you choose to pursue your career with Disney?
I went into working at Disney with pretty open eyes. I didn't know what to expect when I got here, but I was excited. During my first college program, I realized how much I loved that no matter what your role is at Disney you have the opportu
nity to make someone's day better. I found so much joy in helping people when issues would come up, and I loved that Disney encourages every cast member to always try to create that VIP experience for our guests.
Do you have any advice for prospective professional interns?
I would say, if you are curious about or have determined which professional internship you want to pursue, you absolutely should reach out to someone already in that position. Disney is a great company with great people all throughout. I've found if you are willing to put yourself out there, most people are willing to help. Take advantage of the resources Disney provides to help program participants meet other professionals, whether it's a networking event or utilizing our company resources to find someone in your dream job. You'll be surprised how many people are willing to help fellow cast members.
FUN FACTS
Favorite Disney Park: Magic Kingdom Park
Favorite Disney Character: Mickey Mouse
Favorite Disney Snack: Mickey pretzel with cheese
Favorite Disney Movie: "Toy Story"
Favorite Disney Song: "Best of Friends" from "The Fox and the Hound"