Program alumni embrace the changes at Disney's Hollywood Studios
Disney's Hollywood Studios is undergoing many exciting changes! Two current Cast Members from Hollywood Studios sat down with me to talk about this very special park at Walt Disney World® Resort.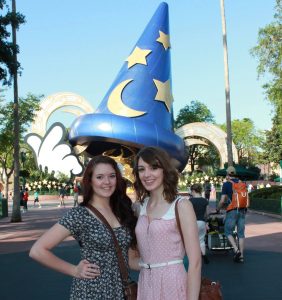 Meet Sarah
Sarah Monnier earned a bachelor's degree in journalism and history with a specialization in design from Indiana University. She gained experience writing for College Magazine and a blog for her school's Office of Overseas Study. As a public affairs communications professional intern at Disney's Hollywood Studios, Sarah is able to leverage her skills from her degree and expand upon her knowledge. She confirmed that her prior experience with storytelling "prepared me for my professional internship at Hollywood Studios by giving me familiarity with that style of writing."
Prior to her Professional Internship, Sarah was hired as a seasonal cast member in merchandise at Hollywood Studios. Growing up, she had a natural love for Disney Parks, and observing her older sister complete the Disney College Program – and move in to a professional internship – allowed Sarah to see that Disney a great place to 'gain work experience and learn about life after college.' The weekend after her College Program interview, Sarah remembers 'running from Epcot's International Gateway to Disney's Hollywood Studios in time to catch Fantasmic!, and I guess that was a sign that this would be my park or something because I've never left.'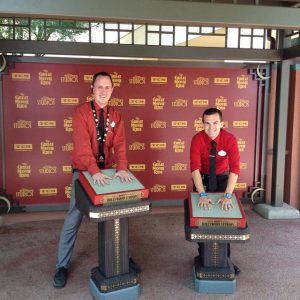 Meet Christopher
Christopher DeGeorge has been with the company for nearly seven years. He started on the Disney College Program, lived in Disney Housing at Chatham Square and worked in Magic Kingdom Park. At the time, he wanted to be a pediatrician and was studying nutrition at Oklahoma State University. Soon, however, he realized that Walt Disney World 'is a really cool environment."
While he was working on Main Street, U.S.A., in operations as a park greeter, a manager pulled him aside and asked him if he would be interested in moving into leadership. From that moment on, Christopher started to look at his role as a potential career. Christopher says that "the connections you build can take you somewhere in the future. It's important to make sure you actively engage." He knew he wanted to work as a leader at Disney. He went back to school and finished his degree. He returned to Orlando for a management internship at Hollywood Studios as a guest services manager, and the park has been his home base ever since.
Christopher has worked throughout Hollywood Studios including The Great Movie Ride, Muppet*Vision 3D and Star Tours – The Adventure Continues. He most recently finished a stint on the efficiency site strategies team as an efficiency manager. As an efficiency manager, Christopher worked with a team of leaders to encourage innovation and process improvement across Walt Disney World.
He now is a guest experience manager at Hollywood Studios focusing on Toy Story Midway Mania and custodial.
Why continue the journey?
Sarah mentioned that her experiences as a merchandise Cast Member on the College Program have helped her gain an understanding of the operation she is supporting. "I want to provide engaging content for our Cast here," she said. Working on "both sides" has added incredible value throughout Sarah's internship, and it also drives her passion for her role.
Staying in the same park for multiple years has allowed both Sarah and Christopher to establish a network of coworkers and create a sense of family. Sarah noted that "the camaraderie between cast members is like a family. Work-life balance is so much easier when you enjoy the people you work with." She said that working at Hollywood Studios "allows you to get close with the people you work with, because the park is smaller and more intimate than some of the other parks."
As with other parks at Walt Disney World, our cast members can work in other locations within Hollywood Studios. This helps you to get to know other cast members and leaders and still feel like they are a part of the family. So, according to Sarah, when you try something new at the park, "you don't feel completely lost.'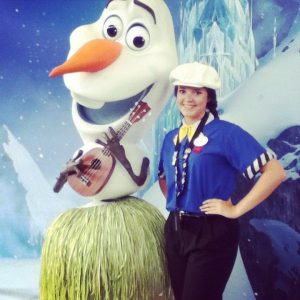 What makes Disney's Hollywood Studios unique?
Christopher explained that new cast members at Hollywood Studios will get to experience the "amazing transition" taking place as the park transforms, grows and changes. "You get to be a part of the legacy of this park. You are able to be present for the evolution."
Sarah also mentioned that "as our parks grow you can have the opportunity to do cast previews, which offer exclusive opportunities to experience new offerings with the rest of your team at Disney's Hollywood Studios."
In addition to new attractions and lands on the horizon, Hollywood Studios also transforms for the holiday season. This year, the park will feature "Jingle Bell, Jingle BAM," a nighttime spectacular, and for the first time in forever, there will be "snowfalls" on Sunset Boulevard!
What's new?
If you are looking for something new, Hollywood Studios is the place to be! With Toy Story Land opening in the summer of 2018 and Star Wars: Galaxy's Edge opening in 2019, everyone has this park on their radar. These lands will bring fan favorites and classics to life. Christopher explains that what is going to make these lands stand out is "the idea of total immersion. Disney is very good at theming and creating a story, and these lands are going to transport you somewhere entirely different. So you will feel like you are part of the story." For example, in Toy Story Land, you can be transformed into a toy in Andy's backyard! And in Star Wars Land, you can see a brand-new planet!
In addition, the new lands will provide many opportunities for our College Program participants and Professional Interns!
What are the hidden gems at Hollywood Studios?
According to Sarah and Christopher, there are many hidden gems at the park, but the best ones involve treating yourself to something sweet! Be sure to stop by Holllywood Scoops and grab an ice cream cookie sandwich to take to Fantasmic!, a 30-minute nighttime, outdoor extravagant musical. The treats are budget-friendly as well as delicious!
Another not-to-be missed treat at the park is the PBJ milkshake at the 50's Prime Time Café.
Any advice for College and International Program participants?
Both Sarah and Christopher agree that if you hit a point on your College or International Program where you feel like you have ridden everything and eaten at every restaurant you had on your Disney bucket list, you should take time to look a bit deeper. (This advice applies to our College Program participants at Disneyland, as well.)
Cast members have gone to great lengths to include many details in each and every theme park around the globe. As a College or International Program participant, you will have ample opportunities to visit our theme parks at a leisurely pace and take in many details that guests with a more limited schedule may not!
For example, at Hollywood Studios, you can see Audrey Hepburn's handprints in front of the Chinese Theatre and even explore the Star Tours queue to find writing on the wall that corresponds with George Lucas's birthday.
Be ready for anything!
Keep an open mind, because there are opportunities all around you. Sarah says, "If you only have your mind set on wanting to work in attractions, you could be missing out on other roles. Even if you aren't operating a classic attraction, you are still part of the magic." For example, if you work in merchandise, you may have the opportunity to help children build their own light sabers and create other memories to take home with them. "Don't limit yourself; there are unique opportunities throughout Walt Disney World (and Disneyland)."
Sarah continues, 'When you are on your program, make sure your experience is not a passive experience." Once you are comfortable in a role, you will get out of it what you put into it.
What are you going to do to make an impression on our guests? On your team? On your leader? What will be your legacy?