Following his dreams: Professional Intern spotlight with Hunter, Videography & Editing
"All our dreams can come true, if we have the courage to pursue them."- Walt Disney
Meet Hunter, the current Professional Videography and Editing Intern for Disney Corporate Creative Resources (DCCR). Since graduating with a bachelor of arts in film from the Honors College at the University of Nevada, Las Vegas in 2016, Hunter has been taking risks and following all of his dreams.
Hunter is a filmmaker. He has been making videos ever since he was eleven years old. He has won over 40 awards for the 20 short films he has written, directed, acted in, edited and/or musically scored, which have been showcased at 50 film festivals worldwide. Most notably, he was flown to the United Nations to accept a first-place award for his anti-bullying film that promoted acceptance of those who are perceived as different. Hunter is also an established musician, releasing one album and having another currently in the works. In addition to all of that, he enjoys performing stand-up comedy and has even done shows on the Las Vegas Strip. His lifelong dreams include working for The Walt Disney Company, being a comedian on Saturday Night Live, and donating a portion of the profits from his company Rock*Comedy*Film to benefit arts education programs.
Hunter is a dreamer and a believer. Hunter's journey is inspirational, and he shows us that we can all follow our dreams, if we have the courage to pursue them.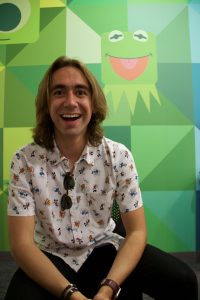 What inspired you to apply for an internship with Disney?
Anybody who knows me could tell you that I am constantly talking Disney: Walt Disney, Disneyland, and working for Disney. I have been making videos since I was 11 years old, dreaming of a day when I might be able to step inside the gates of the legendary Walt Disney Studios. Ten years later, I'm here, capturing content inside those gates for my dream company.
Describe your role.
I film and edit video content for Disney Corporate Creative Resources and D23, the official Disney fan club, used for events, social media, and promotions.
What is your favorite project you've worked on so far?
My favorite project was the D23 Expo 2017. DCCR worked like a well-oiled machine gearing up for the Expo, and I felt lucky to be a part of that. For four consecutive days, I roamed the Expo with my manager, Jeremy Cohen, capturing fan interactions and some other unexpected events. At different times throughout the Expo, I was within a few feet of Josh Brolin and John Lasseter, with a camera pointed at them, and not in a creepy way, but in a "this is my job, and I'm supposed to be here doing this" way. What a unique opportunity to be placed in such close proximity to my heroes, filming them for the Walt Disney Company and for the world to see.
What qualities make you successful in your internship?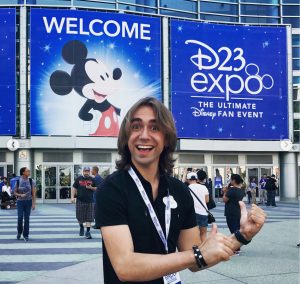 Versatility and adaptability. At DCCR, we explore and work across many areas of the Walt Disney Company, so adventure is out there every day. Having worked on a variety of film sets, working in different roles, both in front of and behind the camera, I believe has adequately prepared me for this position. I may need to light a set one day, be a videographer the next day, then an editor, a graphic designer, or all four in a day. Whatever my role is, I'm learning more and more as I go and making unforgettable memories along the way.
What opportunities are available to you as a professional intern with The Walt Disney Company?
I have already been able to make some great connections with people at Disney during my time as an intern. Disney gives interns a golden opportunity to get to know people and for people to get to know you.
Also, I am a huge Disneyland fan, not only for the rides but largely for the history and what it represents as a landmark achievement by my greatest inspiration, Walt Disney. Having access to the parks (and to the Studios, as well) is an important perk that has allowed me to connect with other interns at the Happiest Place on Earth. What's a better place to network than there?
What advice do you have for potential Professional Intern candidates?
If you're truly qualified for the position, make it crystal clear in your cover letter and resume that you are the ideal candidate for this specific internship. Go down their list of qualifications one by one and spell out exactly how your experience and skills suits you for this role.
Have friends and family look at your resume before you send it. It shouldn't look too sparse or too dense. There's a stylized sweet spot that should be packed tightly enough to catch the eye of a recruiter, who will be sifting through hundreds of applications.
Do something to make your application stand out. For example, you can add color, organize it an innovative way, or even add a hidden Mickey. For me, I lined the side of my resume with the posters for short films that I had worked on. Also, your resume should be one page.
Most importantly, don't get discouraged. I applied seven times over the years before getting an interview. Stay persistent and just keep swimming.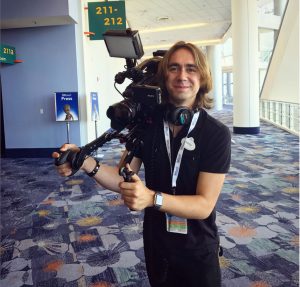 Anything else you'd like to share?
When I first interviewed over the phone for this position, I said, "There's a Walt Disney quote on my wall that I look at every day that inspires me, and it says…hmm…um?" I was so nervous that my brain went blank, and I totally forgot what it said. I thought I blew it. Graciously, DCCR and my future manager gave me another shot at recalling it, and I recited my favorite quote, "All our dreams can come true if we have the courage to pursue them." Since being here, I have been encouraged to continue pursuing my dreams, and the smiles and sincerity of people at Disney are what truly make this place as magical as you might hope it to be.
I had high expectations for this internship, and day after day, they are somehow magically exceeded. One of the most common questions I hear that cast members are asked is, "Does working for Disney kill the magic for you?" Quite the contrary. The people that I work with, the places that I get to go, the projects that I get to work on – they all inspire me. It's without exaggeration, a dream come true to be here, and looking forward, I'm motivated by bigger dreams of a continued career with Disney – a whole new world with new horizons to pursue.