Wish Granted: Spotlight on Grant, Education Operations Intern
It's not every day you get the opportunity to sit down and chat with a world-class, Mario Kart-playing, master-bear-builder cast member. Before Grant came to work for Disney, he lived in Snohomish, Washington, competed in Mario Kart tournaments, and was a master bear builder at Build-A-Bear Workshop. He graduated with a bachelor of arts in media and communications with a minor in visual media arts from the University of Washington. Grant had wished to be a part of The Walt Disney Company, and now he's in Orlando embarking on his Disney journey! You could say his wish has been grant-ed.
Tell us about how your Disney journey began!
In 2015, I did a brand marketing internship at the World Bearquarters of Build-A-Bear Workshop. To celebrate the completion of my internship, my family and I came to Walt Disney World Resort for a vacation. I remember buying a snack at the Confectionary on Main Street, U.S.A., and I asked the cast member helping me why some name tags have colleges instead of hometowns. She told me that they were on the Disney College Program, and I ended up talking to her for 30 minutes about the program, asking questions because I had never heard of it. It sounded so awesome to me! The day my family and I returned from vacation, I applied.
My first program was in the spring of 2016, and I supported stroller rentals at Magic Kingdom Park. I had the time of my life on the program! My favorite memory was walking down Main Street when the park was empty with all of my fellow cast members that I became so close to. I had such a great experience and met so many amazing people on my first program that I decided to apply for a second. I was lucky enough to be accepted as a vacationplanner at Disney's Hollywood Studios. I spent a lot of time interacting with guests and helping them plan their Disney vacation.
Where are you now?
I am an Education Operations Professional Intern. I'm one of four interns, and we work in the Disney Learning Center at Vista Way. We help participants at the writing lab and also help to enhance their personal brand. We try to ensure their résumés are as polished as possible, especially when it comes to adding a participant's new experience with Disney to their résumé.
We also have a resource catalog where participants can check out books, movies and board games. I love movies and to give participants recommendations. There's a computer lab that they can use as well.
On top of that, we even plan small but fun events every once in a while. Recently, we had some movie marathons, trivia nights and a video game tournament.
Why did you choose to apply for the Education Operations Professional Internship?
When I was living at Vista Way, the Disney College Program was a new experience for me, and I didn't know what to expect. I think my biggest concern was being away from everyone I knew, my family and my friends. I remember coming to the Disney Learning Center a lot during my program. They were some of the first people I met down here. They helped me with my résumé and work advice, but the thing I appreciated most was their willingness to do so. They made me feel more comfortable about moving out here, and were always genuinely happy to see me and help me.
After all my time spent there, I thought it would be really cool to do what they do. They did such a great job at making me, as well as many others, feel comfortable when we were all settling in to our new experience away-from-home. During my interview, I remember saying how it would be really, really fulfilling for me if I was able to help current participants the way that the professional interns helped me during my program.
What's the best part about working in the Disney Learning Center?
My favorite part about this role is being able to help participants and connect with them. We help them with a lot of professional development and listen to them when they have a problem they want to talk about. There are a lot of participants who just stop by to say hello, too. We help them, but they also help brighten our day.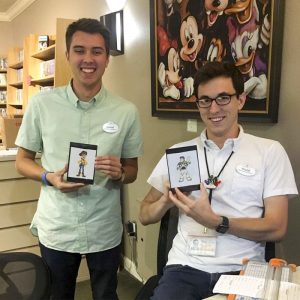 Some participants even go out of their way to do acts of kindness for us. They bake us treats, and someone cross-stitched a Buzz and Woody for me and my coworker, Tyler, as a thank you for helping them out.
One of my favorite moments so far was when I helped a participant with their résumé, and as they were preparing to get on a plane to go home, they stopped by to give me a hug and personally thank me. It means a lot to know that I'm making an impact on the participants.
What advice do you have for participants interested in applying for a professional internship?
One thing I regret about my first program is not taking full advantage of the networking and learning opportunities that the company has to offer. During my second program, I made it a goal to utilize those opportunities as much as possible. I took advantage of the many meet-and-greet opportunities like the College Program Alumni Speaker Series (CPASS) and free Career Development Workshops.
I think it's important to make as many connections as you can. Not only meet people, but learn from them, ask questions, and make genuine connections. You never know who could help lead you in the right direction. I definitely recommend taking advantage of the CPASS events and the career development opportunities to meet people that were once in your shoes.
As an Education Operations Intern, your role revolves around assisting participants throughout their program. We want them to have the best experience they can while working here. It's not just about helping people because it's your job, but helping people because you actually want to see them succeed.
Where do you see yourself in the future?
I would love to work in media. Specifically on the creative side like broadcasting or television/film production. The Walt Disney Company is the biggest entertainment company in the world, so I would love to keep working for them or one of their many brands like ESPN, Pixar or Marvel. I would like to go to grad school eventually too – it just depends which opportunity comes first!
Do you have anything inspirational you'd like to close with?
Yes! One of my favorite quotes is, "You can design and create, and build the most wonderful place in the world, but it takes people to make the dream a reality," said by the man himself, Walt Disney.
I resonate with this quote because my favorite part about this position is meeting all of our Disney Internships and Programs College Cast Members. The people are what make working here so amazing. The parks and the attractions are all great, but the thing people remember most are the people they meet and the relationships they make.
At the end of the day, our position revolves around helping the participants throughout their program. It might be sitting down with them to help put their new experience with Disney on their résumé, or it could even be as small as suggesting a movie for them to check out on a night off. We just want to make a positive impact and I want participants to have as great of an experience on their programs as I did on mine.
FUN FACTS
Favorite Park: Magic Kingdom Park
Favorite Character: Woody from Toy Story
Favorite Disney Food: Yak and Yeti fried rice
Favorite Disney Movie: "Toy Story"
Favorite Disney Song: "Stand Out" from "A Goofy Movie"