Disney Professional Intern Spotlight: Natalie, Digital Comics Intern, Marvel
"I identify with having to overcome obstacles to achieve my dreams and refusing to give up or settle for less," says Natalie – a Digital Comics Intern at Marvel Entertainment. Natalie, a recent graduate of Ringling College of Art and Design, showcases a level of dedication that is sure to inspire Disney Professional Internship hopefuls across all career fields. Likening herself to the characteristics of Captain Marvel, Natalie exemplifies the importance of determination and ambition. Natalie's Digital Comics internship allows her to flex her creativity and participate in exclusive opportunities.
Tell me about your Disney story. What inspired you to pursue an internship with The Walt Disney Company?
I dreamed of working for a major studio like Disney ever since I was 11. Growing up, drawing was my favorite thing. My older brother, Anthony, has low-verbal autism. As children, I used to draw pictures to communicate with Anthony, and he loved it because we didn't need words. I could make him happy just drawing a character he liked. That's when I knew I wanted to be an artist. After that, I participated in every competitive art program available.
I went to Ringling College of Art and Design to study Motion Design, which encompasses a blend of film, animation, stop motion, graphic design, compositing, visual effects, audio mixing, and creative technology. While working on my spring senior thesis, I was searching for career opportunities that matched my skills and use of creative programs. There were several at Marvel Entertainment that appealed to me, so I submitted applications and crossed my fingers. It wasn't long before Marvel's human resources department contacted me to come to New York for an interview. Encouraged by the head of my department, I quickly made travel arrangements for New York. The initial interview went so well, they asked me to stay for a second one. I missed my return flight, but it was well worth the trouble for a chance to work at Marvel. I graduated with honors in May 2017, and promptly booked a spot at the Promax BDA conference in Los Angeles in the hopes of making professional contacts. Marvel called the next day to offer me a summer internship in their Digital Comics department. I was thrilled! It was everything I had worked for since I was 11, and I got to attend a professional broadcasting conference saying I was going to intern at Marvel Entertainment. It was the best graduation present I could have asked for.
What do you hope to gain from your internship?
I hope to build upon my current skills as a recent graduate and gain insight from the professionals at Marvel. I feel very fortunate to work alongside the best in the industry and learn from their collective expertise. In college, I dedicated myself fully to every assignment in the hopes of graduating with a wide variety of skills. I wanted to be proficient in whatever task was asked of me and be supportive in any capacity. I plan to make the most of my experience working for Marvel and build from there.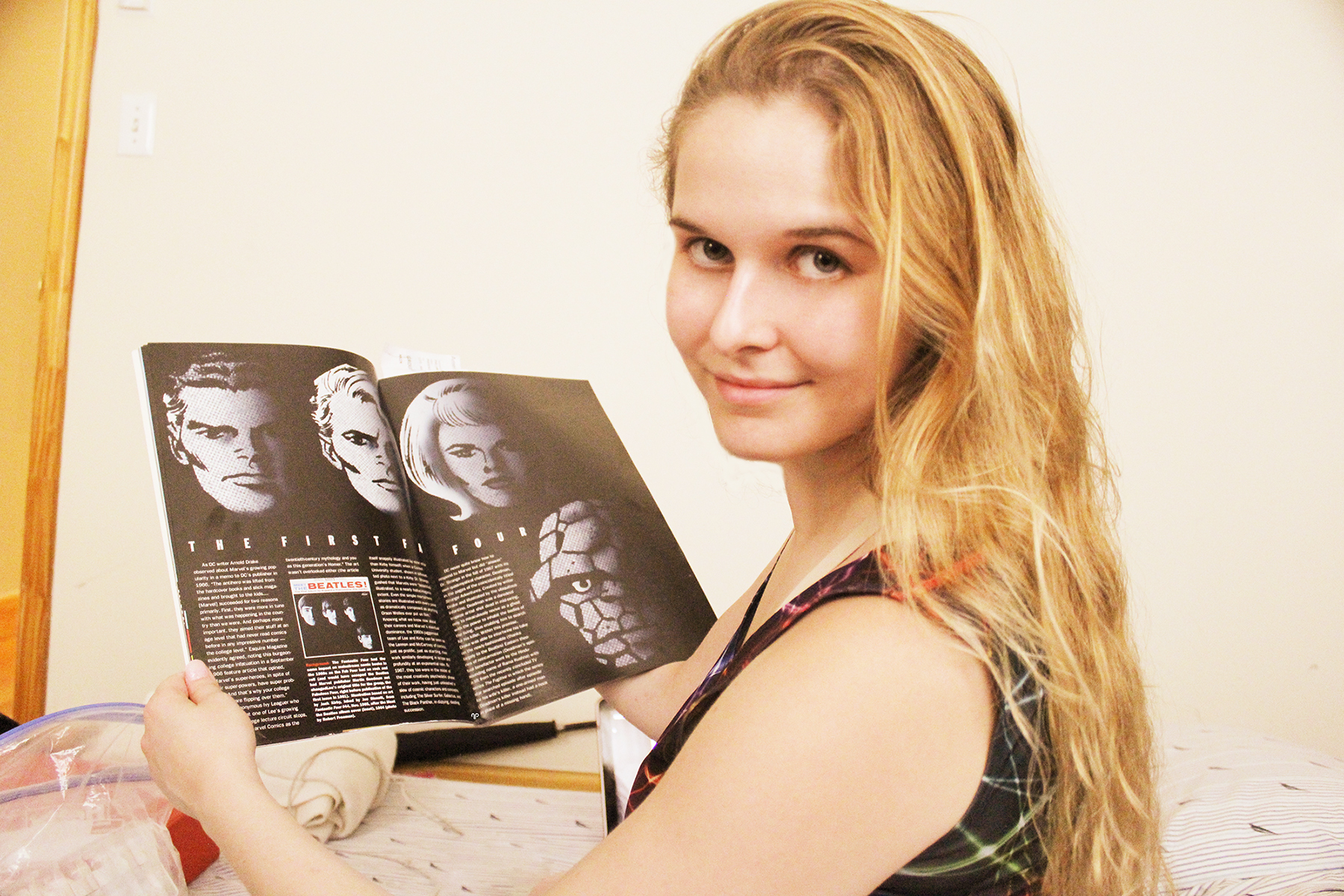 How would you describe your role at Marvel Entertainment?
Basically, my role as a Digital Comics Intern involves the digital restoration of comics for online viewing. This is to expand viewership of classic comics along with the most current interpretations of these iconic characters. I get to use my design and creative skills for restoration and problem solving, and I find the work extremely rewarding.
What does a typical "day in the life" look like in your position?
A typical day involves correspondence with my supervisor on guidelines for layout, font, and projects currently in development at Marvel. I have the creative freedom to do whatever I feel is best to ensure visual consistency. Work is presented to our supervisor for evaluation, and we discuss choices and modifications. We are encouraged to confer with other interns to learn department objectives and company expectations. Everything within the production process, big or small, I find incredibly fascinating. I enjoy learning from the perspective of each individual artist I work with at Marvel.
What tips would you give to someone applying for an internship with Marvel Entertainment?
It's important to have strong design and concept skills that can be universally applied to any project. It is helpful to familiarize yourself with the brand, its identity, the influential artists, and the characters and stories that are iconic to Marvel. They are looking for artists that can make the necessary creative decisions that will complete the projects. You must have proficient knowledge of the programs you'll be expected to use. Show them only your best work, and be sure it demonstrates the skills they are looking for.
What is the most significant thing you've learned as a Professional Intern?
As interns, we are expected to share creative input on large-scale projects. I presumed there would be strict creative limits on projects. However, we are encouraged to make whatever artistic decisions we feel are best. Initially, I was nervous because I was working with iconic art with a long history. However, I was elated to have the freedom to use my creative skills and got comfortable with the process immediately. Supervisors evaluate our work and share their insight, and we are asked to explain our creative choices. I thoroughly enjoy discussing the creative process and learning from their professional experience. Using our artistic skills to authentically preserve the art shows respect for the brand, and I take that privilege very seriously.
Which Marvel superhero do you relate to the most? Why?
I identify most with Captain Marvel (Carol Danvers) because she is a strong, feminine superhero determined to meet her goals. Captain Marvel was an ambitious pilot who truly enjoyed her career, and wasn't deterred by anyone.
Captain Marvel wanted desperately to be an astronaut because she loved the stars. Her father didn't have enough money to help her and suggested she simply find a cute astronaut to marry. Not willing to give up on her goals, she enlisted in the air force to train as a pilot. During a NASA flight, she was exposed to an explosion from a distant planet. Fusion with this energy caused her to become half Kree, half human, and gave her extraordinary powers. With this fusion of energy, her superhero identity as Captain Marvel emerged. Her love of the stars, and refusal to let anyone dictate the course of her life, resulted in her success and emergence as a superhero.
While my parents always supported my goals to be an artist, my brother's low-verbal autism presented challenges to our family. It took a lot of sacrifice to put me through college, but I was determined to succeed. My college work always came first. My brother is highly visual, and I learned to see the world through his focused lens, and it inspired my art.
I identify with having to overcome obstacles to achieve my dreams and refusing to give up or settle for less. Once we reached our goals, we were exposed to magic. Now we're both in the company of superheroes.
I have been told by several people that I resemble Captain Marvel's classic design (Ms. Marvel) with feminine features and long blonde wavy hair. I consider the association to be an extreme compliment.
How would you describe your team?
My team is made up of skilled, approachable artists who have strong knowledge of visual balance, concept, and design. We encourage each other when it comes to problem-solving, and share our perspectives on technique. Working closely together allows us to expand our skills by sharing our strengths with one another. One of my favorite things is to listen to the professionals at Marvel talk about their experiences in the industry. I always learn something from their insight, and I consider it a privilege.
What is the most exciting opportunity you've had so far?
As a Marvel intern, I got to attend the NYC premiere of "Spider-Man: Homecoming". Enthusiasm for the event was amazing, and the crowd was energized. Before the film started, the audience was asked to participate in a sing-along of the 1960's "Spider-Man" theme song. Everyone sang (some with mock seriousness) and several of us were laughing while we were singing. It set the tone for a fun evening. "Spider-Man: Homecoming" was an excellent film, and I'll never forget sharing this experience with such an electrified group of Marvel artists. As a motion designer, I sat fixated at the beautiful execution of this film and was honored I could say I work for Marvel.
Tell me about what drives you to succeed in your role.
I genuinely love the work and have dreamed of this opportunity since I was 11. My goal has always been to continually expand on my creative ability, and learn new techniques as I move forward in my career.
As an autism sibling, I know I will have to take care of my brother one day when my parents are no longer able. I don't want my brother to live without his family, so I strive to be successful in everything I do. My devotion to Anthony inspires me to make the most of my creative opportunities, and learn from the expertise of others. Working for Marvel right after graduation has been the culmination of everything I have worked for. I respect the art and hope to live up to the enduring reputation of Marvel.