At the heart of DisneyTECH: Clayton, Walt Disney Attractions Technology
At Disney, we believe the real power of technology is its ability to transform. Whether designing shows or user experiences, special lighting effects or software design, creativity allows technologists like Clayton to think outside the box.
Clayton started his Disney journey as a Professional Intern and presently powers the magic as a Research and Development Engineer with the Emerging Technologies team. Here's what he had to share about his high-impact work:
What brought you to Disney and inspired your interest in technology?
Growing up in Orlando, the entertainment industry was always a big part of my life, especially the theme parks and resorts at Walt Disney World Resort. While visiting the parks, I was inspired by the magically themed rides and shows, specifically the technology that drove them. I hold the Imagineers who created these experiences accountable for initially inspiring me to pursue STEM, as well as drawing me to Disney.
Besides the inspiration I received from visiting Disney Parks, I found an interest in technology through tinkering with whatever I could get my hands on. I was always good at math and science in school, but wanted to apply them in creating something. Initially, I was able to create something digitally through messing with iOS app source code on my iPod touch, or navigating the inner workings of websites while in high school. Eventually, I started to bridge what I created in the digital world into the physical one, through embedded computers and robotics. This is what solidified my passions for working with both software . and hardware, through interactive electronics.
Helping families create memorable moments is a large factor of what drove me to The Walt Disney Company as a technologist. My goal is now two-fold: creating those experiences for others to enjoy, and inspiring future generations of creative engineers the same way I was, through what I create using technology at Disney.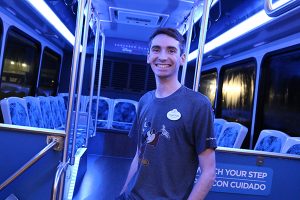 Describe your journey going from Disney Intern to full-time.
My Disney journey started when I went to a job fair at my university. I initially had plans to apply for the Disney College Program, but was surprised when I was offered a Professional Internship instead. I loved it so much, that I actually completed six Professional Internships overall, within four teams, across two departments. That's one aspect I really value about the program; Disney gave me room to try out various areas and learn so much about the business and how teams apply technology in different ways!
I started off working in Lodging Technology, and then branched off into our Design and Engineering department for two semesters. After graduating with my degree, I came back to work on the Emerging Technologies team, and have been there ever since! My team and I were very excited that I was able to stay on as a full-time engineer, as they know what the company means to me, as well as how much I love my job
What does your day-to-day look like? What type of projects are you working on at the moment?
Being in research and development, my team acts similarly to a small startup within a larger company. The day-to-day is constantly changing as new projects get approved, or new technologies advance. I love being able to work on different technologies each week, and am constantly challenged by the problems my team is asked to solve. I am thrilled that I can either be sitting at my desk coding, in a lab soldering or 3D printing, or in the field evaluating and installing technology (sometimes all in the same day)!
The projects I tend to work on are where the digital and physical world overlap. I am greatly interested in the Internet of Things, embedded computing and robotics. I also am involved in creating prototypes where I integrate emerging technologies with creative technologies, to enhance the guest experience or increase efficiency of our operations.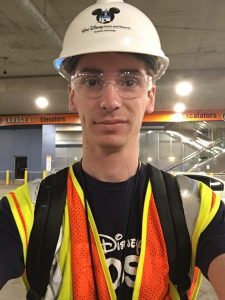 What technical skills (programming languages, frameworks, etc.) do you think are most important for your role?
The most important skills for my role are problem solving, and learning new technologies quickly. Because my role tends to focus on newer technology, it's rare that I engage in problems I have already solved before in school.
As far as technical skills, I can separate those into software and hardware. Software: Being a strong programmer in C/C++, Java, or Python is a great benefit. Knowing some web/mobile development, database knowledge, and JavaScript is always a plus. Hardware: Being able to solder, use a multi-meter, 3D modeling/printing experience, as well as working with various sensors and micro computers/controllers is helpful. Not all of these are necessary to succeed, but the more tools in your tool belt, the easier it will be to tackle problems you haven't come across.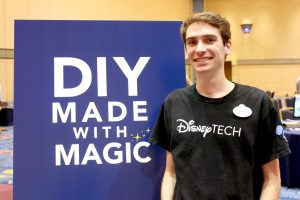 In your opinion, how does technology bring Disney's stories to life?
Technology is in everything we do here at Disney, but it's always been in service of telling the story. Within Walt Disney Parks and Resorts, we want our guests to walk away talking about the experience, not just the technology used. If done right, the advanced technology in our parks will be indistinguishable from magic. To me, the technology powers the experience, and makes it possible, but it's the stories we tell at Disney and the emotions we invoke that really separate us as a company in our use of technology.
Describe the impact the technology you work on has on our guests and parks and how it feels to be part of it?
A majority of my projects have been behind the scenes, allowing my fellow cast to increase the efficiency of their operations, and make their jobs easier. The technology I work on and prototypes I build, help set a foundation for advancements in increasing efficiency, improving productivity, and enhancing the overall guest experience.
To be a part of a technology team at Disney, that is constantly working to help both the guest and our cast, is extremely satisfying. I couldn't be prouder of the work I've done, and the progress we make as a company through the use of technology.
The most challenging and most rewarding part about your job?
The most challenging is utilizing emerging technologies within the parameters of our parks. There is a lot to consider when working within a theme park environment, to make sure the technology meets our needs, while the experience remains key. The most rewarding is walking through our parks and resorts and seeing the impact of technology I had a hand in bringing to life!
Any tips for Disney Interns who want to stay with the company after the program?
The first thing you should focus on is doing a great job at work! I can't stress enough how valuable a good work ethic and the ability to get the job done is. The second most important thing to do is network. There are many opportunities to meet both full-time cast, as well as fellow interns, so make the most of it! Lastly, be open to new opportunities, and don't forget to have fun while on your internship. Making memorable moments is just as important as work!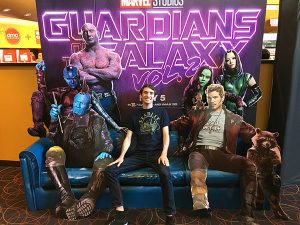 What advice would you share with an aspiring Disney technologist/software engineer?
Find what you love to do, and work on getting better at it every day! It's much easier to be motivated and put in the long hours when you're working on something you're passionate about. There are so many areas within technology/engineering, so don't get discouraged if you don't find it right away. Always explore what's out there!
Looking back on your journey, what would you say are the biggest learnings you've gained thus far?
To work hard to solve the problem, but don't be afraid to ask for help. I learned to be open to new ideas and absorb as much as possible during my internships. The lessons and experience I gained contributed to my overall knowledge of both engineering and Disney, and they are a huge help to me in my full-time role.