Disney Professional Intern Spotlight: Emily, Cast Activities, Recognition and Experience Special Events
"In every job that must be done there is an element of fun." The idea that every task should be met with enthusiasm is no strange concept to cast members. However, Cast Activities, Recognition and Experience Special Events Professional Intern, Emily, understands that her role addresses the fundamental need for an excitable cast member.
Emily, a native of Camarillo, California, first began her career as a Disney Store cast member in 2011. She continued her Disney journey as a Disneyland College Program participant in 2014 where she worked as a merchandise hostess on Main Street, U.S.A. Although she said it's hard to pick one moment of her College Program that stands out since "there's too many magical moments that filled it," she does remember some encouraging words of advice from a fellow cast member she met while on her program.
Emily recalls meeting Vincent, a Disney Imagineer, who was one of the cast members involved with designing Mater on the Radiator Springs Racers attraction in Disney California Adventure Park. "It was his first project right after he graduated," Emily said. "He talked to me about what it's like to be scared, to jump into something you're not really sure if you have the capability to do or not. He basically told me don't be afraid to try anything because you don't know what you don't know."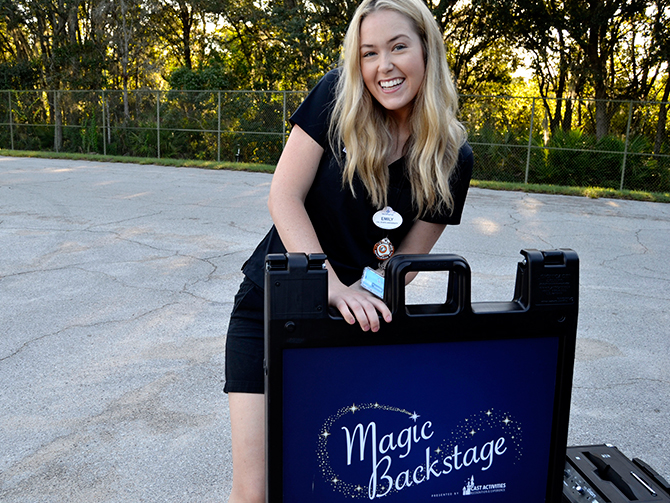 After graduating from California State University, Channel Islands with a bachelor's degree in business communication in 2015, she applied to various professional internship roles. Her current role stood out among the rest, partially due to a College Program instructor suggesting the position after observing her skills and personality. She was intruigued by the events experience she'd receive and the opportunity to meet other cast members. "Working with the cast was something I really enjoyed during my College Program," Emily said. "I saw what other cast members would do for me and thought I could see myself doing that for others."
Emily is part of a small team whose job is to encourage cast members to continue spreading Disney magic through their role, be it guest-facing or not. One of her primary tasks is assisting the organization and implementation of Magic Backstage events. Under the Magic Backstage program, cast members can opt-in for special prizes and packages like movie screenings, backstage tours and the coveted Cinderella Castle Suite stay! This also includes bringing the magic to specific locations across property, some who seem far removed from the Disney atmosphere surrounding our parks and resorts. She believes it's important to show cast members that the company appreciates their hard work, even if guests can't see it.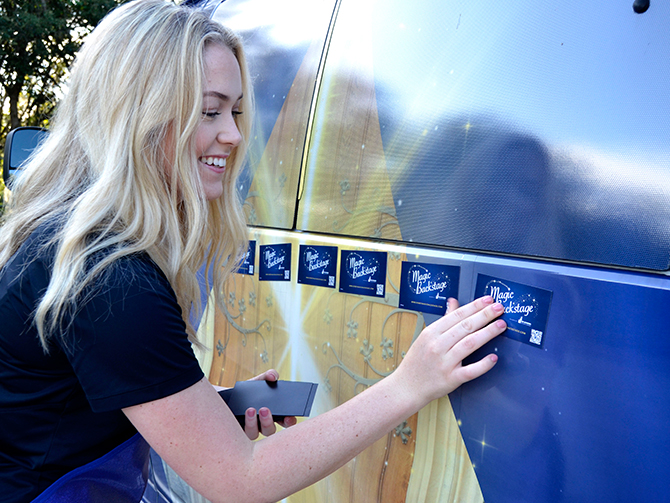 While her role requires communication and organization skills, Emily notes that time management and the ability to multi-task are equally important. She mentions that the ability to take initiative is also an essential skill, something she has acquired as she becomes more comfortable in her role.
Through this internship, Emily is able to interact with cast members all across property and bring them a little extra magic. Emily says that the unexpected arrival of Magic Backstage can bring cast members to tears. When her office had over 40 extra Mickey's Not So Scary tickets to give away, Emily walked over to the Casting building and randomly selected cast members to surprise with the tickets! The response from those cast members, from wide-eyed smiles to tearful thank-you's, emphasized the importance of impromptu acts of kindness.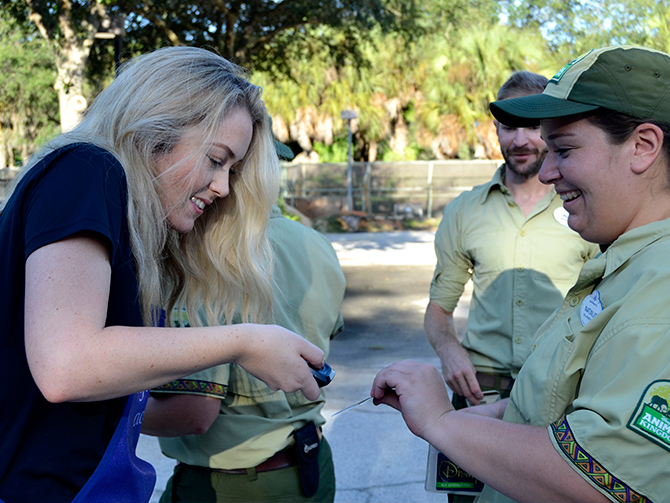 Through it all, her favorite projects involve working with the Disney Ambassadors. She refers to their passion for the company and cast "inspiring" and admits it's her dream job with the company.
"Who's to say where I'll be in 10 years?" Emily says. "I still see myself with Disney and doing something to serve others. I don't know what that looks like yet, but I feel like my Disney journey will have lots of different avenues and each will be special and unique in their own way."