Professional Intern Spotlight: Aprille, Disney Channel Worldwide
Aprille is a Disney Professional Intern for Disney Channel Worldwide and and is a member of their social media team. She works on Disney Channel, Disney XD, and Disney Junior content on Twitter, Instagram and Facebook. Social media is all about trending topics and storytelling – so we reached out to hear a little bit more about her own Disney story!
What inspired you to apply for a Disney internship?
The chance to work for The Walt Disney Company has always been a dream of mine. I've grown up with Disney products, movies and parks so it definitely felt like the right move when I was looking to find a career in entertainment. After talking with my recruiter about the internship and my past internship experiences, I knew that Disney Channel would be a great fit for my technical skills and personality!
Tell us about your Disney journey…
I became a cast member at Disney California Adventure Park in December 2015, so my Disney journey started almost a year ago. I fell in love with the culture and the values that the company upholds and so when I was offered the role in social media at Disney Channel, I was excited to extend my knowledge of the Disney segments and enter the world of television. This is definitely a dream come true!
Describe your team…
The Disney Channel Worldwide #SocialSquad is one of the most dynamic teams I've ever worked on. The entire team is made up of amazing mentors and they're all so skilled in what they do – they basically bring Disney Channel, Disney Jr. and Disney XD to life on social media. The best part about my team is that they are easy to communicate with and super supportive in helping me reach my full potential.
Can you tell us what goes into maintaining a Disney Channel social media account?
Lots of time management, organization and thinking on your feet – you have to be "fast, fluid and flexible." Like any social media account, you have to be sensitive to your audience and careful how you phrase your captions. We work with a lot of different internal departments, so I've had to be quick to learn the internal structure of the company and the processes.
Social media is always changing. How does your team stay on top of trends?
Every morning and afternoon, I'll browse Twitter, Facebook and Instagram for trending topics and upcoming trends and challenges. Because I am constantly on social media, either for work or personal uses, I tend to stay in the loop on viral videos and "top news" on social media – as does my team. We have team meetings everyday to discuss our current projects but also wacky national holidays and new overnight social trends.
Fun fact, someone on my team told us that the #MannequinChallenge was about to get big two days before it blew up – we're professional trend/viral content searchers.
What is your favorite project you've worked on so far?
One of the coolest projects I got to work on was engaging the Twitter conversation around the That's So Raven sequel. The entire day of the release, I got to interact with fans, create GIFS, and relive some of my favorite moments from the show.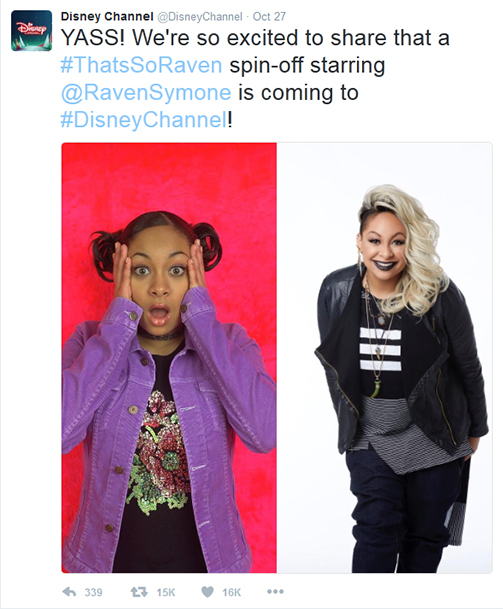 What does a day in the life of a social media intern look like?
First, I get into the office and catch up on emails. I have a notebook where I write down my checklist for the day and all my top priorities. I spend half of my day typically in meetings with different departments to learn about what type of social support is needed. The other half of my day, I'm watching our upcoming shows so I can clip the images we need for our social platforms. It's a social environment – that's for sure! We sit in an open space, which is great for open communication.
What advice do you have for people who want to join the social space?
Be creative in pitching ideas, be ready to work hard, and stay current with social platforms. Each channel has a unique voice and its important to be able to identify and create engaging content to support the network. Questions to ask yourself include: Are you in tune with the social world? Can you speak in emojis? Can you speak in GIFS? Do you like creating content? And can you have fun doing awesome work for an amazing company? If you answered yes to the following, the social space may be for you.
As far as getting internships, I would say to work on your technical skills so that you can shine above others competing with you for the same role. If you don't get an internship the first time around, keep on trying! It took me a couple tries, but I'm so glad that I landed in the role I am in today!