Disney Professional Intern Spotlight: Allison, Occupational Safety and Industrial Hygiene
Allison is a Disney Professional Intern for Occupational Safety and Industrial Hygiene at Epcot. Whether it's going to the parks and interacting with guests or taking a backstage look at an attraction to measure noise exposure, she makes magic for cast members and guests alike!
Tell me what your day-to-day is like…
I think the best part of industrial hygiene at Disney is that I get to go out and interact with guests in the parks and use a lot of really cool equipment. Day-to-day, we look at any workplace environment and say, "what hazards are these workers exposed to while they are at work?" We evaluate the hazards and figure out how best to eliminate or make it as close to perfect as possible.
I spent a week with the Engineering Services team who works on attractions like Dinosaur. I was able to walk through the ride during refurbishment to see all the work they're doing and monitored their noise exposure for an eight-hour shift. Noise isn't an immediate serious hazard but if someone is working in a very loud place for 20-30 years, their hearing could decrease.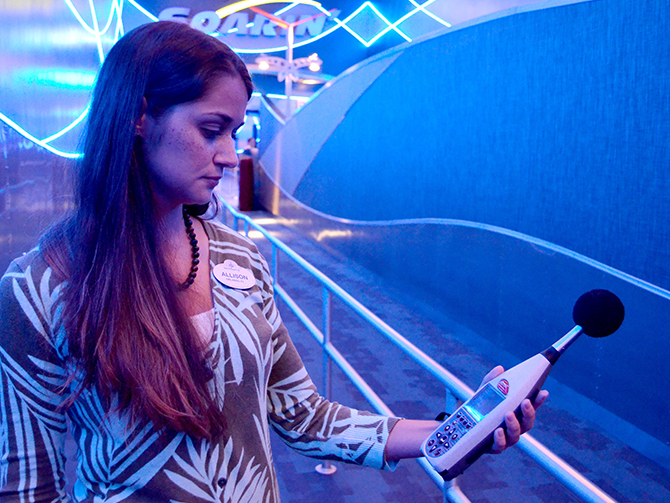 What opportunities are available to you as a Disney Professional Intern?
Having Disney on my résumé is a huge plus. It's a worldwide company that people know, love and respect. Networking is also very important in my role. My particular field, Industrial Hygiene, is so small. You really need to meet with people in the field because it's a word-of-mouth industry.
What advice would you have for someone who wanted to continue in The Walt Disney Company?

While you're interning, it's important to be professional. Writing proper and making eye contact are basic but simple ways to stand out. Make connections with cast members and introduce yourself to people wherever you go. If you want to continue working for Disney, make sure your leaders know your passions and goals.
What qualities make you successful in your internship?

Industrial Hygiene is a small niche and you will find out quickly whether or not you really like it. It's a lot of science and math. Communication is key because we filter our data to be understood to people that aren't in our field. My advice would be to not forget about the human component.
What have you learned so far in your role?
The biggest thing I've learned so far has nothing to do with Industrial Hygiene. I learned that when you work with a team, it becomes a little bit less about what you're doing, and more about what your team is doing. Without having other people around to help you, it's impossible.
What's been your favorite part about your internship so far?

I get to see a real-life application of what I learned in school. I think that if someone is passionate about worker safety and the science behind it, they will love then working here and using the awesome tools and equipment that is available.
Why should someone choose Disney for an internship experience?
Why not? The amount of experience and opportunities that come from working here are far beyond any other company just because of the sheer size. The Walt Disney Company is all over the world. It's a great platform for interns because they really want to make sure you are benefiting from this internship just as much as they're benefiting from having you.
I think in order for cast members to enjoy where they work and for guests to enjoy the attractions, they have to know that they are safe. When you can relieve that, it facilitates the magic to be made!