Disneyland Business Leader Rotation Program spotlight: Ben and Shorya
Recent graduates Ben and Shorya don't just have one role at the DisneylandⓇ Resort; they get to experience four analyst roles each!
As participants of the Disneyland Business Leader Rotation Program, Ben and Shorya have the incredibly unique opportunity to work hands-on with a variety of different business areas and complete a targeted learning and development curriculum. The program is two years long and designed to develop recent graduates by equipping them with skills needed to become leaders in their industry. Participants rotate every six months, supporting teams from finance to Walt Disney Imagineering and workforce management. As Ben explains, "The company is investing in your personal growth to become a holistically stronger business-minded person."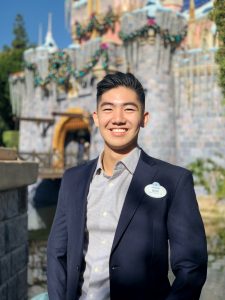 Ben, who studied economics, sociology and entrepreneurship at UCLA, knew that he wanted to work in business but didn't know what area in particular he wanted to pursue. A Southern California native, he grew up with a DisneylandⓇ Resort annual pass and felt connected to the parks. "This program was the perfect outlet for me to experience all these different business sectors and determine what I wanted," he says. He is currently on the finance team, and has had the opportunity to work in both project finance and financial planning and analysis. "Our day-to-day workload never looks the same," notes Ben. "You learn a lot that way!"
Ben finds that, like business school, his work at the DisneylandⓇ Resort is heavily project-based. A recent project he enjoyed working on was a cost-based overview in which he examined what was being spent in each business area at the resort. Ben's analysis will be used to help onboard new executives to their areas. He explains that this project provided "really impactful, useful knowledge, as well as a great learning experience."
Shorya studied business administration in school. Like Ben, she wanted to broaden her knowledge of the industry, specifically The Walt Disney Company. "Disney has always had a special place in my heart," she says. "My goal was to understand how they developed this amazing brand that resonates with everyone and that people all over can connect with." Shorya points out that even her grandmother, who lives in a small village in India, is familiar with Disney and what they do.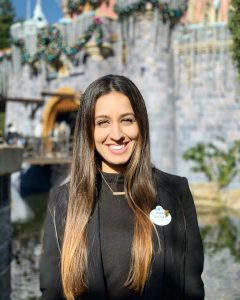 The Disneyland Business Leader Rotation Program was consequently a natural fit. "This is a great opportunity to connect the dots across different teams and learn how the company operates as a whole," Shorya explains. She began her journey on the Imagineering team, where she supported operations planning and long-term plan development. There, she helped develop a ten-year capital plan for parks and resorts internationally. "Everything I have done is super impactful," she comments, "I've not only learned something from it, I've also had the opportunity to see a lot of it play out."
Currently, Shorya is supporting commercial strategy for the consumer insights team, where she has switched gears to short-term, weekly analysis. Working on different teams with different managers and completing a wide variety of projects has pushed her to learn and innovate constantly.
Both participants affirm that working in Anaheim, in close proximity to Disneyland Resort, has enhanced their program experience. "A lot of companies don't get to be that close to their product," notes Ben. "That adds a whole other layer of enjoyment to the work we do…If you're having a bad day, just walk around the park. Embrace the environment and look at the happiness it brings people." By working near the park, Shorya explains, "you appreciate what goes into the production." She adds that the beautiful weather is a great bonus.
Ben and Shorya both encourage prospective Disneyland Business Leader Rotation Program participants to put themselves out there and ask questions as much as possible. "Never be afraid to raise your hand," advises Shorya. "Be adaptable, but also be true to your needs." Similarly, Ben suggests talking to as many people as possible and learning as much as you can. "Don't lose your curiosity," he recommends. "In each rotation, you're going to be uncomfortable. You're going to be thrown into something that you don't know, because nobody can be specialized in every business sector that you'll be placed in. Don't be afraid to ask questions!"
Having both completed at least two rotations so far, Ben and Shorya feel that they are equipped with tons of new industry knowledge and tactical skills. The unique format of this program has encouraged each of their rapid growth as professionals. As Ben concludes, "Being able to experience four to five different rotations through different business sectors that feed into one larger business is like no other experience that you can possibly have."