How do our East Coast Disney Program participants celebrate the holidays?
One of the amazing things about Disney Programs is that our participants make up such a large, diverse population. With that comes a unique experience where one can live and work with individuals from all over the world. This brings the opportunity to learn about many different cultures and backgrounds. With the holidays in full swing at Walt Disney World® Resort, our participants are making magic for the many guests that visit at this time of year. With many of them being far away from home, we wanted to hear about their traditions and how they spread holiday cheer!
"On Dec. 23, we eat rice porridge, and there's an almond in the middle. Whoever gets the almond out of the rice porridge wins a prize. And then on Dec. 24, we use the rice porridge to make the rice cream. Our family gathers, and we have traditional Norwegian dinner, and then we open presents. On the Dec. 25, we take our Christmas stockings that are filled with candy, and watch a Christmas movie, and then at night, we have Christmas dinner."
Kevin from Norway, Epcot (Norway Pavilion) – Food and Beverage
"Even though this year is going to be a little bit different, my family is coming down, and we're going to see Santa, and take a themed Christmas picture. We do this every year, and I usually organize it. This year we're going to be Huey, Duey, and Louie."
Carissa from the United States, Disney's Hollywood Studios – Quick-Service Food and Beverage
"I celebrate the New Year by having a good meal. We eat things such as pork, chicken, and dumplings. We also have fireworks and watch special TV shows."
Feng from China, Disney's Hollywood Studios, Food and Beverage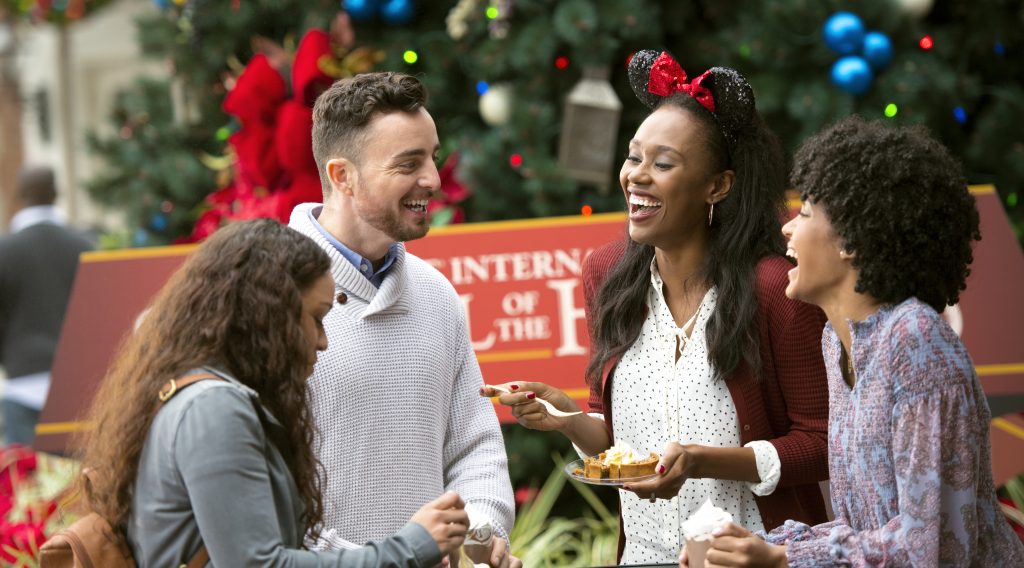 "My mom and grandma make a breakfast casserole every Christmas morning. We also do a day of cookie baking a week or so before Christmas so that we can give them to everyone who visits. The other big thing that we do is that we go to the local Christmas tree farm, pick out a Christmas tree and put all of our Disney ornaments on the tree."
Jade from the United States, Disney's Hollywood Studios – Merchandise
"To this day, one of our uncles is designated to do the turkey for Christmas. He does it and all of the cousins go to his house to season the turkey. We used to have hot cocoa as children, and we've been doing it for 20 years. This year since I am not able to be there, they are going to Skype me so I can be there."
Armando from Mexico, Epcot (Mexico Pavilion) – Food and Beverage
"For the holidays, generally we do a lot of barbecuing, because it's very hot and summertime. My family, we generally follow a lot of Norse traditions. If we go see my mother's side of the family, we build a giant bonfire. It's a way to keep things safe because we have a lot of bush fires, and it's also a way to celebrate the holidays."
Emily from Australia, Magic Kingdom Park – Character Attendant
"We go to my grandparents house and open Santa's presents, and then the other presents, and then end the day with a big Christmas dinner." Ariana from the United States, Magic Kingdom Park – Outdoor Vending
"My favorite Hanukkah tradition is eating some celebratory food, including are latkes and sufganiyot! Both amazing!
Nicole from the United States, Disney's Port Orleans Resort – French Quarter – Lifeguard
"I always like to hang out with my family. We eat dinner together, and then we do presents, and it's all on Dec. 24. After that, we eat some traditional Norwegian desserts, like rice cream."
Simone from Norway, Epcot (Norway Pavilion) – Attractions
"We go over to my cousin's house for the holidays! I also enjoy giving presents to my baby cousins."
Alyssa from the United States, Disney's Hollywood Studios – Attractions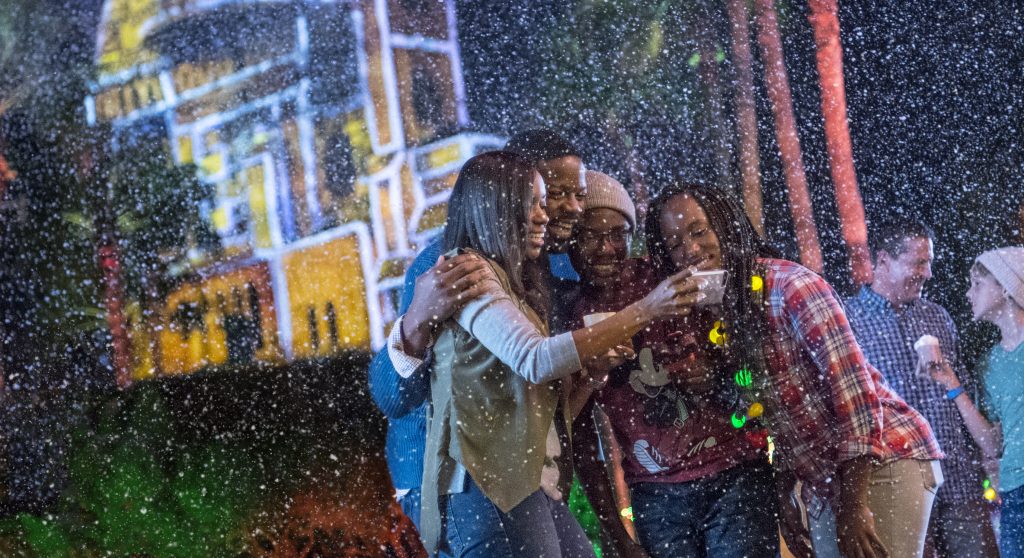 "Back home in Zimbabwe, we usually go to our grandma's house. We gather to cook meals on Dec. 24. We typically eat rice and chicken. There is also a special juice that we have called Mazowe. Part of it, is if we get a goat, it is a very special occasion and everyone gets to eat it. The rest of the day is typically full of dancing to traditional music blended with western rock and pop. On the Namibian side, on the 17th of December, everyone goes to the farm, and we get the type of meat that we need sent to the butcher. On Dec. 24, we start cooking for the different tribes of our farm workers. Mostly barbecuing (braa) meat. We also give gifts to them. On Christmas, everyone comes together, tells stories, and dances. There is plenty of music and dancing!"
Bertha from Zimbabwe, Disney's Animal Kingdom Lodge – Food and Beverage
"On Christmas Day, my family gets together starting around mid-day and visits with each other around a lit fireplace. Gifts are given only to the children and they open them.
Our Christmas meal usually includes:
Appetizers: Stuffed mushrooms, Italian cheeses (crescenza, parmigiana reggiano, Sardinian pecorino), and cured meat
First course: Pork and veal soup
Second (Main) course: suckling pig and roasted lamb; sides include fresh radishes, celery, fennel, and carrots
Desserts: Artisanal panettone and Sardinian spiny artichoke with olive oil, black pepper, and salt (the stems are about two-feet long!)
Drink: Cannonau di Sardegna red wine
Katia from Italy, Epcot (Italy Pavilion) – Food and Beverage
"Our family gets in the car and drives around looking at Christmas lights and decorations a few days before Christmas. Each family member participates in giving gifts to the other family members and on Christmas Eve we each open one gift from my mother that are always Christmas pajamas. On Christmas Day we get up at the same time wearing our new pajamas, go down the stairs in order of age, and read a passage from the Holy Bible about the birth of Christ. My father then takes a photograph of the family together in front of the Christmas tree and we open the rest of our gifts. The rest of the day we relax and enjoy each other's company."
Kaitlin from the United States, Magic Kingdom Park – Food and Beverage
"On Dec. 6, we celebrate Sankt Nikolaus Tag, where each family member places a large boot outside the front door and then if you've been good, chocolates, oranges, nuts, and/or small gifts are placed in your boot. The legend is if you've been bad the past year, you receive lumps of coal. Christmas is celebrated on the evening of Dec. 24 by meeting up with our close family and going to Mass where we sing Christmas songs and enjoy a little Nativity play, Krippenspiel, which is usually played by children. We then go home and have a traditional Christmas meal that includes sauerbraten (roast), klöße (dumplings), red cabbage, and chocolate pudding, and after dinner, we unwrap gifts. On Christmas Day we go and visit friends and our other relatives."
Jennifer from Germany, Epcot (Germany Pavilion) – Food And Beverage
"The weekend after Thanksgiving we decorate for Christmas inside and outside. On Christmas Eve, my siblings and their families gather at my parent's house and we eat finger foods and then open gifts. We all participate in giving gifts to each family member. On Christmas Day, unwrapped gifts that were delivered by Santa during the night for my young nieces and nephews are displayed and then enjoyed by the children. We have our Christmas meal around lunch time that includes ham, salad, green bean casserole, sweet potato casserole, mashed potatoes with gravy and pecan pie."
Kathleen from the United States, Disney's Hollywood Studios – Food and Beverage
"We celebrate by baking cookies and going to see the Christmas lights."
Amare from the United States, Disney Skyliner – Hostess
"We celebrate Christmas as a family. We celebrate it on Dec. 24. We cook all day for dinner, and then at 6 p.m., we dress up and then we go to have dinner. We eat things such as turkey, farofa, and salpicão de frango. We also have rice, ham seasoned with clove, and salad with many vegetables. On the following day, we just stay home with family."
Ana from Brazil, Disney's Animal Kingdom – Attractions