Marching in a winter wonderland: Alice's journey from Pecos to parade
Starting your Disney Programs journey isn't always easy, especially if you're managing two roles and it's your first time at Walt Disney World® Resort! This is the case for Alice, who creates magic at Pecos Bill Tall Tale Inn and Café at Magic Kingdom Park and as a student musician in "Mickey's Once Upon a Christmastime Parade" during Mickey's Very Merry Christmas Party. Originally hailing from Texas, Alice attends Tulane University in New Orleans, LA, where she applied for the Disney College Program. Sending in her application was a spur of the moment decision, but she decided to take the leap due to her love of Disney films and her dream of becoming an animator.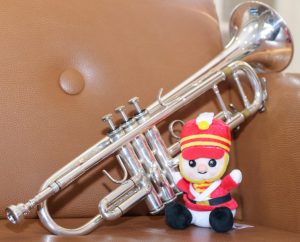 Shortly after applying, Alice received her acceptance letter, which was an exciting accomplishment on its own! However, there was still another opportunity waiting for her. About three weeks before her program start date, Alice received a casting call email seeking trumpet players for the upcoming holiday parade. Even though Alice normally plays the French horn, she quickly learned how to play the trumpet and auditioned. During auditions, she was fitted into a parade costume and performed a piece from the show – a week later, Alice received an email saying she got the part! She was so excited after finding out that she jumped up and down in her room and immediately called her mom.
"I was nervous at the beginning," Alice says about starting her Disney Programs journey. She says one of the challenges she faced was being confident. "I'm always really nervous when starting a new job," Alice says, and it made her even more nervous thinking about starting two new roles at once. Luckily, she isn't alone in her journey! To ensure her schedules don't overlap and she isn't overwhelmed, a recruiter helps manages her shifts. Most weeks she'll work four days in the parade marching down Main Street, U.S.A., and other days she'll be taking orders and serving guests at Pecos Bill Tall Tale Inn and Café! She's also had experience in theatre and marching band in high school, which helps her be more confident while performing. Additionally, Alice says being in the parade requires upper body strength. Since she is carrying a bugle in playing position for the entirety of the parade, she does push-ups every day to help ease the discomfort of having her arms up.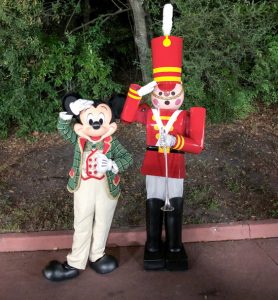 Not only has this role been a wonderful opportunity for growth, but Alice also says she's made many great memories. One of her favorite times was when she was performing in "Mickey's Once Upon a Christmastime Parade" and a guest was dancing along to the toy soldiers' choreography beside them. Alice also recalled the guest's pure excitement when she faced said guest and played closely to them. Another magical moment for Alice was during Mickey's Not-So-Scary Halloween Party while working at Pecos Bill Tall Tale Inn and Café. A guest was dressed as Dr. Doofenshmirtz from "Phineas and Ferb" and was seeking Perry the Platypus. Alice remembers the guest being in complete character and the interaction, while it was less than five minutes, to be both magical and entertaining.
Luckily, Alice's magical journey doesn't have to end soon! She is extending into a new role beginning in January as part of the Disney's PhotoPass Services team. "I'm excited to keep being here," Alice says, adding that she is looking forward to keeping the connections she's made and to continue connecting with others. Alice encourages anyone interested in joining the Disney Programs family to apply. "If you're accepted into the program, don't hesitate – do it! It's a very happy and magical atmosphere. You'll love it!"
Watch Alice perform alongside her friends the toy soldiers from now until Dec. 22 at Mickey's Very Merry Christmas Party!