California participants discover new traditions this holiday season
The most magical time of year is right around the corner, and Disneyland® Resort is beginning to look like the perfect winter wonderland. The holidays always create an unforgettable atmosphere at Disneyland Resort, and it's truly one of the most magical seasons for our guests – and cast members!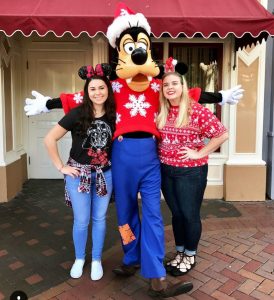 For many of our participants, this is their first holiday season away from home which can be challenging. I remember leaving for my program, and even though I was extremely excited and it was only May, I kept looking at the calendar and thought about being alone for the holidays and all of the family traditions I'd miss.
As the holidays approached, I quickly realized that I wasn't really going to be alone; I had my Disney family to celebrate with me, and we were going to create new holiday traditions!
Here in the Programs Office, we do everything we can to make sure our participants are having the best internship experience possible, especially during this time of year when they're away from home for the holidays for the first time.
November is the month where people take a moment to give thanks, and we know we have a lot to be thankful for. We're celebrating Thanksgiving with a special meal for everyone so they can get a taste of a traditional Thanksgiving dinner, filled with everyone's favorite holiday foods. This is their chance to sit down and share some of their favorite program memories with their fellow participants and experience a home-cooked meal together.
We also encourage everyone to get out with their roommates and friends and explore the resort. This truly is the most incredible time of year, and the entire resort is filled with laughter and holiday cheer. Not to mention, some of our popular attractions have received special holiday makeovers.
All of our participants love backstage tours and taking part in unique Disney experiences they can't get anywhere else, so this month we're touring our Central Bakery location where all of your favorite snacks and treats around the resort are made. It's extra magical this time of year because most of the goodies have an extra holiday twist. Plus, I'm pretty sure everyone will take home a sample (or two).
What could possibly top that? How about a tour of Walt Disney's private apartment on Main St. U.S.A. at Disneyland Park? This historic piece of Disney history is one event that our participants seem to cherish the most because it's where Walt Disney stayed when he visited the theme park with his family, and it's where he witnessed his ultimate dream come true.
These are only the beginning of the events and activities we have planned for the participants over their final two months on the program. As their departure date starts to get closer, they're starting to realize how much fun they've had and how many lifelong friendships they've created along the way. They now realize that they're not just a group of people on an internship celebrating the holidays alone, they're a family celebrating together.
The upcoming holiday season won't be the same as what they're used to, but they'll definitely be amazing and filled with special memories with their Disney family that they'll always cherish.