Meet Brandon, one of the faces behind the scenes of the Disney Alumni Association
With over 43k members, our Disney Alumni Association continues to grow every day.
Meet Brandon, an Interview Partner on the Disney Campus Recruitment team. Brandon assists the Disney Alumni Association by responding to questions in the inbox, posting on our Twitter and Instagram platforms and assisting with approvals into our association and Facebook group.
Here's a chance to learn a little more about Brandon and his role at The Walt Disney Company:
Introduce yourself and tell us some fun facts about you.
I graduated from the University of Iowa (Go, Hawkeyes!) with degrees in journalism and English. I love sports, especially baseball and college football.
Disney has always had a special place in my heart. I've been a cast member for almost 14 years, and during that time, I've supported Walt Disney World® Resort, Disneyland® Resort, Disney Cruise Line, Adventures by Disney and The Walt Disney Travel Company.
I have three kids (all boys – 8, 5 and 6 months), and of course, their favorite thing to do is visit the Disney theme parks. My wife and I got married at Disney's Wedding Pavilion, and for our honeymoon, we sailed with Disney Cruise Line. We are definitely a Disney family!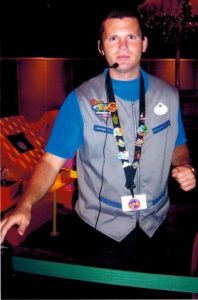 Describe your current position at The Walt Disney Company.
Currently, I'm an interview partner where I interview candidates for the Disney College Program. I also support the Disneyland Housing team by writing the weekly mailing, blogs and other communication-related projects for their interns, in addition to helping out with the Disney Alumni Association. The cool part about my role is that I work from home.
Where did your Disney journey begin?
My Disney journey began at the Walt Disney World Resort as a Disney College Program participant! I worked in attractions at Epcot where I spent my program working at Innoventions.
After my program, I completed a public relations internship on the Disney Travel Industry Sales and Marketing team where I had the opportunity to learn from some of the best publicists I could ever imagine. I was hired full time after my program and spent a year as a Communications Coordinator and five years as a Communications Manager.
Why did you want to work with Disney Campus Recruitment?
Taking part in the Disney College Program was one of the best decisions I ever made. I met a lot of amazing people and getting a chance to be part of the magic for seven months was an incredible learning experience. When I had the chance to join the Campus Recruitment team, it was an easy decision. It was my chance to pay it forward and make a difference for college students looking to pursue their Disney career, just like others did for me.
What qualities make you successful in your position?
The first thing that comes to mind is organization. When you work from home and support multiple different areas of the company, you have to be highly organized and detail-oriented.
Trust also plays a major factor in this role; but remember, that has to be earned. I live about 1,200 miles from Walt Disney World and about 2,200 miles from Disneyland, but I work on projects for both coasts. Earning people's trust is essential. Developing strong relationships with your leader and fellow Cast Members is also a must.
What is your favorite thing about your position?
Making dreams come true. I know how important the Disney College Program is for everyone and it really can be the beginning of your career, and that's important! I love seeing everyone achieve their dreams. Also, the people I work with are phenomenal. The amount of talent and passion on our team is unbelievable. I learn something new every day from the people I work with, even if we all live in different parts of the country.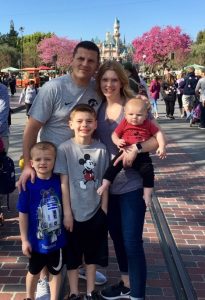 Do you have any advice for current interns to make their experience the best?
Be a sponge! Soak up as much knowledge and information as possible while you're on your program. Network, network, network. I know it's not easy, but it's necessary. I networked quite a bit during my program and I honestly believe it helped me land a Professional Internship because I knew the hiring leader before my final interview and it made me feel more confident.
Make a bucket list of things you want to accomplish on your program. It's important to have goals, both big and small. Sometimes, the smaller things you cross off your list are just as important as the larger ones because it gives you a sense of accomplishment.
Get involved in the Disney VoluntEARS program and attend your housing events. These are not only fun and rewarding, they're also good for networking and making friends. Be present. Your area is relying on you and so are the Guests. The job may seem small and maybe even unimportant, but trust me, it's not. Every person matters and plays a valuable role in the show. Be on time for every shift, have a positive attitude and give a 100 percent every day.
Do you have any advice for people seeking an internship at Disney?
It's important to be knowledgeable about the company and be prepared for any potential interviews. Remember, just because you've worked for Disney before doesn't mean you know everything. I learn new things every day.
Know the internship you're applying for, inside and out. Look at your skills and see how they translate to that particular internship. Don't be afraid to apply for an internship, but understand that you may not get it. Don't give up or get discouraged!!
Have confidence in yourself, but don't tell people how great you are; show them…prove it! Trust me, I can tell when a person is passionate and knowledgeable about Disney just by talking to them. Show that recruiter why you're the perfect fit by giving solid examples in the interview. Details matter.