Post-grad possibilities: What Disney Internships & Programs Education can do for you
Congratulations! You just completed one of the greatest achievements of your life – graduation from college. Now, you're moving on to your next big adventure as a participant in the Disney College Program!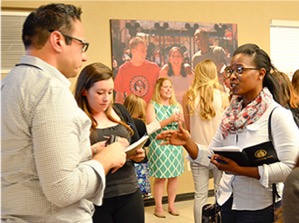 You'll spend the next several months working in an amazing role, soaking up the Florida sun and playing in the parks as much as possible. With characters to meet and friends to make, who has time for anything education-related?
Even if you have already graduated from college and are not receiving course or internship credit for your Disney College Program, there are many opportunities available for you through Disney Internships And Programs Education. Check out the top five education offerings for already-graduated participants!
Enroll in a Disney Exploration Series Seminar.
No matter what field you studied, chances are there's a potential career path for you within the Walt Disney Company. The Disney Exploration Series Seminars offer a close-up look at specific lines of business such as event operations, animal sciences and human resources, just to name a few. Seminar elements may include networking, guest speakers and onstage/backstage tours of areas within Walt Disney World® Resort.For participants who may still be experiencing senioritis, these seminars have no out-of-class requirements and you can even earn a Mouseters Degree for successful seminar completion!
Spruce up your résumé in a Writing Lab.
Is your résumé a bit of a fixer upper? The Disney Learning Center at Vista Way can help! Simply register online and send in your materials beforehand. On your scheduled date, a cast member will meet with you to go over feedback and answer specific questions you may have. No time to meet in-person? We offer online feedback options as well!
Network with cast members from various lines of business at the College Program Alumni Speaker Series (CPASS).
CPASS sessions are a chance for participants to hear advice from cast members who got their start on the Disney College Program. The second half of the program offers a chance for participants to introduce themselves to speakers and ask questions in a meet-and-greet style. CPASS sessions are typically themed toward a certain line of business such as entertainment, STEM or park operations.
Attend a Career Development Workshop.
These monthly, two-hour sessions are perfect for gaining insight on how to jump start your career! Topics range from Acing the Interview to Personal Branding. Check out the DORMS calendar for dates and details.
Utilize the Disney Learning Center at Vista Way.
The Disney Learning Center at Vista Way is a resource for all participants, even those not enrolled in classes. Here you can rent movies, hang out in the lounge and utilize a full-service computer lab for web-surfing, printing and scanning. The Disney Learning Center also offers engagement programs such as March Movie Madness and trivia days where you can test your Disney knowledge!
As you can see, whether you are currently enrolled or recently graduated, there are many educational opportunities offered during your Disney College Program! Stop by the Disney Learning Center at Vista Way to learn more.