Remain in the Magic: Disney Alumni Association
Do you already miss being able to go to Disney Parks just because you feel like giving Mickey a hug or riding The Twilight Zone Tower of Terror at night? Do you find yourself still pointing with two fingers when giving people directions?
Well boy, oh boy, do we have great news for you! If you have successfully completed the Disney College Program or Disney International Program, you are eligible to join the exclusive Disney Alumni Association (DAA). A community of fellow Alumni awaits you. If you're missing your #DisneyPrograms friends, time, or role, and want to take a walk down Main Street, U.S.A. with fellow cast members, we have the perfect solution for you.
Gain generations of cast member family
Can you believe it?! Now you and over 35,000 experts can talk about where to find the best seats, newest foods, and talk about the latest updates and advances coming to property on the DAA exclusive Facebook page. Not only can you re-connect with cast members from your program, but you can talk to members from programs dating back to 1981 giving you the chance to see how things have evolved and changed. This is from the summer of 1992.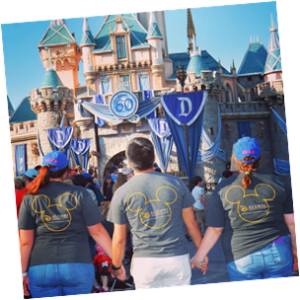 Be welcomed home at a private celebration weekend
We host an Alumni Homecoming Weekend where you will be celebrated and welcomed back to Disney. In years past, Alumni were given backstage tours of rides, a private in-park event, a semi-formal evening reception, exclusive #CPAlumni Homecoming Weekend merchandise, and a VIP red carpet meet-and-greet character opportunity! This year, we are planning something extra special, and you won't want to miss it! Call up your friends from your program and register together. It's time to come back home Jan. 19-21.
Interested in the 2018 #CPAlumni Homecoming Weekend? Click here for more information!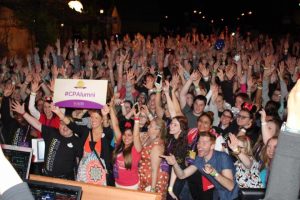 Exclusive Disney Alumni Association gear
Let's be honest, we all love to rep our Disney gear and ears. But now Company D is making never seen before gear just for you – releasing new items twice a year! Proudly wear T-shirts, hats, sweatshirts, water bottles, car stickers, luggage tags, and yes even PINS!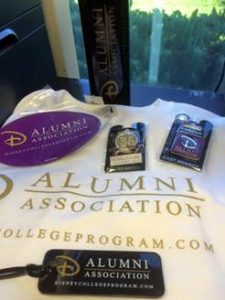 Networking Opportunities
The DAA offers a couple different networking opportunities for its members to immerse themselves back into the company culture. Disney IGNITE Series-Inspirational Guidance to Nourish, Inform, Teach and Excite allows you to focus on professional development in your career. Get immersed in conversation with company leaders about Disney secrets for success. Another event, Recruiter Roundtable, allows you to network with recruiters in any segment across the company and helps you become aware of future opportunities!
Become a part of the Disney legacy
You are now a part of the Disney legacy. You helped create magical moments for families every day. Now you are still able to carry on the Disney brand and traditions with other people who are just as passionate as you are. Help keep the memories alive, and magical. We value you, and what you have contributed to our company, and this is a way for us to still be connected and talk with you.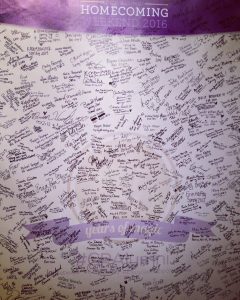 Now you can have a place to let someone know you are craving Dole Whip and a Boysen Apple Freeze, and most importantly a community who understands and accepts you for knowing all the words of the ghost from The Haunted Mansion.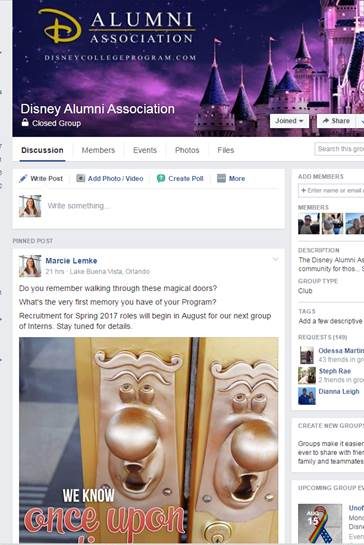 Visit dcpalumni.com to officially opt-in. This is a great place to not only find old friends, but also meet new ones, share what you learned, what you wish you did on your program, and what you want to do when you go back! Continue to share memories, get advice on all things Disney, share your Disney decorated home, dogs, kids, outfits, and be the first to know about events and news just for Alumni.